South Ribble Borough Council launches new economic strategy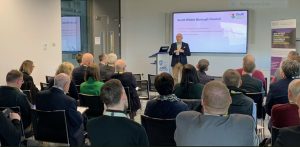 In recognition of the challenges faced by businesses post pandemic and as a result of the on-going cost of living crisis, the Council's new economic strategy sets out clear ambitions for the borough's local economy, businesses and people. 
South Ribble is home to many businesses who are regularly supported by the council who offer support and advice on access to grants, training, apprenticeships, skills and premises.
The new strategy provides a long-term vision and short-term priorities boosting direct activities which will support businesses up to 2025.
Councillor James Flannery Cabinet Member for Planning, Regeneration and Business Support at South Ribble Borough Council said: "South Ribble is a great place for business and I am confident we can achieve even more through implementing this strategy. 
"We have a great relationship with our businesses and meet with them regularly to understand their needs – which we have considered when developing our packages of support and the strategy.
"We know our businesses need support, a thriving workforce and the right infrastructure to succeed and that's what our strategy addresses.
"Our aim is to achieve a thriving borough with a vibrant, inclusive local economy. Our commitment to social value is paramount and our aim is to create a business economy that benefits our people and places.
"Already we have some exciting projects such as the Leyland Town Deal and the Penwortham Masterplan which will allow us to invest in and develop our commercial areas."
The strategy addresses four broad areas:
Space and Place – providing the right physical conditions for our businesses – including property, environment and digital infrastructure 

Workforce and Skills – connecting employers, skills providers and people

Employability- working with communities to remove any barriers to employment and ensure that everyone can participate in our economy

Business support – a strategic approach to managing business needs
Councillor Flannery continued, "Despite challenges raised for people post pandemic and through the cost of living crisis, I am confident that our strategy, alongside our continued support, can help businesses to succeed. 
"If you are a local business seeking support, please get in touch with us on info@businessinsouthribble.com.
"I'd also keep encouraging people to shop local where they can and spend their money locally – it makes a huge difference."
To help businesses with their increasing energy bills the Council has introduced a Business Energy Efficiency grant scheme that assists with the cost of energy audits and purchasing equipment to reduce their energy use.
To view the strategy https://www.businessinsouthribble.com/local-business-news/detail/2023/03/06/south-ribble-economic-strategy
For details of grants, advice and support South Ribble businesses can contact the business support team at info@businessinsouthribble.com
© 2023 Marketing Lancashire