Successful symposium on Future-proofing the Forest of Bowland
A sustainability symposium hosted by The Forest of Bowland AONB at Clitheroe's Holmes Mill, and presented by Caz Graham of BBC Radio 4's Farming Today programme, saw every seat taken – with attendees keen to learn more about sustainability and inclusivity.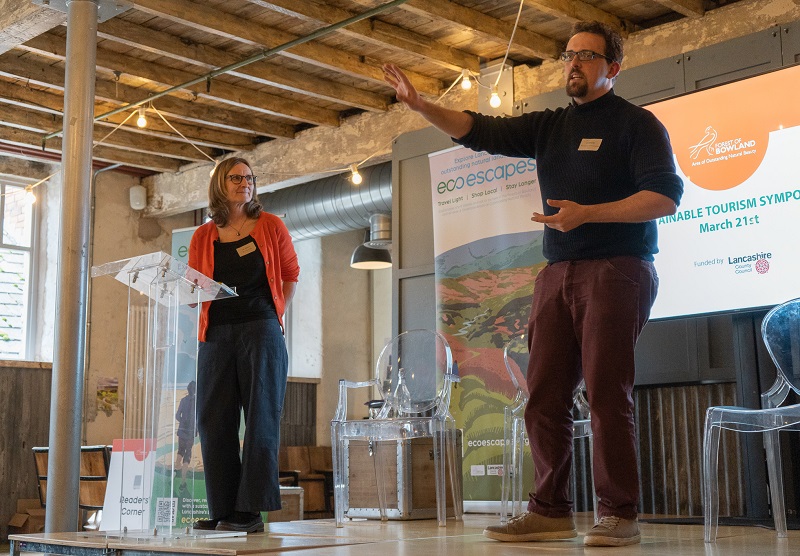 Hetty Byrne, Forest of Bowland AONB Sustainable Tourism Officer, explains: "The event was free to attend and all the places were soon booked up.
"It was a pleasure to see so many people there – a mixture of local organisations and those from further afield – all keen to embrace sustainable tourism practices. The symposium showcased some of the fantastic businesses we have in the Forest of Bowland and our speakers opened up some really interesting discussions around topics like farming in protected landscapes, inclusivity, accessibility, and transport, including ways to avoid using the car as our 'default' option.
"Around 85 people attended, and heard from organisations such as Earth Changers, All the Elements, an active travel specialist, and our own Forest of Bowland AONB team."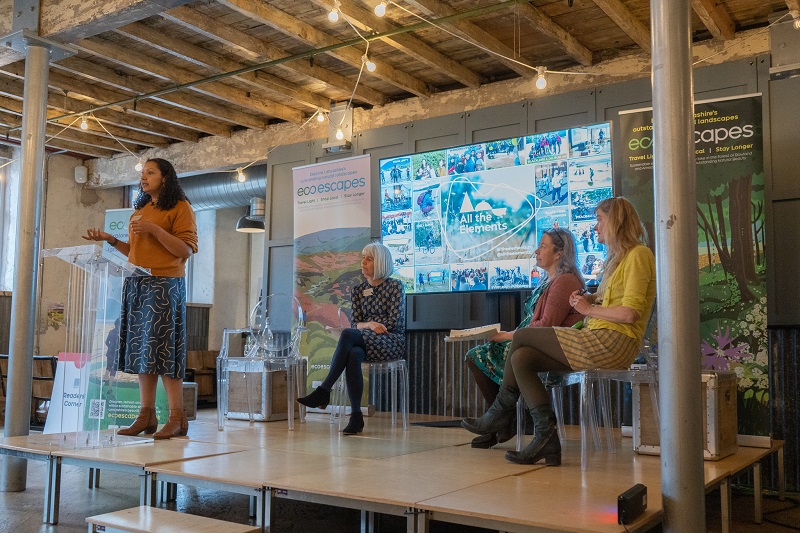 Eight businesses were also presented with their official Green Tourism awards during the event:
Gold Accreditations went to: Dale House Barn and B&B, and Bowland Wild Boar Park.
Silver was achieved by: NaturesGems Wildlife Tours, and The Forest of Bowland AONB.
Bronze awards were collected by: Little Oakhurst Glamping, Cobden View Holiday Cottage, The Garden Cottage, and Patty's Barn and The Rewilding.
Throughout the busy and varied day, attendees were also given a demonstration of a new all-terrain mobility vehicle, taken on a tour of Holmes Mill, and heard from Environmental Artist Kerry Morrison who introduced 'The Pendle Peat Pie'; a pie that uses local ingredients to create delicious layers representing the ecology of a healthy peat bog.
Feedback from delegates following the symposium was overwhelmingly positive: "Just wanted to say thank you for a lovely, informative event which was brilliantly well planned and executed. I came away with lots of ideas and will be in touch about how we can link better with the EcoEscapes project."
Hetty added: "It was really rewarding to see people sharing our enthusiasm for sustainable tourism, and we owe all our speakers and discussion panels a huge thank you for contributing their valuable time, knowledge and ideas.
"A number of attendees also took the opportunity to join one of our three field trips the following day, which were: a wild walk from Clitheroe, an e-bike safari in the Bowland Fells led by Breaking Cycles CIC, and a foodie tour of rural Lancashire with Bowland and Bay.
"Like our EcoEscapes campaign, these field trips encouraged visitors to enjoy the best of Bowland while 'treading lightly' on the landscape and using car-free travel where possible."
______________
Eco Escapes is hosted by Discover Bowland – the Forest of Bowland's destination website – in partnership with the Forest of Bowland and Arnside and Silverdale Areas of Outstanding Natural Beauty, with funding from Lancashire County Council's Rural Recovery Fund.
The Forest of Bowland AONB and Arnside and Silverdale AONB are members of of the national family of 46 Areas of Outstanding Natural Beauty extending across England, Wales and Northern Ireland. Find out more at www.landscapesforlife.org.uk
© 2023 Marketing Lancashire