Thornton Hall welcomes new wedding coordinator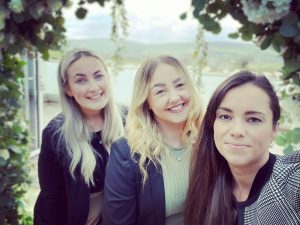 Making unique wedding day memories at Thornton Hall … from Deer Parks and llamas to tractors and giant slides!
It's the start of another busy wedding season and the Thornton Hall Country Park team are delighted to welcome Jody Anna as their new wedding coordinator at Thornton Hall.
Unique and unusual.
Wedding venue 'Thornton Hall' is situated centrally within the grounds of award-winning visitor attraction Thornton Hall Country Park. Totally unique to the impressive stone-built venue is the fact that the border of Lancashire and Yorkshire runs right through the middle! With the main function suite residing in Lancashire and The Meadows wedding pagoda in Yorkshire; couples can choose which county to take their vows in!
A wealth of experience.
Jody's love of weddings began back in high school where she took on the ambitious task of organising her school prom. Following a hospitality apprenticeship at Craven College and a number of positions developing her career, she brings with her a wealth of experience and knowledge to Thornton Hall. She is bubbly, caring and 100% dedicated to making Thornton Hall's wedding events astonishing – promising an unforgettable wedding day for every couple.
Jody Anna says "I've always lived in the area and still remember whizzing down Thornton Hall Farm's famous giant yellow slide as a child!  I'm so happy to be back doing what I love, and I can't wait to meet all the couples (and adorable animals). Thornton Hall is such a unique and flexible venue – every wedding is so different so I'm excited to hear every couple's vision and bring it to life for them."
Just for you. Couples wanting to give their guests a day to remember are able to combine the wonderful aspects of the Farm Park as part of their wedding day.
Covering 250 acres, the Park offers the ideal backdrop for wedding photography. Couples can visit Thornton Hall's llamas or impressive Deer Park where they can capture stunning images and memories that will last a life-time. Or for more adventurous couples, they can jump on a quad-bike, tractor or the giant slide!
Thornton Hall Country Park owner, Emma Harrison says "It has long been a dream of ours to have a wedding venue here at Thornton Hall Country Park. We are thrilled that Jody has joined our 'farm family' and couples can be assured that our team of experienced wedding co-ordinators will guarantee an unforgettable day."
© 2023 Marketing Lancashire