Three cultural organisations in Preston have been named among the North's top 50 once again.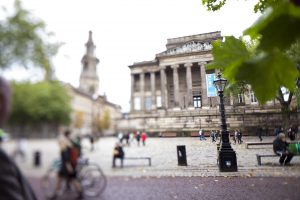 The Harris Museum, Art Gallery & Library, artist-led studio,The Birley, and public art project In Certain Places have been selected as three of the top fifty most socially valuable organisations in the north of England.
Recognition has come from the seventh annual edition of Hannah Directory, a print publication, website and launch week of events celebrating the great stuff that people are doing in places in England's north, and asking how even more of it can happen.
The directory launch week takes place across the North of England from 25 – 30 November. You can pick up a free copy of the directory at the Larder community cafe on Friday in Preston, where new Birley member Rikin Parekh is launching a poetry and spoken word evening from 7pm.
Founded in 2013, the Hannah Directory takes a snapshot capturing some of the year's best activity in the arts, music, business, new kinds of social organisation, scientific discovery and great stuff from any field. It is named after and inspired by Hannah Mitchell (1872–1956), a suffragette and rebel who tried to create 'beauty in civic life' in her work on public libraries, parks and gardens.
Unlike most awards, which only cover one field, Hannah Directory looks for outstanding contributions in any activity that is for the common good of places in England's north. The three Preston organisations join artists, musicians, community groups, digital technology companies, and policy think tanks in the 2020 edition.
The Harris, The Birley and In Certain Places have been selected for this year's top 50 based on their continuing determination to create high quality work which stands up against the best that can be found in the UK's largest cities.
"Preston has been punching above its weight as a cultural destination for many years, and the strength of The Birley, the Harris and In Certain Places as innovative organisations which support the artist community are critical to this success" said Andrew Wilson, the coordinator of the directory.
The Harris will be building on their success this year by progressing with its £10million #HarrisYourPlace project to revitalise its Grade I listed building and turn it into a community and cultural hub for Lancashire.
The Birley – which more than tripled in size earlier this year, taking another floor of the building – was recently awarded Arts Council England funding to develop even further. In Spring 2020 they will announce a series of workshops and activities, leading to a 'relaunch' celebration in early Summer.
In 2019 In Certain Places has led the Beautiful and Brutal: 50 Years of Preston Bus Station anniversary project which included two public artworks, PEOPLE by LOWPROFILE and Conductor by Keith Harris, a three month exhibition co-curated with the Harris and a national conference. Two new publications on art and place, Practising Place and Searching the Shadows, have also been launched.
Tim Joel, Deputy Head of Culture at Preston City Council said, "We're delighted to see such a strong showing from Preston in the Hannah Directory again this year.  Preston has a rich cultural mix combining contemporary artist-led studios such as The Birley, with the UCLan-led In Certain Places work as well as our own Harris Museum, Art Gallery & Library, managed in partnership with Lancashire County Council. All deliver high quality cultural experiences alongside the many other community-led and start-up cultural businesses in this growing city."
The Harris, The Birley and In Certain Places join more than 100 people and organisations to have taken part in Hannah Directory so far. Most of the contributors to the directory have been recommended by others. Each new link between them is a pathway along which ideas, trust, and even co-operative activity can be shared across the region. This unique network is one of the broadest in England's north.
© 2023 Marketing Lancashire