Unsung Hero finalists in Lancashire Tourism Awards 2023 revealed
After last month's grand reveal of our top-notch Events and Taste Lancashire Producer finalists, the Lancashire Tourism Awards 2023 is set to dazzle once more. Today, on October 3rd, 2022, we proudly introduce the finalists of our Unsung Hero category.
The finalists are Joanne Denton, Head of Weddings at Holland Hall Hotel, Simon Entwistle, Tour Guide of Top Hat Tours, and Oli Martin, Chef Director at Aven Restaurant, Fell Urban Bistro and Foray Catering.
The Unsung Hero Award highlights those individuals who are working within tourism and exceling in their role, as recognised by the colleagues and peers that have nominated them. Each finalist has helped create unique and memorable experiences for visitors, through their sometimes unseen or unsung activities or actions, and deserves to be applauded for their work and commitment. The winner will be announced at the Lancashire Tourism Awards on Tuesday 6th February 2024, along with winners in a wide range of other categories including this year's new category, the Family Owned or Run Business of the Year, with seven businesses vying for the title.
Vikki Harris, Marketing and Partnerships Director of Marketing Lancashire commenting on today's announcement said, "We are delighted to have such highly-regarded colleagues and individuals in the running for the Unsung Hero Award.
"This is a very special category and we hope each of the finalists are proud to have their name associated with the award, which celebrates the finalists' achievements and their contributions to the industry
"Our judges have a difficult task ahead of them determining the winner, as all of these finalists deserve our thanks and recognition for their hard work."
The finalists for the Unsung Hero Award, as nominated by their colleagues and employers are: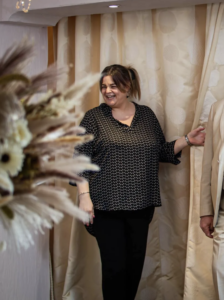 Joanne Denton, Head of Weddings at Holland Hall Hotel, Up Holland
Joanne is a dedicated member of the Holland Hall venue team, who describe her as inspirational and 'absolutely unstoppable'.  Having excelled in events and weddings at the Hall, she was promoted to her current role just before the Covid pandemic.  Despite the uncertainty of that period, she retained many bookings, while she supported and guided many anxious couples through this worrying time.  During the recovery period she went on to double wedding bookings and revenue for the venue.  The team at Holland Hall are convinced that this thriving venue would not have survived the challenges that have faced the industry without Joanne's talent, resilience, and work ethic.
Joanne has created a unique venue that couples say feels like a second home, not just for them but for their families and visiting friends too. She strives to identify what factors would make a couples' special day unique; making each couple feel like the only couple marrying at Holland Hall.  As a humble character, Joanne is a highly valued colleague who finds time to be supportive and loyal to all, they have nominated her and declare her 'one of a kind'.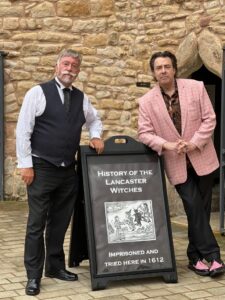 Simon Entwistle, Tour Guide of Top Hat Tours, Clitheroe
When leading his first ghost tour in 1996, Simon had found his calling. Since then, Simon's business has grown, as has his audience. Simon's passion, enthusiasm and extensive knowledge of Lancashire have captured the imagination of audiences, young and old, from across the world.
Simon's tours bring Lancashire's treasured historic houses, such as Samlesbury Hall, Browsholme Hall and Towneley Hall, and their fascinating history to life for visitors.  When leading coach tours, he tells tales of the Lancashire countryside's folklore and dark history, such as the infamous Lancashire Witch Trials of 1612.
Simon brings Lancashire history and folklore to vivid life, regularly escorting press visits of the county, to raise the profile of Lancashire as an intriguing destination to visit. It is not surprising then that Simon is a published author and has appeared on TV broadcasts throughout the years, including popular shows such as Most Haunted and BBC Countryfile.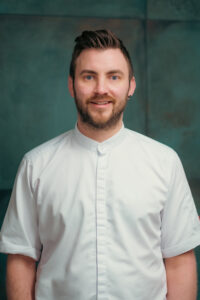 Oli Martin, Chef Director at Aven Restaurant, Fell Urban Bistro, and Foray Catering, Preston
Oli has not only elevated the local food scene but has also positively impacted the community through his unwavering commitment to supporting local farmers, businesses, and employment opportunities.
An innovative approach and commitment to pushing boundaries have earned Oli a dedicated social media following, where he shares culinary creations, inspires aspiring chefs and food enthusiasts.  Oli's emphasis on utilizing locally sourced or foraged ingredients ensures freshness and quality and fosters economic growth within the community.
As an influential figure in the industry, Oli has created over 30 jobs opportunities in Lancashire, providing a platform for talented individuals to pursue their passion in a supportive and nurturing environment.
Oli's appearance on the popular BBC TV programme MasterChef: The Professionals in 2018 showcased his remarkable talent as well as bringing attention to Lancashire as a gastronomic destination.
The Lancashire Tourism Awards 2023 ceremony, announcing all the winners, will take place at King Georges Hall in Blackburn on Tuesday 6 February 2024, with Headline Sponsor University of Central Lancashire (UCLan) and Destination Sponsor Blackburn with Darwen Borough Council.
Supporters and sponsors of this year's Lancashire Tourism Awards include: Blackburn with Darwen Borough Council, Blackpool & The Fylde College, Burnley FC Conferences and Events, Creative Venue Stylist, DFC, Harrison Drury Solicitors, Insight6, Lancashire Business View, Lancaster University Management School, Links Signs and Graphics, Northern Print Distribution Ltd, The Centre For Family Business at Lancaster University, The Pentland Centre for Sustainability in Business, Total Foodservice and University of Central Lancashire.
For the latest #LTA23 news go to LancashireTourismAwards.com and follow on @MarketingLancs on Twitter. If you are interested in sponsoring or supporting the Lancashire Tourism Awards 2023 email Maria Moriarty-Eames at [email protected]
© 2023 Marketing Lancashire