The 20 Gold Award winners were announced at an evening ceremony on 7 June hosted by Alex Polizzi at Warner Bros. Studio Tour London – The Making of Harry Potter, in categories ranging from 'Small Visitor Attraction of the Year' and 'B&B and Guest House of the Year' to 'Business Events Venue of the Year' and 'Experience of the Year.'  The Gold, Silver and Bronze winners were selected from hundreds of tourism businesses across England including hotels, self-catering accommodation, B&Bs, glamping operators, attractions, restaurants, pubs and museums.
The prestigious VisitEngland Awards for Excellence, running for more than 30 years and in 2023 sponsored by the Caravan and Motorhome Club, celebrate and champion innovation, quality and best practice across the industry recognising businesses and individuals who raise the bar of England's tourism offer.
VisitEngland Director Andrew Stokes said:
"It is fantastic to come together as an industry to celebrate our world-class tourism businesses. Competition this year was fierce with customer service excellence evident across every category, thanks to the passion and dedication of individuals.
"From an outdoor theatre in Suffolk to a boutique B&B in Essex, from an arboretum museum in Staffordshire, a zoo farm in Bristol, to island boat tours in Northumberland, this year's awards also showcase the wonderful range of quality tourism products on offer across England.
"I congratulate all the winners and especially those who won Gold, an achievement cementing their place as the country's crème de la crème, standard-bearers for England's tourism industry."
In addition to the 16 core categories award winners, four special awards were also presented this year including an 'Outstanding Contribution to Tourism Award,' a 'Travel Content Award', a 'Tourism Superstar Award' and a 'TXGB Trailblazer Award'.
The Tourism Superstar Award went to Geoff Colvin. Geoff, a volunteer stationmaster at the Kent and East Sussex Railway, was the winner of the VisitEngland Tourism Superstar 2023 run in partnership with the Mirror, following a public vote and competition earlier this year.
The Outstanding Contribution to Tourism Award went to 'England's Coast' in recognition of its valuable role in boosting domestic and inbound tourism to England.
The Travel Content Award, which recognises the media's important contribution in championing domestic tourism, was won by Alicia Miller of The Independent with her story 'How to do a classic Cotswolds weekend, car-free.'
The TXGB Trailblazer Award went to Red Funnel, Isle of Wight, in recognition of its efforts in driving inbound bookings through the business-to-business platform, also benefitting the domestic market.
Tourism is one of England's largest and most valuable industries, supporting hundreds of thousands of businesses, employing about 2.6 million people and, in 2019, generating £76 billion in domestic visitor spending.
See below for the full list of VisitEngland Awards for Excellence 2023 winners: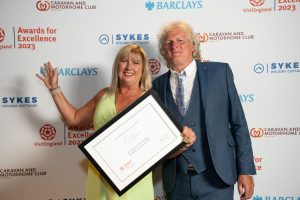 Accessible and Inclusive Tourism Award:
GOLD Noah's Ark Zoo Farm, Bristol www.noahsarkzoofarm.co.uk
SILVER Brickhouse Farm Holiday Cottages & Lakeside Hub, Lancashire www.brickhousecottages.co.uk
BRONZE WWT Slimbridge Wetland Centre, Gloucestershire www.wwt.org.uk/wetland-centres/slimbridge
B&B and Guest House of the Year:
GOLD Piglets Boutique B&B, Essex www.piglets.co.uk
SILVER Cedar Manor, Cumbria www.cedarmanor.co.uk
BRONZE Sunnyside Guest House, Merseyside www.sunnysidesouthport.co.uk
Business Events Venue of the Year:
GOLD National Memorial Arboretum, Staffordshire www.thenma.org.uk/hold-your-event/the-aspects-building
SILVER Imago Venues, Leicestershire www.imagovenues.co.uk
BRONZE The ICC Birmingham, West Midlands www.theicc.co.uk
Camping, Glamping and Holiday Park of the Year:
GOLD The Quiet Site, Cumbria www.thequietsite.co.uk
SILVER Brook Meadow, Leicestershire www.brookmeadow.co.uk
BRONZE Hendra Holiday Park, Cornwall www.Hendra-holidays.com
Ethical, Responsible and Sustainable Tourism Award:
GOLD Pure Outdoor, Derbyshire www.pureoutdoor.co.uk
SILVER National Forest EBike Holidays, Leicestershire www.ebikeholiday.co.uk
BRONZE The Cottages at Blackadon Farm, Devon www.cottagesatblackadonfarm.co.uk
Experience of the Year:
GOLD Grey Seal and Seabird Cruise, Serenity Farne Island Boat Tours, Northumberland www.farneislandstours.co.uk
SILVER Make Your Own Gin Experience, Shed 1 Gin Distillery, Cumbria www.shed1distillery.com
BRONZE Peak District Walking Experience, myGuidedWalks, Derbyshire www.myguidedwalks.co.uk
Large Hotel of the Year:
GOLD Titanic Hotel Liverpool, Merseyside www.titanichotelliverpool.com
SILVER Bowood Hotel, Spa and Golf Resort, Wiltshire www.bowood.org/hotel
BRONZE Rockliffe Hall Hotel, Golf & Spa Resort, County Durham www.rockliffehall.com
Large Visitor Attraction of the Year:
GOLD Warner Bros. Studio Tour London – The Making of Harry Potter, Hertfordshire www.wbstudiotour.co.uk
SILVER Blenheim Palace, Oxfordshire www.blenheimpalace.com
BRONZE International Bomber Command Centre, Lincolnshire www.internationalbcc.co.uk
New Tourism Business of the Year:
GOLD Thorington Theatre, Suffolk www.thoringtontheatre.co.uk
SILVER Bassenthwaite Lake Station, Cumbria www.bassenthwaitelakestation.com
BRONZE Great British Car Journey, Derbyshire www.greatbritishcarjourney.com
Pub of the Year:
GOLD The Blind Bull, Derbyshire www.theblindbull.co.uk
SILVER The Shoe, Hampshire www.theshoeexton.co.uk
BRONZE The Duncombe Arms, Staffordshire www.duncombearms.co.uk
Resilience and Innovation Award:
GOLD St Luke's Bombed Out Church C.I.C., Merseyside www.slboc.com
SILVER Langley Castle Hotel, Northumberland www.langleycastle.co.uk
BRONZE Healing Manor Hotel, Lincolnshire www.healingmanorhotel.co.uk
Self-Catering Accommodation of the Year:
GOLD Kidlandlee Holiday Cottages, Northumberland www.kidlandlee.co.uk
SILVER The Dovecote Barns, North Yorkshire www.dovecotebarnsyork.co.uk
BRONZE Eaton Manor Country Estate, Shropshire www.eatonmanor.co.uk
Small Hotel of the Year:
GOLD Askham Hall, Cumbria www.askhamhall.co.uk
SILVER THE PIG-at Combe, Devon www.thepighotel.com/at-combe/
BRONZE Wildhive Callow Hall, Derbyshire www.wildhive.uk
Small Visitor Attraction of the Year:
GOLD Watatunga Wildlife Reserve, Norfolk www.watatunga.co.uk
SILVER Muncaster Castle, Gardens and Hawk & Owl Centre, Cumbria www.muncaster.co.uk
BRONZE PK Porthcurno, Cornwall www.pkporthcurno.com
Taste of England Award:
GOLD Pensons Restaurant at the Netherwood Estate, Worcestershire www.pensons.co.uk
SILVER The Unruly Pig, Suffolk www.theunrulypig.co.uk
BRONZE The Glasshouse Restaurant, Hampshire www.oakleyhall-park.com/dine-drink/glasshouse-restaurant/
Unsung Hero Award:
GOLD Michael Wilson, Official Guide to the Kent Estuary, Guide Over Sands Trust, Cumbria
SILVER Marie Colgrave, Welcome Building Supervisor, Whitchurch Silk Mill, Hampshire
BRONZE Carol Adams, Head of Horticulture & Biodiversity, Trentham, Staffordshire
The TXGB Trailblazer Award:
GOLD Red Funnel, Isle of Wight www.redfunnel.co.uk
SILVER New Adventures, Tyne & Wear & Northumberland www.newadventures.org.uk
BRONZE Cotswolds Tourism, Cotswolds www.cotswolds.com
Travel Content Award:
GOLD Alicia Miller, The Independent – How to do a classic Cotswolds weekend, car-free
SILVER Ben Lerwill, National Geographic Traveller – How art and ancient history collide on a hike through Deal, Dover and Folkestone
BRONZE Paul Healy, Anywhere We Roam –A wild getaway in Swaledale – the unspoilt valley in the Yorkshire Dales
Tourism Superstar:
Geoff Colvin, Chief Stationmaster, Kent & East Sussex Railway
Outstanding Contribution to Tourism Award:
England's Coast