Visitors to the National Festival of Making made a bee-line to Taste Lancashire Producers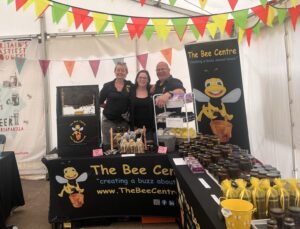 Cakes, ice cream, gins, cheese, honey and more, all made locally in Lancashire were on offer in the Taste Lancashire Market at the National Festival of Making last weekend; as part of Marketing Lancashire's established food and drink campaign to champion and highlight the county's world class food and drink.
The weekend of Saturday 15th and Sunday 16th July saw visitors participating in the festival's biggest programme of events, since its launch in 2016. This year's festival also attracted record crowds, who enjoyed artwork from 180 participating artists and makers, 50 workshops, 15 different performances and 10 exhibition spaces.
The tastebuds of visitors were well and truly tickled in the Taste Lancashire Market, where they were able to enjoy samples and buy produce from some of the county's leading food makers.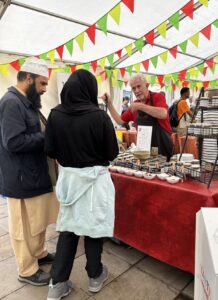 Curated by Marketing Lancashire, the Taste Lancashire food and drink market has been a popular feature of the National Festival of Making since 2018.
Elizabeth Baldwin, Marketing Manager at Marketing Lancashire, in charge of the Taste Lancashire Market throughout the weekend said: "Marketing Lancashire is a proud and active supporter of local food and drink, showcasing Lancashire's innovative, artisan producers in popular and high profile events locally, nationally and internationally.
"The whole festival weekend was a hive of excitement. It was great to see so many people meeting local Lancashire producers face to face, learning first-hand about their process and product, in the knowledge that they are also helping sustain Lancashire businesses. The National Festival of Making is a brilliant and engaging event that has something for everybody and the Taste Lancashire Market full of tasty, lovingly crafted products, made in Lancashire, is always a big attraction."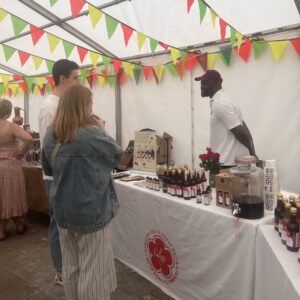 The Bee Centre, a honeybee education centre and honey producer from Chorley, wowed the crowds with a live beehive on their stall and answered every question the fascinated visitors had about bees; finding out how the bees are cared for, the Bee Centre's sustainability work and even the health benefits of local honey.
Visitors were also tempted to buy with delicious samples of the honey and the centre's other honeybee products, including lip balm and handmade soap, were also snapped up over this buzzy-weekend for discerning shoppers.
Simon Cordingley, founder of The Bee Centre, said "The National Festival of Making is always a great event. Not least because we get to spend a couple of days in the Taste Lancashire Market with the team from Marketing Lancashire and fellow producers. Lancashire companies create amazing and delicious products and the work of Taste Lancashire helps us to showcase our work and produce."
This year's Taste Lancashire Market also provided visitors with gins from two leading distilleries in Lancashire, Goosnargh Gin (much-admired on the Hairy Bikers' recent TV programme) and Three Wheel Gin of Morecambe, chocolate rum Lucela's of Blackpool (winner of World's Best Chocolate Liqueur title), fresh from their Ribble Valley farm Mrs Dowson's delicious ice cream, cheese from Broughton-based Bowes Dairy, tasty chutneys from Bacup-based Heritage Kitchen, innovative flower-based soft drinks from Burnley's Calyx drinks, and fabulous cakes from Lancaster based bakery Lone Wolf. In addition the marquee featured local community café The Harmony Project who supplied a range of delicious snacks and lite bites, and an informative stall from the Blackburn and Darwen Food Alliance helping visitors to understand the impact of food waste on our environment.
The National Festival of Making offers a wonderful celebration of UK making with a programme of work combining art, manufacturing, making and communities with international and national artists to create world class works. This year's event featured talks from TV personalities Keith Brymer Jones and Patrick Grant, VOLO: Dreams of Flight which allowed visitors to climb on board a playground swing and experience the beauty of Leonardo da Vinci's flying machines in a VR World, and North Light, a sensory play installation for early years developed in collaboration with Herbert Parkinson, a local textiles manufacturer that recently celebrated 70 years of partnership with retail giant John Lewis.
To know more about Taste Lancashire and for more ideas on places to eat, local producers, recipes and places to shop www.visitlancashire.com/taste
© 2023 Marketing Lancashire