Lancashire redefining the rule of six - a recovery plan for Lancashire's tourism and hospitality
The Covid-19 crisis has had a devastating impact on a whole range of sectors and communities, but none more so than those involved in tourism and hospitality. Nationally, 2020 saw an estimated £73 billion drop i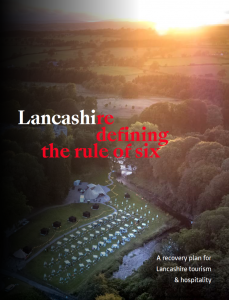 n revenue – a 57% fall from the year before. With lockdown now extended into at least March 2021, this loss is set to increase further still, with a devastating impact. Businesses are expecting a very slow recovery over the next year. According to one study, 41% of businesses surveyed suggested that they would fail by mid-2021. For Lancashire, this would equate to a loss of £2.5bn in GVA, and, without targeted support, could result in more than 25,000 job losses.
Even with the optimism that the vaccination roll-out brings, it is likely that operational capacity for the tourism and hospitality sector will remain constrained until summer 2021 at the earliest (i.e. with social distancing measures remaining in place even if/when the lockdown is eased). National forecasts suggest that it will be 2022 before domestic tourism recovers to 2019 levels, with international tourism not returning to pre Covid-19 levels until 2023. In addition, we don't yet know what the longer term impacts will be on the UK's visitor economy now that we have formally left the EU.
Set against this context, Marketing Lancashire has been working with public and private sector partners to establish and deliver a tactical response that reacts to the still evolving situation, sets out our case for investment and looks at how we can redefine the way we attract visitors in 2021 and beyond, as soon as we are able to do so. This is an industry that is not afraid to evolve and innovate. The incredible assets that are enjoyed by residents and visitors alike are still here, and they are what make Lancashire's quality of life what it is. We need to bring them back from the brink and help them not only to survive, but to thrive again.
Published 15 February 2021
Download Lancashire redefining the rule of six – a recovery plan for Lancashire's tourism and hospitality businesses here