Amazing Accrington Food & Culture Festival Boosts Economy by £300,000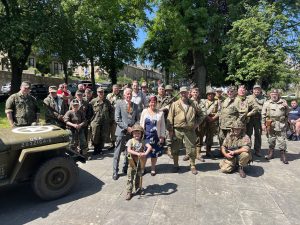 Over 12,000 attended as the Accrington Food & Culture Festival returned in style on Saturday 3rd June. Attractions included international, regional and local food markets, 1940's singers, a Spitfire flypast, a war re-enactment, a kitchen demo area featuring TV star Molly Robbins and some amazing local businesses, and a spectacular culture festival inside Accrington Market Hall.
The display area, hosted by Molly, as seen on Netflix series "Extreme Cake Makers," featured Molly decorating two different cakes, as well as cooking demonstrations from North Lancs Training Group's Hospitality Tutor, Mark Chapman, and Paul Fox from Abbey Street's The Crafty Fox.
Research conducted on the day with visitors showed the day to be a great success. Comments were overwhelmingly positive, with the event being praised for keeping Accrington busy, and having lots to see and do.  Comments included:
"Really proud of our town today!
Absolutely amazing, well done Accrington.
The Spitfire was amazing, really special.
Loved our food and we've bought things to take away.
Nice to have lots on in the market.
Never seen Accrington so busy!
We've spent loads, I bet they've made a fortune here!"
The research showed that 70.6% of visitors surveyed had come along as a family, with the others being individuals or groups of friends. 58.9% of visitors surveyed were aged between 25 and 44.
100% of visitors came into Accrington specially to visit the event, so it was definitely a draw and a boost to the town centre economy. A 'draw your favourite food from around the world' competition had been promoted in local schools, to encourage families to come into town and into Accrington Market Hall to take a look at the fantastic display of entries.
The average spend per respondent was £27.67. Per head, this can be estimated at around £30, which is great news for Accrington. With an estimated 12,000 visitors, this represents over £300,000 back into the economy, which included local businesses, market traders and businesses from across Lancashire.
Cllr Marlene Haworth, Leader of Hyndburn Borough Council, commented: "What an incredible time we had at the Accrington Food & Culture Festival. It was amazing to see both the Town Square and the Market Hall packed with visitors, who not only enjoyed the fantastic range of free attractions on offer, but also enjoyed shopping locally.  With 12,000 visitors, and the spend figures mentioned, we can estimate that just this one event has put £300,000 back into the economy, which is great news!"
Murray Dawson, Chair of #AmazingAccrington, said: "Here at #AmazingAccrington we are keen to only run events on Saturdays, to allow shopkeepers and local businesses to capitalise on the footfall."
Victoria Tindall, Business and Marketing Coordinator at Hyndburn Borough Council, commented: "Well done to the #AmazingAccrington team for accomplishing the BEST EVER food festival!"
You can see more photographs and videos from the event on the Amazing Accrington website and on the Amazing Accrington Facebook page.
© 2023 Marketing Lancashire