Award-Winning Lancashire ICT Provider, Matrix247, Celebrates 30th Birthday
Based in the Rossendale Valley, Matrix247 was founded on the 25th November 1991 by Stephen Pritchard and Geoff Wright. The firm had originally set the business up to assist Lancashire organisations with more cost-effective communication systems through the supply of digital phone systems. However, in the years since, the firm has expanded to provide cloud telephony, managed IT, document and print management, as well as mobile solutions.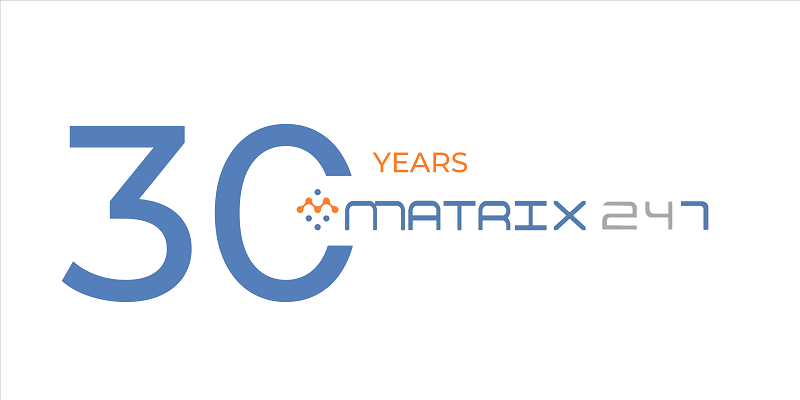 Stephen, Chief Executive Officer of Matrix247, commented: "I am delighted to celebrate this special milestone with the whole Matrix247 family who have played an integral role in helping the company achieve such success over the past 30 years.
I look back on these 30 years with so much pride, and for a company based in Lancashire, to have a client portfolio now based across the UK who receive high-quality ICT solutions and excellent customer service from our dedicated team is fantastic."
Matrix247 has over 1,200 clients in a variety of sectors including, legal, healthcare, education, finance, insurance, and construction, with firms ranging from five staff to corporations with 1,000+ staff across multiple locations.
The past 30 years have seen Matrix247 be at the forefront of tech advancements in the communications sector, helping the company garner a positive reputation and recognition, reflected in a staggering 93.6% 5-star Customer Satisfaction Rating from 1400+ responses and 91% 5-star google reviews.
Recently being finalists in both the Red Rose Awards and BIBAs in categories including Customer Service, Medium Business, Service Business, and Employer of the Year, the company prides itself on being Lancashire born and bred.
Whilst this is a moment to reflect on past achievements, the company is also looking forward to an exciting future, with the recent acquisition of a managed IT and document and print provider. Matrix247 has ambitious growth plans to become the number one ICT company of choice for both Lancashire and UK wide organisations, which will in turn bring a lot more employment and career progression opportunities to Lancashire.
Stephen continues; "As we look to start a new chapter post pandemic, the acquisition and proposals to potentially expand our product range means we have a great framework to take Matrix247 to the next level and continue to provide high quality solutions and service to our clients.
Another big driving force of our strategy is our passion to protect the planet for our employees' children and grandchildren, and with our internal environmental steering group, we're on track to reach our target of Net-Zero by 2028.
I would like to take this moment to thank everyone who has been part of the Matrix247 journey over the past 30 years, from our hardworking Matrix247 team to our amazing clients and suppliers, they have all done their bit to help us on our journey to date. As a tangible thank you, all our clients are being contacted with our loyalty program which will provide significant savings immediately. We would love to hear from organisations not yet engaged and partnering with us for our next chapter!"
Matrix247 is planning on celebrating their anniversary by hosting a birthday party in their Haslingden office and have invited staff and clients to attend the big celebration day.
© 2023 Marketing Lancashire