Biggest Taste Lancashire market at National Festival of Making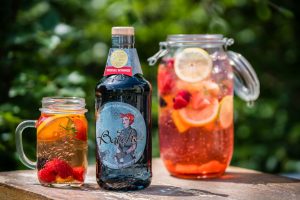 The world's best gins, as well as fruit drinks, vintage cordials, artisan cakes, bakes and chocolates, tempting chutneys and preserves are just some of the locally produced delights that will be served up at The National Festival of Making in Blackburn on June 15th and 16th; Marketing Lancashire's biggest Taste Lancashire Market to date.

Ready your taste buds and grab your shopping bags for the Taste Lancashire food and drink marquee in King William Street to meet more than 20 of the county's leading food and drink producers. It's time to stock up on a range of delicious Lancashire-made treats and kitchen essentials for that authentic taste of the county at home.  

Rachel McQueen, Chief Executive of Marketing Lancashire, said: "Taste Lancashire champions locally made produce, the people who make it and the wonderful array of places it can be enjoyed. From incredible producers, delightful delis and fabulous farm shops, to some of the county's most celebrated gastro pubs and restaurants, we believe Lancashire is the tastiest county.
"Some of the best produce in the world is made here in Lancashire and for that to continue we need to support our local producers, retailers, pubs and restaurants throughout the year. We're delighted and proud to be able to present our collection of some of the county's best producers and retailers, offering a slice of Lancashire's wonderful food and drink scene, in this year's National Festival of Making and look forward to seeing visitors leaving the Taste Lancashire marquee with bags full of delicious artisan, homemade and locally brewed purchases."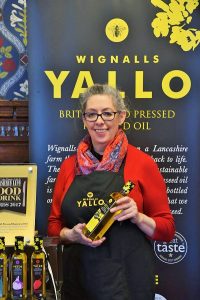 Visitors will be able to buy gins from three of our leading gin distillers Batch Gin, Black Power Gin and Brindle Distillery, home of Cuckoo Gin – all winners of international accolades. Taste Lancashire is also pleased to be introducing Tinker Brook First Edition Gin from new gin maker Hoyle Bottom Spirits of Accrington. Producers from across the county will be attending: award-winning chocolates from Cedar Farm-based Choc Amor, flavoured oils from Wignalls Yallo in Standish, craft beers and ales from Bowland Brewery,  flavoured butters from Our Paula's in Chorley, delicious chutney's from Bacup's Heritage Kitchen Preserves, as well as vintage cordials from Mr Fitzpatricks and healthy sauces from Nowt Poncy both based n Rossendale.  

Taste Lancashire will also be enticing foodies with FREE food and drink 'meet the producer' talks in our Taste Lancashire Chatty Café, also located in the marquee. Pull up a chair, buy a coffee from Jonah's Coffee and a delicious treat from BBC 'Top of the Shop' star Angelika Searle and listen to what makes Lancashire produce special with talks from The Bee Centre, Wignall's Yallo, Calyx Drinks and Black Powder Gin. Curated by Marketing Lancashire, the Taste Lancashire food and drink marquee and talks are part of the organisation's Taste Lancashire campaign to raise the profile of the county as a must-visit food and drink destination and to further boost the county's more than 67 million annual visitors. Talks will take place at 12noon, 2pm and 3pm each day, just pop in to listen to one of our fascinating producers. 
The National Festival of Making offers a wonderful celebration of UK making with a programme of work combining art, manufacturing, making and communities with international and national artists to create world class works.
The Taste Lancashire Market is open from 11pm – 6pm Saturday 15 and Sunday 16 June, King William Street, Blackburn.
Taste Lancashire exhibitors: Batch Gin, Black Powder Gin, Bowland Food Hall, Bowland Brewery, Brindle Distillery, Calyx Drinks, Choc Amor, Heritage Kitchen, Hoyle Bottom Spirits, Jonah's Coffee, Leagram's Organic Dairy, Love Cheesecakes, Mr Fitzpatricks, Our Paula's, Panache Natural Flavour Infusions, Pretzel & Spelt, The Bee Centre, The Nowt Poncy Food Company and Wignall's Yallo. 

For more ideas on places to eat, find local producers, recipes and places to shop www.visitlancashire.com/food-and-drink
© 2021 Marketing Lancashire