Blackpool Grand Theatre teams up with Blackpool Transport for panto book surprise
Families looking forward to this season's panto at Blackpool Grand Theatre are in for a treat if they use the local bus network. The theatre has teamed up with Blackpool Transport to give children an opportunity to pick up one of 125 Snow White books which will be available on selected bus routes for free pick up shortly.
The iconic theatre is working with Blackpool Transport to encourage youngsters to enjoy reading classic books as part of their continued support of literary in the resort. 125 copies of 'Snow White and the Seven Dwarves' will be placed on buses throughout the resort in December. Presented in cellophane bags for COVID safety, the books will be available for pick up across the Blackpool Transport bus network only and draws attention to this year's must-see pantomime that is packed full of comedy moments, starring Vicky Entwistle and Steve Royle.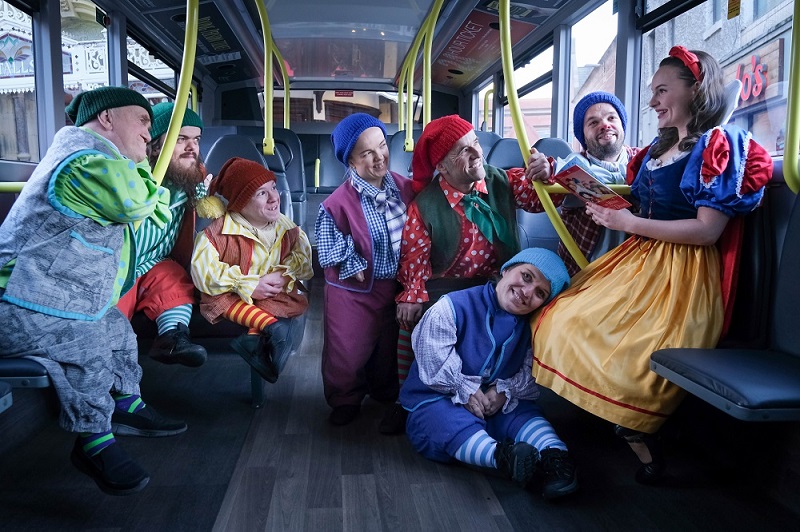 The pantomime runs from Friday 3rd December until Sunday 2nd January and will also be promoted across the bus signage and screens to promote the performances.
Jane Cole, Managing Director, of Blackpool Transport Services, said: "In this digital age it's great to see young people being given the chance to explore the adventures that traditional books offer. We're delighted to be involved with this campaign which supports local literacy initiatives in a fun way."
Ruth Eastwood, Chief Executive at Blackpool Grand Theatre, said: "We're so excited to be back up and running and getting people into the Christmas mood with our fantastic pantomime offering, which looks to be a sell-out success.
"Working with local organisations to boost literacy skills is important to us and we really benefit from the support of the local community, so it's nice to give something back and what better way than with books that relate to this year's pantomime. We hope the children really enjoy them before coming to the theatre where our fabulous cast will bring the story to life for them in a laugh out loud performance."
This is just one of many campaigns part of Blackpool Grand Theatre's mission to encourage local children and students of all ages to enjoy reading and appreciate classic literature, much of which is relevant to the curriculum and encourages children to go on to appreciate the wider arts, culture and literature scene.
To book tickets for the Snow White festive panto, call (01253) 290190, visit www.blackpoolgrand.co.uk or call in to the booking office on Church Street, Blackpool. For more information on Blackpool Transport Services go to blackpooltransport.com or download their app.
© 2023 Marketing Lancashire