Blackpool Illuminations extended again for 2023 season
Source: Visit Blackpool
2 February 2023
Blackpool's annual Illuminations display will once again be extended by two months after another dramatic rise in visitor numbers over the winter months.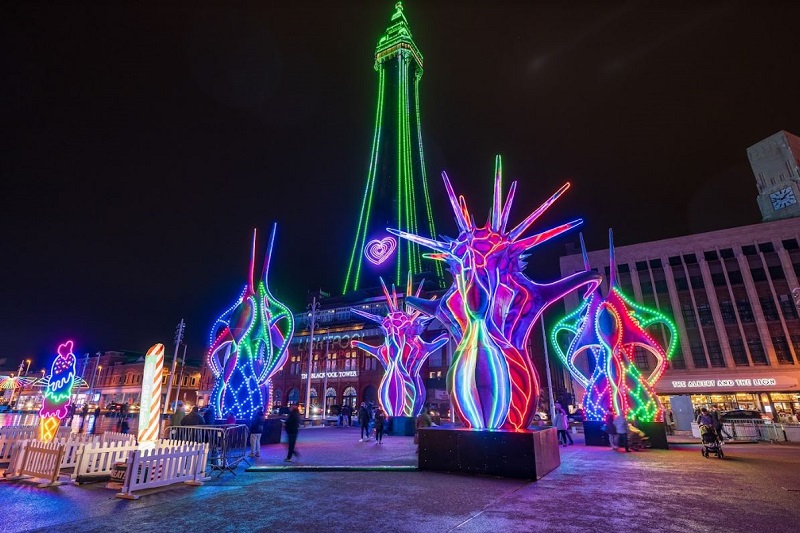 Blackpool Council has announced that the Illuminations season will start on Friday 1 September and run until Monday 1 January, 2024.
The decision follows the release of new figures showing an 18 per cent increase in promenade footfall during November and December over what was a spectacular performance in 2021. The footfall also shows an increase of almost 60 per cent compared to the pre-pandemic year of 2019 when the Illuminations season ended in the first week of November.
The latest figures reveal that the Christmas By The Sea event also proved an invaluable boost to Blackpool's tourism economy. Promenade footfall for the period of the Christmas event (November 18 to January 2 inclusive) was recorded at over 6 million, an increase of more than 10 per cent compared to 2021 which was again an exceptional year in terms of growth in visitor numbers.
Cllr Lynn Williams, Leader of Blackpool Council, said: "The figures demonstrate the very significant economic impact of the Illuminations extension coupled with the Christmas By The Sea event.
"All of the statistical and anecdotal evidence from tourism businesses, with some reporting record levels of trading during the winter months, suggests that we have found a winning formula to extend Blackpool's season. That is something we very much want to sustain and build upon."
The Christmas By The Sea campaign, which ran on the Tower Festival Headland, included a free skating rink, artificial snowfalls, light projection shows, log cabins, and large-scale light installations. It was sponsored by TalkTalk and Blackpool's Tourism Improvement District.
Cllr Williams confirmed that discussions were already underway with potential sponsors to facilitate the return of Christmas By The Sea in 2023.
The event has been shortlisted in the Large Event Of The Year category in the Lancashire Tourism Awards due to be staged at Blackpool's new Conference & Exhibition Centre on February 7.
The Illuminations extension is the latest addition to a programme of major events already lined up for the coming year including the return of the two-day Air Show on August 12 and 13; Ride The Lights on August 29; the Illuminations Switch-On celebration on September 1; World Fireworks Championship Blackpool on September 16, 30 and October 20; and Lightpool Festival from October 20-28. All are free to access.
Plans for the annual Illuminations Switch-On ceremony on Friday 1 September will be unveiled over the coming months.
For full details and updates for this year's Illuminations season, go to www.visitblackpool.com
© 2023 Marketing Lancashire