Blackpool Pleasure Beach Celebrates ICON's First Birthday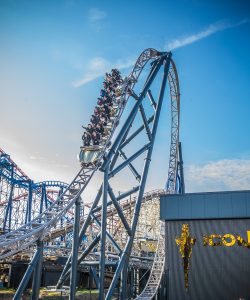 On the 25th May 2018, an ICON was born. After 43,800 hours of planning, Blackpool Pleasure Beach opened on the UK's first double launch rollercoaster. A rollercoaster that has the same G force level as a Formula 1 car, one of the quickest accelerating vehicles in the world.
This weekend will mark the ICONic first birthday, reflecting on one of the most exciting rollercoaster reveals in recent times and honouring an incredibly successful first year in action.
Riding ICON is a unique adventure. In addition to the power, the coaster propels adrenaline enthusiasts to heights of 88ft and drops of 82ft. The velocity of ICON's take-off is twice that of the launch of a commercial airliner, with speeds reaching an impressive 80kph.
In its first year, the highly anticipated rollercoaster has travelled the equivalent distance of three times around the world. It has travelled 1400km vertically, the equivalent height of 14,500 Big Bens, and following its reveal, almost 1 million people have dared to ride; more than the population of Birmingham!
In good company, the £16.25m ride features the greatest number of interactions in the world, with a total of 15 interactions involving five different rides; the renowned The Big One, Steeplechase, Big Dipper, Pleasure Beach Express and the Grand Prix.
Paul Burton, chairman of the European Coaster Club, says: "ICON is an amazing ride like no other. It excels on acceleration, with twists and turns as it speeds up and over, in and out, of some of the world's most exciting rides. It really does take my breath away. Riding is believing."
It's not just the ride's interactions that provide a unique view of the park. Over 1000 different plants have been used to make ICON look stunning. These include beautiful Lavender and Fuchsia bushes as well as enchanting Japanese Cherry Blossom.
Reliving "One year of crazy, coaster thrills", Andy Hine MBE, chairman of the Rollercoaster Club Of Great Britain says: "ICON is a fantastic addition to a great collection of rollercoasters at Blackpool Pleasure Beach, the coaster capital of Europe. ICON is thrilling, exciting and fun. When it happens to be in the best amusement park in the world, what more could you want!"
Reigning Supreme at the 2019 Institution of Civil Engineers North West Awards for Project of The Year and the 2018 European Star Awards for Best New Coaster in Europe, as well as winning the joint Best New Visitor Attraction at the 2018 Blackpool Civic Trust Awards and a Gold award at the 2018 CIPR Awards for Best Travel, Leisure and Tourism campaign, ICON has widely been recognised for its world class status.
Speaking on behalf of the first anniversary, Amanda Thompson OBE, Managing Director of Blackpool Pleasure Beach, says: "We are so proud to have introduced such an incredible development on park. Watching the journey has been an ICONic experience. The team look forward to many more years of success with ICON, and we cannot thank our loyal guests enough for the warm welcome."
With great offers available throughout the summer, there's an option for all fans hoping to celebrate ICON's first year. The recently introduced Open Dated Wristband means guests will be scrambling to save £££s on their visit.
Visitors can purchase a wristband for a great online price and visit on any day of the 2019 season. Once guests have purchased the Open Dated Wristband online, they will receive a reference to be redeemed at the Ticket Centre on their day of choice. Open Dated Wristbands can be purchased online and cost just £30, a saving of £9 on the gate price.
© 2018 Marketing Lancashire