World-Leading Creatives Head to The National Festival of Making Talks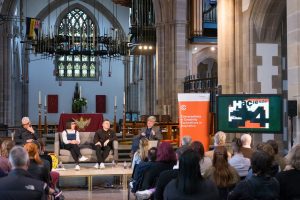 Some of the most recognisable names in fashion, design and art will sit alongside the British creative, arts and manufacturing industries' brave, new innovators in a series of FREE talks and panel discussions at The National Festival of Making on Fri 14 – Sun 16 June 2019.
Organised by Creative Lancashire and open to all, the events provide a rare opportunity for professional creatives of all disciplines, students, enthusiasts and the curious to learn more about the making industries in their most diverse forms.
Two exclusive Conversations In Creativity interviews focus on critically-acclaimed ceramicist, Halima Cassell and profoundly influential, 'new wave' designer and creator of record sleeves by Buzzcocks and Duran Duran, Malcolm Garrett. Female-led entrepreneurship will be the focus of the Super Women – Small Business Heroes talks, welcoming women who have defined business success on their own terms, while two Great Ideas To Save The World sessions will be hosted by fashion entrepreneur, Patrick Grant and founder of schools learning programme, Fixperts, Daniel Charny, both engaging with truly transformative innovations.
Discussion events focus on Women in STEAM, hosted by Philippa Glover of Liverpool-based advanced robotics company, CNC Robotics with an all-female line-up of contributors, while the question: Why Creativity & Making Matters, is answered in another session, with the experience of an esteemed panel including Darren Henley, Chief Executive of Arts Council England. Creative education and training is under constant threat, so the panel titled Making & Creating: The Skills of the Future? will bring experts from the front line, including Andria Zafirakou from creativity-in-schools initiative, Artists in Residence to champion their visions of the future.
Co-founder of The National Festival of Making, Wayne Hemingway and Chief Executive of Manchester International Festival, Christine Cort combine with other guests to explore the concept of Festivals as a Movement for Change.  Creatives and makers will also have the opportunity to gain business support and advice by pre-booking a slot for one of the Maker Development Surgery Sessions during the festival weekend.
Full information about the festival's Talks programme is available at www.festivalofmaking.co.uk with further announcements on sessions and speakers still to come.
The National Festival of Making, returns to Blackburn, Lancashire for its third year in 2019, with the free-to-attend festival moving to a summer date for the first time. Of the thousands that visited in 2018 year, 10,800 took part in over 100 workshop sessions, engaging with makers as diverse as leatherworkers, engineers, ceramicists, chefs, technologists and fashion designers. With 91% of visitors, 41% of whom were under-21, being inspired to explore new making skills, the festival's aim is to continue moving visitors to consider the societal and personal benefits of making, their own talents, aspirations and making potential.
Recognising the festival's inclusive atmosphere of discovery and celebration, The National Festival of Making won Best Non- Music Festival at the prestigious UK Festival Awards 2018, as well as clinching Visit Lancashire's Tourism Awards, Large Event of the Year accolade.
News and opportunities from The National Festival of Making will be posted on the festival's social media channels at:
www.instagram.com/thefestivalofmaking
#festivalofmaking
© 2018 Marketing Lancashire