Blackpool unveils new Spitfire tribute for 2023 illuminations season
Source: Visit Blackpool
15 June 2023
A spectacular tribute to one of the world's most iconic fighter aircraft will be unveiled in this year's Blackpool Illuminations display.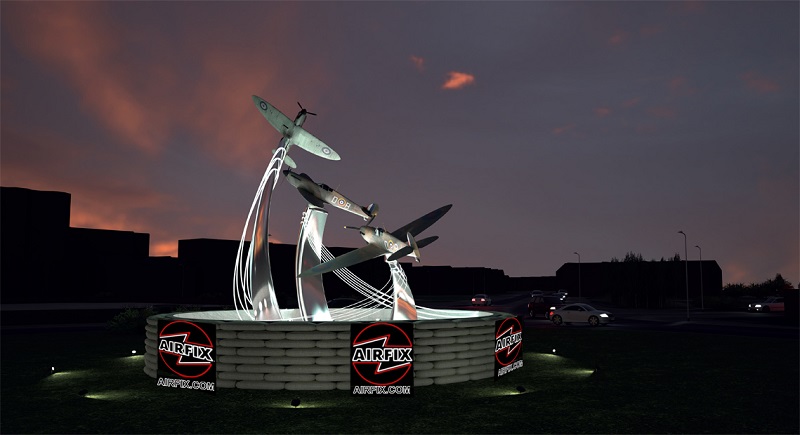 The installation, which is a collaboration between the Blackpool Illuminations team and designer Laurence Llewelyn-Bowen, will feature three replica Spitfires. It marks the first time that 3D printing technology has been used to create Illuminations features.
It can also be revealed that in a ground-breaking partnership with VisitBlackpool, the internationally-renowned model kit company, Airfix, is to sponsor the new installation as well as producing a limited-edition, scale model of a Spitfire with a bespoke Blackpool livery on its fuselage.
The new-look Spitfire Island, which will be unveiled when the Illuminations season commences on Friday 1 September, will be positioned on Gynn Roundabout in the northern stretch of the Illuminations.
It includes replicas of three Spitfires – Progress I, II and III – which were all based at Blackpool Airport during World War Two, and paid for by local residents. The project has been assisted by the team at the Hangar 42 Spitfire Visitor Centre at Blackpool Airport who provided historical data to help the build.
Cllr Lynn Williams, Leader of Blackpool Council, said: "The roundabout has previously accommodated a single Spitfire which proved hugely popular with visitors. This new installation, which uses 3D printing technology for the first time, takes it to a completely different level.
"It is a stunning piece of work that is a deserving tribute to an important part of Blackpool's history.
"We are also delighted to announce a new partnership with Airfix so that visitors and residents will be able to take home a unique keepsake."
A spokesperson for Airfix, which is part of Hornby Hobbies Limited, added: "We are thrilled to join forces with VisitBlackpool and become part of an event which, much like the scale-modelling hobby, has captured the hearts and imaginations of people for many years.
"This collaboration represents a perfect synergy between two organisations dedicated to preserving and celebrating history, while embracing the joy of the present.
"We hope that showcasing the Airfix logo within the Illuminations will serve as a remarkable symbol of our commitment to precision engineering and the joy of model-making."
A total of 4,000 of the limited edition Airfix Spitfire kits will go on sale at VisitBlackpool's Tourist Information Centre (TIC) during the Illuminations season.
A range of aircraft kits will also be available for purchase at the TIC during the summer and at the Blackpool Air Show which takes place over the weekend of August 12 and 13, featuring some of the world's best aircraft including the Red Arrows, Typhoon and Battle of Britain Memorial Flight.
Spitfire Island is one of three brand new installations that will be unveiled in this year's Blackpool Illuminations, which will start on September 1 and shine nightly until January 1, 2024.
Two more collaborations with international designers will be announced in the coming weeks.
The new features have been made possible thanks to Blackpool's Town Deal funding, part of which has been allocated to rejuvenating the Illuminations through new features and infrastructure.
© 2023 Marketing Lancashire