Tomorrow's World' expert to inspire today's business leaders
Source: Chorley Council
1 July 2019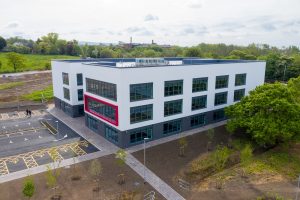 BUSINESSES across the region are being invited to a special event that will give them an exclusive first look at Chorley's Strawberry Fields Digital Office Hub while enabling them to explore the future of digital in Lancashire with experts, including top tech ambassador, Maggie Philbin OBE.
The annual Choose Chorley for Business event will have the theme '2019: The Year of Digital' and will focus on connectivity with a 'Question Time' panel of local digital experts hosted by BBC North West Tonight's chief reporter, Dave Guest.
The free event will be the perfect opportunity for all types of businesses to see what Strawberry Fields Digital Hub can offer them while learning more about what the digital future holds for businesses across Lancashire.
As a top tech ambassador and star of science, medical and technology TV programmes, Maggie Philbin OBE will offer a unique and insightful perspective on technology, diversity and innovation.
Maggie will be joined by an expert panel featuring Digital Lancashire Director Jeremy Coates, co-founder of DigiEnable Liz Hardwick, UCLan's Senior Lecturer in Digital Technology Solutions Martin Rothwell and Director at Ultimaker GB Ltd Paul Croft.
Councillor Alistair Bradley, leader of Chorley Council, said: "Our Choose Chorley for Business Evening is a fantastic opportunity to get a sneak preview of Strawberry Fields Digital Hub and to hear from such a high-calibre of speakers who are leading the way in digital.
"We are delighted that Maggie can join us for what is the biggest event in our business calendar.  Her story and passion for the digital world will, I'm sure, be an inspiration to everyone.
"As an organisation we want to be at the forefront of digital development and to be known as a place where businesses can grow in a digital era. The evening is about connectivity and will enable businesses to hear and share ideas that can shape the future.
"It promises to once again be an exceptional event and I would urge any business who has not yet booked to do so as soon as possible before all the places go."
Maggie Philbin, OBE explained '"The so-called fourth industrial revolution opens up a wealth of possibilities for companies, communities and individuals.
"It's a fast-moving world and we need to think quickly about the best ways to develop, not only young talent in the classroom but valued employees who have a wealth of understanding and experience.
"I'm really looking forward to joining the discussions at Chorley to explore how we can all work together and to hear inspiring examples of what makes a difference. If you care about the future of our community make sure you come along and have your say.  The digital world must be designed to benefit everyone not just the fortunate few."
The Choose Chorley Business Evening event is being held on Thursday 11 July from 5.30pm to 9pm at Strawberry Fields Digital Hub, Euxton Lane, Chorley.
Tickets are available at choosechorley19.eventbrite.co.uk You can also find out more by contacting Chorley Council on 01257 515300 or emailing edu@chorley.gov.uk
© 2018 Marketing Lancashire