Business award win for Chorley Council
Source: Chorley Council
9 December 2022
Chorley Council has been awarded a regional FSB Local Government Award for its Programme of Business Support.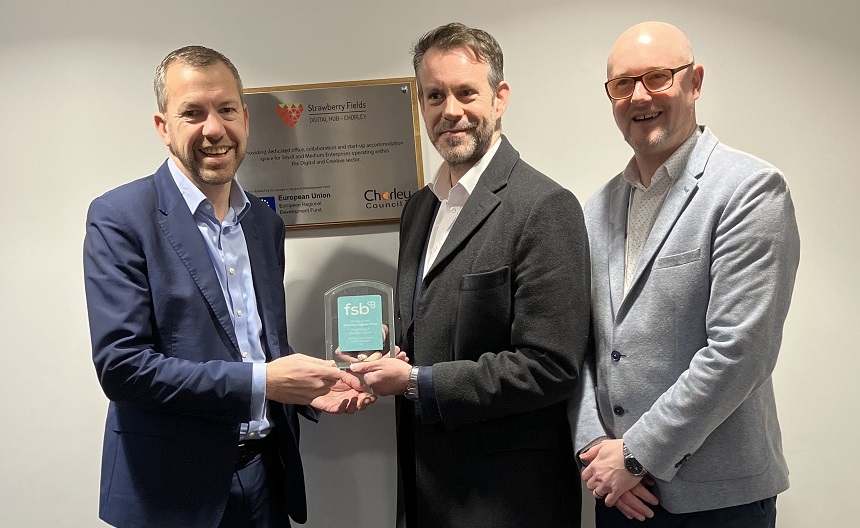 The award recognised Chorley Council's work in identifying the needs of the Digital and Creative sectors in the Borough and launching its 'Digital Creative' business support programme which included physical support at the £8.4m Strawberry Fields Digital Hub development, as well as delivering business advice, practical help, workshops, webinars and seminars.
Leader of Chorley Council, Councillor Alistair Bradley said: "We're extremely pleased to win this award and be recognised for our tailored programme of support to help digital and creative businesses in Chorley, which has helped businesses grow, develop new products and services, and employ more staff.
"Chorley continues to be a great place to do business, with business support as one of the Council's key priorities. Our business engagement team are always on hand to help, so whether it's help with business growth, help with recovery for the pandemic or finding space to do business, please get in touch: [email protected]"
Paul Foster, Development Manager for FSB said: "We are delighted to present Chorley Council with this award which shows the great work they have done not only on the Strawberry Fields Digital Hub, but also on their associated programme of activity.  It was the combination of the infrastructure with the skills and business support which really made their entry stand out."
The 'Digital Creative' business support programme launched in 2018 has now ended however Chorley Council offer a wide range of business support. Find out more here: chorley.gov.uk/businesssupport
The £8.4 million Strawberry Fields Digital Hub, part funded by the European Regional Development Fund (ERDF) and managed by Chorley Council, opened its doors in Autumn 2019 and is currently fully occupied in its fixed office space and also offers flexible hot desk space, plus meeting rooms and event space.
Chorley Council were also shortlisted for two other award categories; Covid-19 Support and Recovery and All-Round Small Business Friendly.
Find out more about the FSB Local Government Awards: fsb.org.uk/localgovernment.html#our-winners
© 2023 Marketing Lancashire