Chorley Market – home to the best cider pub in central Lancashire.
Source: Chorley Council
12 October 2020
The Bob Inn based on Chorley's covered Market has won the CAMRA Central Lancashire branch Best Cider pub of the year 2020.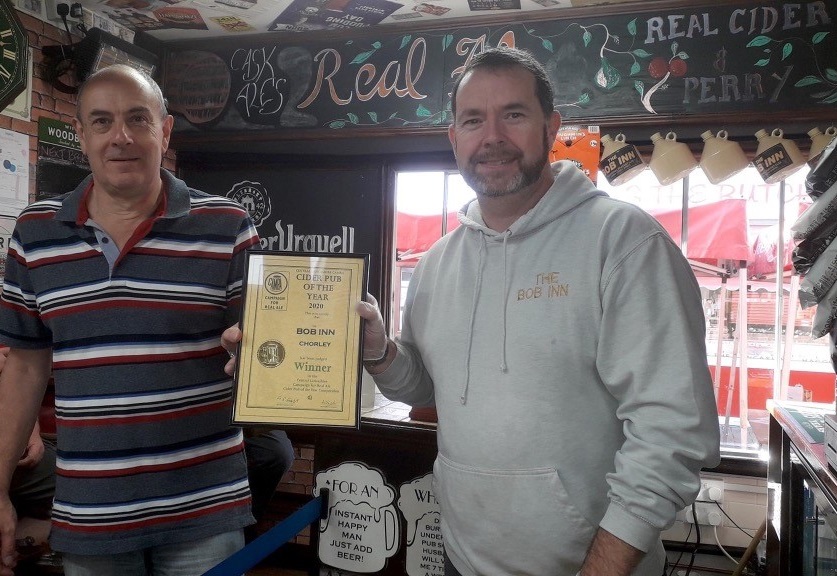 The micro-pub, that has been trading for almost six years, went on to win the award for the second time, seeing off some stiff local competition.
Owner Steve Cooney said "We are thrilled to have won this award again, especially given what a difficult year it has been for businesses, particularly for those in the hospitality industry.
"Being such a small premises, for us it's all about serving quality products that our customers come back for time after time, so I'd also like to thank the customers for their continued support over the years.
"The award is a great boost to our business and we're looking forward to continuing to safely welcome our customers to our award-winning micro-pub".
The micro-pub first won this award back in 2015, in its first year of trading and there have been a lot of changes in those few years.
The Bob Inn, quite a unique concept for the market back in 2014, went from strength to strength pulling in quite a crowd on busy market days as well as in the evenings, however, when the COVID-19 restrictions meant they had to close the premises, the Inn had to be more inventive about how they did things.
Taking to Facebook, The Bob Inn ran weekly pub quizzes and chats online, to keep in contact with their regular customers and offer them something fun to do during lockdown, until they could reopen their doors.
Councillor Peter Wilson, Deputy Leader of Chorley Council: "Well done to the team at the Bob Inn – it's fantastic to see something positive to come out of these challenging times.
Independent businesses, like the Bob Inn, are what makes Chorley unique and creates the varied offering that our Market has, keeping visitors coming back time after time.
When you've done your shopping on the market for clothes, fresh produce, what could be better than sitting down for a nice cold cider."
Find out more about Chorley Markets at checkoutchorley.com/markets
© 2020 Marketing Lancashire