Corona heroes have officially switched on Blackpool Illuminations.
Some of Britain's extraordinary Corona Heroes have officially switched on the Blackpool Illuminations.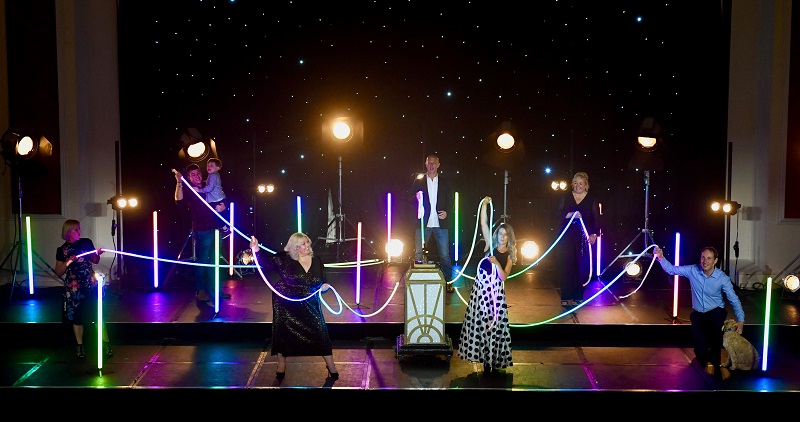 They gathered in the resort's historic Empress Ballroom for a virtual Switch-On event that was streamed around the globe to trigger the start of four months of illuminations.
They included a consultant, frontline nurses, a hospital catering manager, extraordinary fundraisers, and a therapy dog and his owner.
The Switch-On moment was the centrepiece of an hour-long streamed event produced by MTV, which included "at home" performances by Melanie C, Becky Hill, Fleur East, Tom Grennan, Joel Corry, as well as an exclusive performance by Diversity.
Fleur also delivered her "Blackpool Rap" written and produced especially for the show, and there were cameo appearances by Ashley Banjo and Olly Murs, and the amazing sound of one of Blackpool's Wurlitzer organs.
The live part of the event was switched to a closed set in the Empress Ballroom within the Winter Gardens following a last-minute technical problem in the Tower Ballroom.
The show was hosted by Jordan and Perri, with Blackpool-born singer-songwriter Rae Morris performing two songs before Illuminations Creative Curator Laurence Llewelyn-Bowen introduced the Switch-On stars.
Each carried an illuminated strip that was attached to the main switch so that they could all play a part in the resort's first ever socially-distanced Switch-On.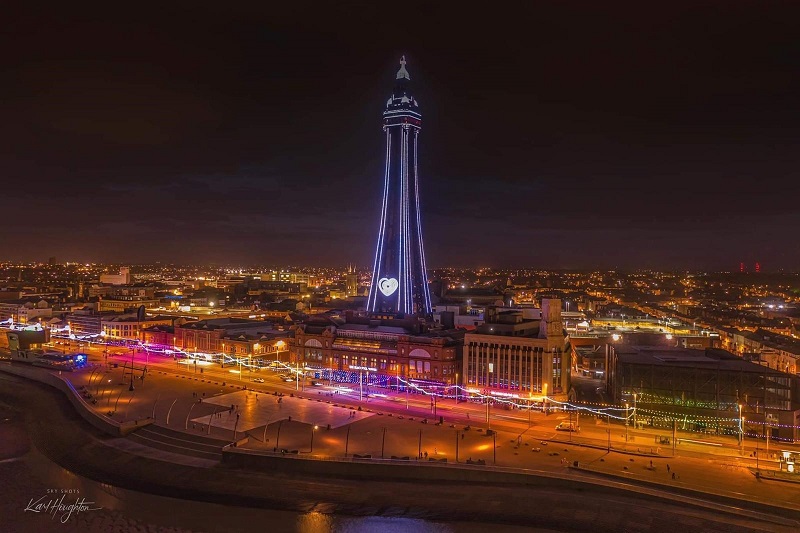 Laurence said afterwards: "It was a huge privilege to be able to share a platform with such a deserving group of people.
"Their heroic efforts and those of so many people like them are truly humbling. I am sure that the 2020 Blackpool Illuminations Switch-On will go down in history simply because it has captured all of the emotion of such an extraordinary year."
Cllr Gillian Campbell, Cabinet Member for Tourism & Culture for Blackpool Council, added: "This has proved to be the most memorable of Switch-On nights as it has given us a unique opportunity to pay tribute to the extraordinary efforts of our NHS, key workers, and other outstanding individuals.
"Those who turned on the Lights tonight each have their own remarkable story to tell. But more than that, they are here to represent the hundreds of thousands of people across the UK who have put their own lives on hold to help the nation through the worst public health crisis in decades.
"I would like to say a huge thank you to our Switch-On stars, to those who performed for us in the virtual show, to the MTV production crew who made this happen, and to Blackpool's own Rae Morris who came home to deliver a spell-binding performance."
This year's Illuminations, which are being presented under a theme of Bring On The Light, celebrate the unstinting work of the NHS, key workers and other outstanding individuals during the coronavirus pandemic, with the Golden Mile featuring a display of hearts and rainbows.
A further 47 Corona Heroes have illuminated images of themselves included within that section. They were chosen from hundreds of nominations from across the UK.
It has already been announced that Blackpool Illuminations will be extended by two months, starting on September 4 and ending on Sunday 3 January, 2021. It will be the first time the Illuminations have shone over Christmas and New Year.
These are the Corona Heroes who switched on the 2020 Illuminations:
Leona Harris: The nurse from Rossendale has worked as a COVID-19 frontline nurse at Fairfield Hospital in Bury since the start of the pandemic.  Not only that, she has helped raise £75,000 and bought i-Pads for patients in hospitals, care homes, and hospices all over Britain to keep isolated patients and families connected. Her remarkable efforts earned her the nickname of "The Angel from the North".
Rachelle Sutton: For three months, the nurse moved out of the family home and lived in a hotel so that she could complete 12-hour shifts at the Nightingale Hospital in Manchester at the height of the pandemic. During that time she won the "star award" from Nightingale for her dedication and compassion for end-of-life patients.
Will Ritchie: The six-year-old boy from the Wirral was born with a severe visual impairment and suffers with epilepsy. During lockdown his parents took the opportunity to increase his exercise tolerance. Over several weeks, he went from 100m to 1500m a day and then completed a challenge for June – Will's Marathon Month. Inspirational Will has now completed 30 miles and raised more than £14,000 for the Wirral University Teaching Hospital Foundation Trust COVID-19 Support Fund.
Dr Jason Cupitt: The consultant led the COVID response at Blackpool Victoria Hospital's Intensive Care Unit, working every day and most nights at the peak of the pandemic, spending only a few hours away from the hospital over several months. His constant presence provide encouragement and reassurance to staff and patients in the struggle against COVID-19.
David Anderson and Jasper the therapy dog. Hospital chaplain David and his cockapoo have provided support and comfort to sick patients as well as boosting morale for the staff on wards at East Lancashire's NHS Hospitals. Earlier this year, Jasper was presented with an "employee of the month" award for his services to the hospitals.
Donna Doyle: Employed at Alder Hey Hospital for more than 40 years, the restaurant manager led her catering team through some unprecedented challenges, instantly doubling the number of meals produced on site to provide a free service for patients, families, volunteers and staff, and initiating a delivery service that took free food and drink to front-line staff.
Kirsty Jones: The nurse from Blackpool's Trinity Hospice moved into a flat by herself in order to continue her work but also protect her husband who had an underlying medical condition and was on the shielded list. After moving out of the family home on April 15, Kirsty was only able to make daily contact with her husband and two children through FaceTime calls. She was eventually able to return home and be reunited with her family five weeks later.
See below for the full list of Corona Heroes who will have their illuminated images in the 2020 display:
BLACKPOOL ILLUMINATIONS CORONA HEROES ROLL OF HONOUR
| | | |
| --- | --- | --- |
| NAME | JOB | EMPLOYER/LOCATION |
| Mark Stanley (deceased) | Specialist paramedic | Todmorden Ambulance Station |
| Isabel Johnson | Student nurse/COVID volunteer | UCLAN/East Lancashire Hospitals Trust |
| Spencer Gibbons | Director, Independent Living | Warren Manor, Blackpool |
| Dr Carole Gavin | A&E consultant | Salford Royal Hospital |
| Donna Doyle | Restaurant manager | Alder Hey Hospital |
| Will Ritchie | COVID fundraiser, aged six | The Wirral |
| Liam Entwistle | PPE stores department apprentice | Blackpool Council |
| David Anderson (and Jasper) | Hospital chaplain and therapy dog | East Lancashire Hospitals Trust |
| Mark Jenkins | Carer | Blackpool |
| Laura Martin | Cardiac day care nurse | Blackpool Teaching Hospitals |
| Dianne Bennison | Domestic staff | Blackpool Teaching Hospitals |
| Dr Jason Cupitt | COVID lead consultant | Blackpool Teaching Hospitals |
| Rachelle Sutton | Nurse | Nightingale Hospital, Manchester |
| Simon Mitchell | Volunteer | Blackpool |
| Kirsty Jones | Nurse | Trinity Hospice, Blackpool |
| Karen Knock | Nursing home senior carer | Braintree, Essex |
| Katherine Truelock | District nurse | North East England |
| Jeanette Richards | Children's services leadership team | Blackpool Council |
| Derek Wright | Catering services manager | Blackpool Council |
| Abby Johnson | Ward sister | Royal Blackburn Hospital |
| Joy Redwood | Care team manager | Royal Bolton Hospital |
| Laura Crawford | Critical care nurse | Leighton Hospital, Crewe |
| Norbert Mate | Adult social care team | Blackpool Council |
| Justine Whittaker | Nurse consultant | Airedale Hospital, West Yorks |
| Debra Ramsdale-Walsh | Ward sister | Blackpool Teaching Hospitals |
| Leanne Ratcliffe | Intensive care nurse | Liverpool Heart & Chest Hospital |
| Mark Carrington | Support worker | Ashley Foundation, Blackpool |
| Rachael Bailey | Occupational therapist | Preston NHS Trust |
| Janette Mills | Nurse | Southport Hospital |
| Rachel Carr | Community midwife | Birmingham |
| Dr Helga Brown | Geriatrician | Blackpool Teaching Hospitals |
| Hola Healy | Healthcare assistant | Blackpool Teaching Hospitals |
| Jordan Field | X-ray assistant | Glan Clwyd Hospital, Wales |
| Phil Helm | Cardiology matron | Blackpool Teaching Hospitals |
| Rose Lord | Radiographer | Chorley Hospital |
| Charlotte Wells | Cleaner | Royal Derby Hospital |
| Laura Ivinson | Team leader | Corona Kindness hub, Blackpool Council |
| Tanya Elliot | Store assistant | B&M, Cumbria |
| Christine-Anne King | Private carer | Blackpool |
| Kelly Richards | Intensive care nurse | Wrexham Maelor Hospital |
| Dr Robert Downes | Intensive care doctor | Blackpool Teaching Hospitals |
| Terri Starkey | Newly-qualified nurse | Leighton Hospital, Crewe |
| Stella Noonan | Practice nurse | Sheffield NHS Trust |
| Emily Sykes | Phlebotomist | Blackpool Teaching Hospitals |
| Holly Chapman | District nursing sister | Lancashire NHS Trust |
| Leona Harris | Nurse/Fund-raiser | Fairfield Hospital, Bury |
| Jackie Bailey | Intensive care nurse | East Lancashire Hospital Trust |
| Lee Andrew Jones | Patient Services Assistant | East Lancashire Hospital Trust |
| Samuel Johnston | Mental health social worker | Blackpool |
| Cath Powell | Community team leader | The Grange, Blackpool Council |
| Ellis Porter | Physiotherapist | Blackpool Teaching Hospitals |
| Ruby Aziz | Complex case manager | Royal Blackburn Hospital |
| Nina McCallion | Support worker | Renaissance Lancashire |
| Brett Hogarth | Factory manager (supplier of sterile gowns to NHS) | Survitec, The Wirral |
Click here for further information on Blackpool Illuminations
© 2020 Marketing Lancashire