Council secure £5million funding for decarbonisation
Source: South Ribble Borough Council
27 May 2022
A bid by South Ribble Borough Council for a government decarbonisation grant has been successful.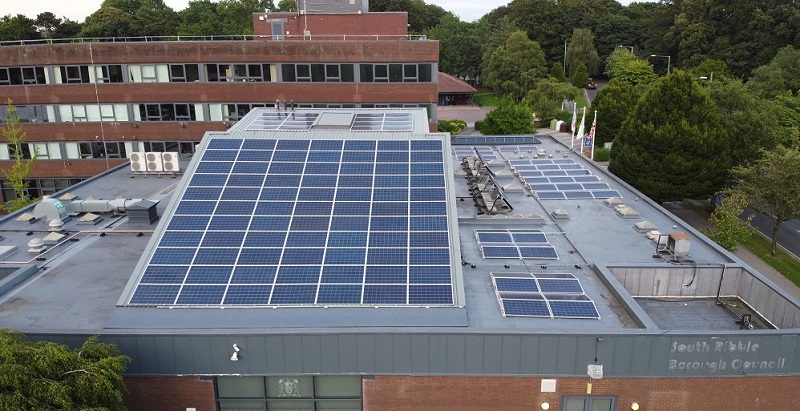 The funding of £4,968,854.00, in the form of a Phase 3 Public Sector Decarbonisation Scheme grant, will allow further carbon reduction measures to be installed in council owned buildings.
The funding, provided by the Department for Business, Energy and Industrial Strategy (BEIS) and delivered by Salix Finance provides grants for public sector bodies to fund heat decarbonisation and energy efficiency measures to help the UK meet its net zero commitments.
Councillor Mick Titherington, Deputy Leader of South Ribble Borough Council said: "We are delighted to have been successful in our bid for further funding which will allow us to install further green technology to decarbonise some of our estates.
"As part of our Climate Emergency Action Plan, we've been identifying energy improvements within the Council's main buildings and have already installed some measures at the Civic Centre. This latest funding will allow us to implement more carbon reduction measures in those Council buildings with higher energy use, including leisure centres, so not only will it help reduce our reliance on fossil fuels, it will improve efficiency and save money that could be spent elsewhere."
"This is not only a giant leap forward in our drive to become carbon neutral by 2030 but also a game changer for our Leisure Centres. With the additional, substantial investment we are making, our Centres will be transformed into attractive, modern, state of the art premises that South Ribble residents and visitors will be able to enjoy in their current locations.
"It's a win win as far as our residents are concerned and is another example of us delivering on our policies from which everyone will see a benefit."
Salix programme manager Laura Couldrey said: "Salix is delighted to be working with South Ribble Borough Council on this exciting project. The council's plans to replace their fossil fuel heating and install renewable and energy saving technologies will play a huge role in decarbonising their buildings. Over the next year Salix are looking forward to supporting the council on this journey."
The grant scheme was approved for six eligible buildings within the South Ribble Borough Council estate. These six are the highest energy using buildings which will provide the largest energy savings once works are complete; Civic Centre, Moss Side depot, South Ribble Tennis Centre, Leyland Leisure Centre, Bamber Bridge Leisure Centre and Penwortham Leisure Centre.
Savings will come as a result of the installation of renewable energy sources (solar panels) and operational costs of new installations, such as air source heat pumps, replacing the existing lighting and gas boiler systems in these buildings.
The work, which will be undertaken during 2022 and up to March 2023, will include the replacement of existing gas boilers with a combination of solar panels, also known as photovoltaics (PV), LED lighting, air handling units, air source heat pumps, and improved efficiency / variable motors for the swimming pools at leisure centres.
Phase 3 PSDS follows the successful delivery of Phases 1 and 2 of the Public Sector Decarbonisation Scheme.
Further information about how South Ribble Borough Council are tackling the climate emergency can be found on their website southribble.gov.uk/climatechange
© 2023 Marketing Lancashire