Crafty Vintage reveal line up for Bank Holiday Hoghton Tower Festival
Organisers of Lancashire's longest running independent festival have announced the line up for their forthcoming family friendly event which will take place over the May Spring Bank Holiday weekend at the magnificent Hoghton Tower near Blackburn/Preston.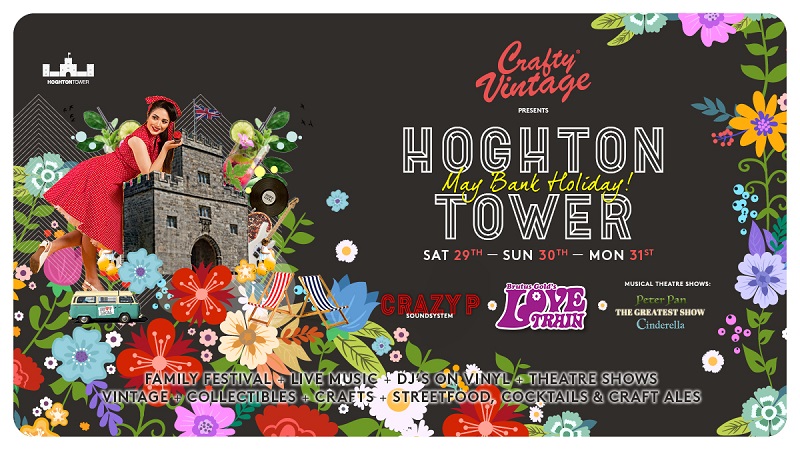 The festival kicks off on Saturday 29th of May with the first of three family theatre shows performed by local theatre company Just Imagine UK. Guests can venture to Neverland with Peter Pan and Tink as they go against the tick-tock clock on a quest to defeat Hook.
'The Greatest Disco in the World' is set to get people from far and wide 'boogying on down' as The Love Train rolls into the historic grounds. The interactive show will
occupy the arena stage on the Saturday afternoon with an A to Z of everyone's Disco favourites, such as the Bee Gees 'Staying' Alive ', 'Sex Machine', 'Boogie Wonderland', 'I Haven't Stopped Dancing Yet', 'Car Wash', Le Freak' and lots more.
Set to headline the main stage on Sunday, May 31st are Crazy P – Soundsystem, renowned as one of the best dance music shows on the planet and have been leaving their mark on the landscape of British dance music for the last 15 years. On Bank Holiday Monday, Mansford's Comedy Club will present a selection of the funniest comedians from the UK touring circuit including; Steve Royle, Ignacio Lopez, Martin Mor, Matt Reed and MC Hammersmith.
Laura Johnson, co-founder of Crafty Vintage said "we are delighted to confirm such a varied line-up of live entertainment which appeals to all ages" Laura added "we can't wait to welcome everyone into the socially safe seated arena to have some much-needed fun"
A pop-up market with over 100 independent makers, creators and artisans will be present with a fine array of vintage, collectables, art and contemporary crafts..
Once again, The Cantina Courtyard will offer a mouthwatering selection of streetfood served from trucks and trailers, plus craft beers and delicious cocktails.
Organisers have already shown their gratitude to key workers with over £2,000 worth of tickets going out to NHS staff.
ARENA LINE UP:
● Saturday 29th May
○ Peter Pan
○ The Love Train
● Sunday 30th May
○ The Greatest Show
○ Crazy P Soundsystem
● Monday 31st May
○ Cinderella
○ Manford's Comedy Club
Tickets to the Pop Up Market and Cantina are £3 with tickets to the seated arena shows from £12.50 upto £350 for the VIP cabanas which seat 6 people and include champagne and canapes. BOOK NOW at: CraftyVintage.com
© 2023 Marketing Lancashire