DIY SOS calls on North West's tradespeople for upcoming build in Blackburn with Darwen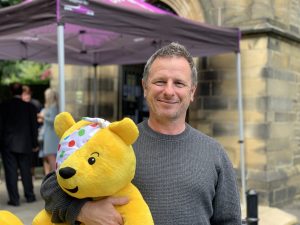 DIY SOS, BBC One's popular property renovation show, will head to Blackburn with Darwen later this year to take on an ambitious build to benefit a local charity. The programme is appealing for local tradespeople to volunteer their time to help complete the build in September.
DIY SOS: The Big Build BBC Children in Need Special (working title) will see Nick Knowles and his team, with interior designer Gabrielle Blackman, complete the conversion of a rundown church hall, originally built in the early 1800's, into accommodation and a support centre for Nightsafe: a Blackburn charity which provides support to young people aged 16 to 24 who are homeless or vulnerably housed. The show will air this November during BBC Children in Need Appeal week.
The current building is bursting at the seams; they have an emergency shelter but they need more space to support vulnerable young people in the area and help to get them back on their feet. The infamous Purple Shirts have big plans to renovate St Silas's Parish Room, which is being leased to Nightsafe by St Silas Church, and turn it into a space that will benefit Blackburn's young homeless.
The DIY SOS team along with the support of hundreds of volunteers and tradespeople will have nine days to transform the interior of the building into a purpose-built support centre and short-term accommodation for vulnerable young people in the community who are homeless, which will be specifically for those aged 16 – 18.
DIY SOS is appealing for tradespeople, including: plumbers, carpenters, plasterers and decorators, to offer support with the transformation in September. The build will be happening between Tuesday 3rd September and Thursday 12th September.
Mark Millar, Build Manager for DIY SOS is appealing to local tradespeople across Lancashire and the North West, and said:  "This build with BBC Children in Need is for a very special local charity called Nightsafe, who help extremely vulnerable young people who are facing homelessness to get back on their feet.
"But we won't be able to do it without the help of local tradespeople! If you are in the building trade, we need you! We need plasterers, we need carpenters, we need builders, and we need joiners and decorators. If you can spare a day or two, or the whole week, please get in touch with our team."
Nightsafe has been funded by BBC Children in Need for a number of years. Currently, Nightsafe uses a grant of £106,481 to deliver the LEAP project which supports homeless and vulnerable young people under the age of 18, by helping to increase their life skills and engaging them in education, training and employment to encourage stability in their lives. BBC Children in Need currently funds 14 projects across Blackburn, with more than £906,000 hard at work to benefit young lives in the region.
Tradespeople who are able to volunteer their time, or who can provide materials for the build should email diysosblackburn@bbc.co.uk. The build will run from Tuesday 3rd September until Thursday 12th September.
© 2018 Marketing Lancashire