Eden Project submits case for Government funding for Morecambe vision
The Eden Project has submitted a business case for £70m of UK Government funding to help make Eden Project North in Morecambe a reality.
Eden Project North will be a major new exemplar attraction in Morecambe, Lancashire that seeks to reimagine the British seaside resort for the 21st century.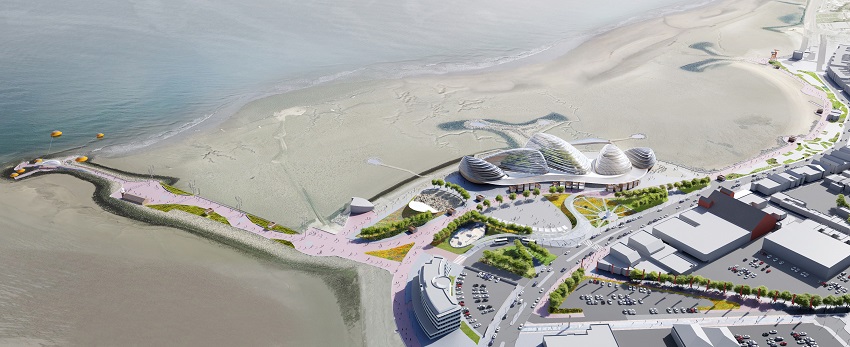 The plan is for a destination that combines indoor and outdoor experiences, connecting people with the internationally-significant natural environment of Morecambe Bay while also enhancing wellbeing.
The detailed, 140-page business case was prepared in collaboration with Eden's partners in the Morecambe project – Lancashire County Council, Lancaster City Council, Lancaster University and the Lancashire Enterprise Partnership.
The report presents Eden Project North as a key driver of the UK's post-Covid green recovery and shows that it is a "shovel-ready" project which would deliver significant economic, environmental and social benefits for Lancashire and the wider North West region, as well as contributing to the wider levelling-up agenda and the Government's 25-year Environment Plan.
Eden Project North is projected to attract around one million visitors a year and directly employ more than 400 people. The business case estimates a visitor spend of more than £200m per year in the region (not including money spent at Eden Project North) which would support an additional 1,500 jobs.
Eden Project North, says the report, is poised to contribute to the UK's carbon net zero and green jobs targets, both directly through its operations and through green education programmes delivered with Lancaster University.
In total, the business case projects that the eventual cost of Eden Project North will be £125m. Eden is seeking a mixture of private and public funds to make up the difference beyond any central Government funding.
Eden Project North is being delivered by the team behind the first Eden Project in Cornwall and is one of the key projects in Eden's plans to expand around the UK and the world.
The team has a proven track record of delivering regeneration projects, with Eden in Cornwall transforming a former china clay pit, which was sterile, unstable and had no soil, into the world-class destination it is today.
Eden in Cornwall cost £141m to build and to date has welcomed more than 22 million visitors and added more than £2bn to the regional economy since opening in 2001. In recent years, it has continued to attract around 1m visitors a year.
David Harland, Chief Executive of Eden Project International, said: "This is a major milestone for Eden Project North, a moment when we have presented the Government with what we know is a compliant, comprehensive and compelling case for investment.
"The world has changed beyond measure this year and it is imperative as we come out of the pandemic that our collective focus is on a recovery that stimulates the economy, is environmentally forward looking and creates meaningful, green collar jobs. Our firm belief is that Eden Project North does all of these things and will be transformative for Morecambe and the surrounding region.
"As always, we are hugely grateful for the hard work and support of our partners on this project, in particular Lancashire County Council who worked closely with us on the development of this business case. The community in Morecambe and the wider North West region have been an inspiration to the team during the development of this project and we're looking forward to continuing to collaborate with them as we progress."
Geoff Driver CBE, leader of Lancashire County Council, said: "The council has long recognised the importance of Eden Project North and the huge benefits it could have not just for Morecambe and Lancashire, but for the North West.
"The proposal is unique and ambitious and is something we very much support.
"Plans to deliver Eden Project North have been progressing for some time, but during recent months the County Council has increased the pace, scale and nature of its involvement by leading on the planning, management and delivery of a compelling Business Case, which has now been submitted to Government for consideration.
"We believe this case shows that the project is 'shovel-ready' and deserves to be recognised through funding by central Government."
Councillor Dr Erica Lewis, leader of Lancaster City Council, said: "Eden Project North promises to be a transformative project that will deliver considerable social and economic benefits for Morecambe, the district and the region.
"As we plan for recovery from the impacts of Covid-19, the benefits the project will bring are more important than ever and will form a critical element of our commitment to building economic prosperity and resilience in our communities.
"Lancaster City Council is fully supportive of the plans and has worked closely with the Eden Team throughout the project. I hope the Government will also demonstrate its commitment and help us realise the dream of bringing Eden to Morecambe."
Steve Fogg, Chair of the Lancashire Enterprise Partnership, said: "The Eden North project will be a game-changer for the Lancashire economy. The project will undoubtedly deliver substantial economic benefits for our county not only in terms of the opportunities for local businesses to become part of the Eden supply chain, but also as a visitor attraction of national significance, providing a much-needed boost to our tourism and hospitality sector.
"This is recognised not only by the Lancashire Enterprise Partnership, but also other key partners who have come together to make this a reality. The submission of the business case is extremely welcome news and I hope Government supports the project and provides a much needed injection of hope for our economic recovery post Covid-19."
Professor Andy Schofield, Lancaster University Vice-Chancellor, said: "Eden Project North is vital to the region and timely, as we look to the horizon for green shoots of growth and recovery. As a Civic University, and a founding partner, we are committed to the success of this initiative and the subsequent economic and social regeneration of our region.
"We will drive impact and research to improve health and wellbeing, education, engagement, economic development and sustainability."
David Morris MP, Member of Parliament for Morecambe and Lunesdale, the constituency in which Eden Project North would be located, said: "Eden Project North will be transformative for our area and provide a much-needed post-Covid economic, environmental and social boost. The positive impact of Eden will be felt not just in Morecambe but also in the wider North West area.
"The Government have a levelling-up agenda for the North, and I can see no greater project than Eden to level up our part of the North West. Eden are tried and tested and already have a track record of turning public and private investment into a huge economic benefit for a region.
"Now the final business case has been submitted to Government the project is ready to go as soon as the funding is confirmed. I am in constant talks with Government to secure this funding to allow the project to go ahead. I can see no greater investment as the positive benefits of Eden Project North will be felt immediately, it will be a game changer for our area."
It is planned that Eden Project North would will be situated on the Morecambe seafront and it would be a showcase for the unique ecology of Morecambe Bay.
The project comprises a series of zones. Above the Bay will be filled with plants and art installations, Below the Bay will contain a series of immersive and dramatic theatrical experiences and the Natural Observatory will be a unique space for showcasing cutting-edge science.
These areas and experiences will be complemented by the Bay Hall, a spectacular welcome area to Eden Project North, and the Food Experience will which celebrate the food of the Bay and the surrounding area. The project would also include an outdoor arena for live music and performance.
In a community consultation whose results were released earlier this year, 99 per cent of people who attended events or responded online said they were in favour of Eden Project North.
© 2022 Marketing Lancashire