Edge Hill's Fastrack to success celebrates milestone birthday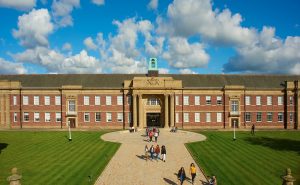 This month sees the 'coming of age' of Edge Hill's Fastrack programme, an intensive course designed to provide the skills to prepare participants for degree study at the University.
Over the last 21 years approximately 3,000 adults who would not otherwise have had the opportunity to study at university have completed the free course and secured a place on a degree programme at Edge Hill.
The seven-week course is ideal for people who are looking to enter higher education but lack the relevant Level 3 entry requirements.
The emphasis of the Fastrack courses is on study skills, so there are compulsory sessions on essay writing, report writing, revision and examination techniques, presentation skills, time management, action planning and course evaluation. Students also complete a subject specific part of Fastrack.
They select the subject they hope to study at degree level and if they pass both parts of the course then they can progress to their degree course in the next academic year, with 100 per cent of those who completed the course saying they would recommend it to others looking for a route into higher education.
Job satisfaction and career progression were key factors on Edge Hill University's Senior Lecturer Mark Liptrott's own Fastrack journey.
"After well over a decade working in a major bank I realised I was not being promoted and that those with degrees were entering the profession and accelerating past me on the progression ladder", said Mark.
"At this point I was in my 30s and settled in what was considered a secure job but going nowhere." Having been out of education for 15 years the decision proved daunting for Mark – but he has no regrets.
"It was something of a leap of faith to sign up, but the course was ideal, and I was surrounded by like-minded people who wanted to change something in their life. It gave me the skills and confidence to start a degree in Information Systems."Mark went on to gain first-class honours and stayed on to complete a PhD, before becoming a Senior Lecturer and Director in the Department of Computer Science at Edge Hill.
The progamme is demanding with long hours, academic determination, financial sacrifice and social discipline all required.
But the dividends for those willing to grasp the opportunity are well worth the investment as graduates typically enjoy career progression and enhanced life opportunities.
Ann Kennedy, Senior Access, Advice and Guidance Officer for Fastrack, completed the course herself 19 years ago.
She said: "It is the most rewarding programme you can ever work on, it's fast moving and intense and with around 200 students taking part each year there is a high turnover of work. Students often leave a job to go back and study so are giving up so much, and show so much determination during the intensive programme.
"They are putting their lives in our hands for a few weeks and it is amazing to watch them develop as they grow wings and learn to fly."
Heather Ransom, a 2015 graduate of the scheme from Southport added: "Fastrack was an amazing experience of self-discovery. I learned so many new skills, made new friends and started a journey that I loved – and still do. It was hard work, and I put everything into it, but I did it."
To find out more about the Fastrack scheme, or to apply for the programme in 2020, see: https://www.edgehill.ac.uk/courses/fastrack-preparation-for-higher-education/
© 2021 Marketing Lancashire