Grundy Art Gallery reopening with a new summer exhibition on 29 July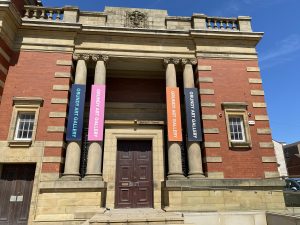 Blackpool's Grundy Art Gallery on Queen Street is excited to announce that it will be reopening its doors on Wednesday 29 July with a new exhibition 'For Your Health and Pleasure' and a fresh exhibition programme for the rest of the year.
Admission is Free: Wednesday – Saturday 11am – 4pm (last admission 3.40pm. Closed Sunday, Monday and Tuesday). These are temporarily amended opening hours until further notice.
Cllr. Gillian Campbell, Cabinet Member for Tourism and Culture for Blackpool Council said, "We are absolutely delighted to announce that Grundy Art Gallery is going to reopen. We can't wait to safely welcome our visitors back through our doors to enjoy what the gallery has to offer."
The Grundy Art Gallery has also signed up to and obtained the new VisitEngland 'We're Good To Go' Covid safe industry standard. To obtain the standard, businesses and attractions must show that they have carried out a Covid-19 risk assessment and are adhering to all of the latest government guidelines and making necessary changes around social distancing, staff training and health and safety. (Measures are listed in note to editors).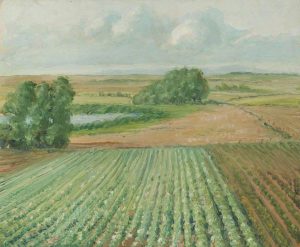 For Your Health and Pleasure: 29 July – 5 September 2020
The title of the exhibition takes inspiration from a heritage postcard extolling the virtues of a visit to Blackpool. Drawn entirely from Grundy Art Gallery's collection, the exhibition is devised as a 'simple show for complex times'.
Starting with the small painting, 'View From My Window' (1937) by one of gallery's founders, Cuthbert Grundy, the exhibition unfolds as a travelogue – of sorts – showcasing how landscape and overseas travel are represented in the gallery's collection.
During lock down, the window and indeed its view have taken on a renewed importance in the lives of people across the world. The window and in particular its frame, share many of the same qualities of painting – the defined edge of a portal to a world beyond and whilst lock down measures are easing, travel remains restricted. The exhibition, 'For Your Health and Pleasure' will therefore act as a surrogate, giving audiences the opportunity to take their own Grand Tour using works from the Grundy Art Gallery's collection as a guide.
Taking in vistas and architecture from both near and far – the hyper-local to the distant sublime; the seaside and the ocean, valleys, lakes, mountains, gardens and public parks – the exhibition aims transports us, taking us to places, many of which for the time being at least, remain out of reach.
The Lights: 23 September – 19 December 2020
Looking ahead to autumn 2020, Grundy Art Gallery is pleased to also announce this year's light-themed exhibition. Timed to coincide with Blackpool's annual Illuminations, Grundy Art Gallery will present an exhibition called, 'The Lights'; shorthand for how the Illuminations are referred to locally.
Drawn from Grundy Art Gallery's collection, this exhibition will showcase and celebrate the breadth of Grundy's light-themed collecting over the past five years and will include longer standing acquisitions, such as Tracey Emin's neon piece titled, 'I know I know I know', alongside five new works brought into the collection this year.
Grundy Art Gallery's summer and autumn programmes will be supported by a range of remotely delivered engagement activities. Please contact Grundy Art Gallery to find out more.
© 2021 Marketing Lancashire