'Invest in Lancashire – A place for growth' new prospectus to launch at UKREiif
Source: Lancashire County Council
15 May 2023
A new prospectus which demonstrates why Lancashire is THE place to do business will be unveiled at a major trade show tomorrow (Tues 16 May 2023).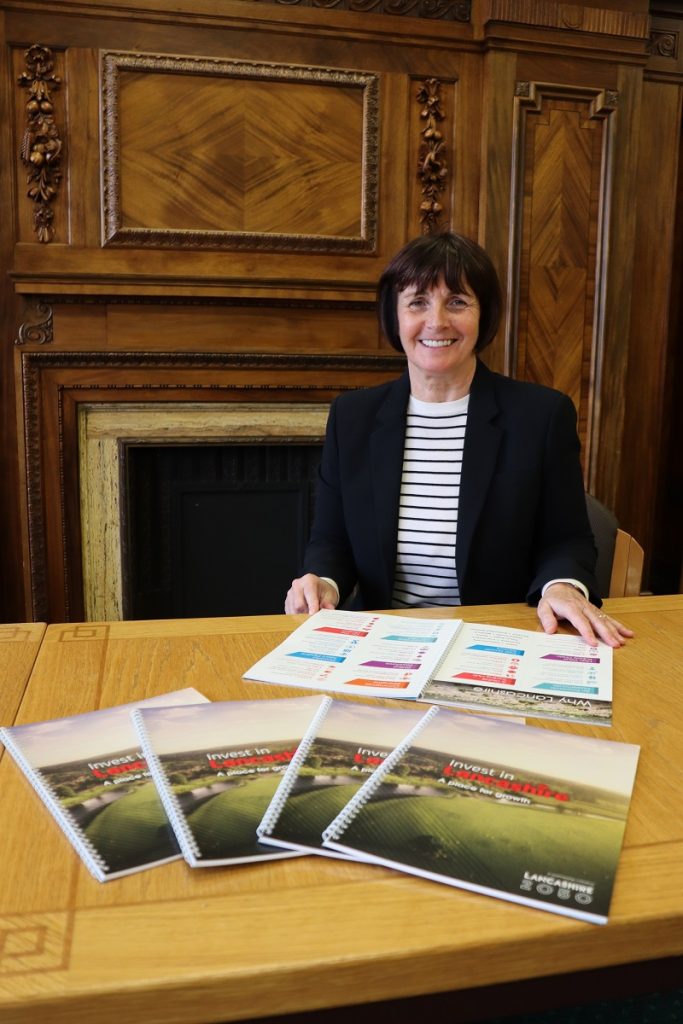 The prospectus, 'Invest in Lancashire – A place for growth', is the first major project to be completed under the Lancashire 2050 banner, the ground-breaking agreement backed by the county's 15 local authorities.
Each council has signed up to the Lancashire 2050 Framework to ensure they are aligned on key county-wide issues such as economic prosperity, skills and employment, transport and infrastructure, environment and climate, and housing.
The prospectus highlights the potential for future investment in the county, already the home of 55,000 businesses, supporting 640,000 jobs and a regional economy of £33.3billion.
It also details some of the exciting opportunities currently available across the county, including shovel-ready schemes with the connectivity and amenities required to enable all types of development to progress at pace and at scale.
It will be officially launched at the UK's Real Estate and Infrastructure Forum (UKREiiF) event in Leeds, which runs from tomorrow until Thursday and brings together more than 6,000 delegates from the public sector, business investors, funders, developers, housebuilders and Government.
A delegation from Lancashire, including representatives from Lancashire County Council, Blackburn with Darwen Borough Council, Preston City Council, Burnley Borough Council and the University of Central Lancashire, will unveil the prospectus while also promoting everything the county has to offer, while Blackpool Council will also exhibit its own investment prospectus.
Councillor Phillippa Williamson, leader of Lancashire County Council and Chair of Lancashire Leaders, said: "Lancashire has a really proud record as a place to do business.
"We are a friendly, hardworking county right at the heart of the highest density of advanced engineering and manufacturing jobs in the UK.
"Lancashire is also on a high-growth economic trajectory, with innovation, net zero and advanced technology at its core.
"This new prospectus highlights the many opportunities available right across the county.
"These include everything from the anticipated regeneration of Morecambe thanks to the greenlit £100million Eden Project Morecambe, the world leading hub of innovation at Samlesbury Enterprise Zone and transformational plans for Burnley, including a new Canalside University Campus for UCLan, which is set to cater for 6,000 students.
"It really underlines our determination to significantly accelerate Lancashire's economic growth, helping to generate thousands of new high-value jobs, and become a trailblazer in tech, low carbon, digital and other in-demand and globalised industries."
Simon Lawrence, Director of Growth & Regeneration at Lancashire County Council, said: "I'm really looking forward to being part of the Lancashire delegation to UKREiiF and speaking at some breakout sessions.
"The county has so much to offer for both businesses and investors, and this is a great opportunity for us to showcase what we are all about.
"We really want to hear from anyone who is interested in finding out just what Lancashire can offer them. Come and see us at stand K34 if you are attending and pick up a copy of our prospectus."
Councillor Phil Riley, Leader of Blackburn with Darwen Council, said: "Blackburn with Darwen is really on the up – carving out a strong reputation as a place to invest and do business.
"We'll be heading to UKREiiF ready to showcase our £1bn vision for the future, which has the potential to make us one of the most important economic centres in the North.
"That vision includes our £250m Blackburn Town Centre Masterplan – the largest town centre regeneration scheme of its type in the region – plus the £100m Darwen Town Deal with a new AMRC Additive Manufacturing Accelerator – the first-of-its-kind for the UK.
"There's a huge sense of momentum in Blackburn with Darwen and we're looking forward to meeting with investors who want to be part of our story."
Leader of Chorley Borough Council Cllr Alistair Bradley, speaking on behalf of the county"s district and borough councils, said: "It's really important we are showcasing what Lancashire has to offer and there is something different in each part of the county.
"This is a really exciting time for Lancashire and the investment we are making is going to set us up as the best place to do business in the country.
"I look forward to seeing the reaction of at the trade show and it is an early example of how working together we can do more for the residents of Lancashire."
Professor Graham Baldwin, Vice-Chancellor of the University of Central Lancashire, said: "As the third largest university in the North West and the largest provider of graduate-level qualifications in Lancashire, we are proud to contribute so significantly towards the economic prosperity of the region.
"We are fully committed to collaborating on investment opportunities and to supporting businesses of all sizes to locate, innovate and thrive in Lancashire."'
Cllr Mark Smith, from Blackpool Council, added: "We have a £2 billion growth and prosperity programme taking place in Blackpool right now, and as a result there are plenty of opportunities for people to invest here, whether that is in the 10 hectares of unlocked commercial land at Blackpool Airport Enterprise Zone, or the opportunities becoming available as our Talbot Gateway and Blackpool Central developments progress.
"We have a real connected business ecosystem across Blackpool and the rest of Lancashire, and this puts us in a strong position to tell our story of growth together, which in turn can mean a growing local economy, resulting in more, better paid jobs for our local residents.
"Taking our investment programme to UK REiiF enables us to tell our investment story to thousands of potential investors or developers, and really sell the benefits of doing business in Blackpool. Alongside Lancashire, we will be available at stand K30."
© 2023 Marketing Lancashire