Families Flock to Darwen for Big Street Party
Last Monday May 8th, the King's Coronation Big Street Party was held in Darwen Market Square, in celebration of the coronation of King Charles III. Funded by the Darwen Town Council and organised by the award-winning Crafty Vintage and Let's Make, the event was a huge success, with families flocking to join in the fun.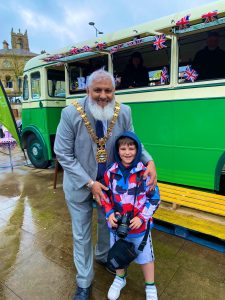 The event provided lots of free family fun, with immersive theatre, magic shows, singing, dancing and lots of merriment. Delicious food was also on offer, making it a day to remember for all.
Cllr Kevin Colin, a member of the Darwen Town Council, expressed his delight at the success of the event, saying, "It was wonderful to see so many families coming together to celebrate this historic occasion. The King's Coronation Big Street Party was a great way to bring the community together and create lasting memories."
An open top bus, in King Charles Coronation III livery, was given centre stage on the square and wowed the crowds, with queues forming to take a seat upstairs on the open deck.
Laura Johnson of Crafty Vintage, one of the event organisers, also expressed her satisfaction, saying, "We were thrilled to see so many families enjoying the free family fun we had on offer. The roving entertainment was a particular hit with the children, and the singing and dancing added to the festive atmosphere and it was heartwarming to hear the laughter and see the enjoyment from the audience.
Plans are now underway for another fabulous day on Saturday 1st of July, Darwen's Festival of Fun. This event promises to be just as exciting, with lots of free family fun, food and entertainment.
© 2023 Marketing Lancashire