Lancashire social enterprise and Premier Inn launch Zzzoovet
A Lancashire social enterprise business has teamed up with the biggest name in the UK hotel industry to produce a one-of a kind-product for remote workers looking for Premier Inn comfort.
With many of us finding it hard to get out of bed when working from home, and half of us claiming to have made work calls from bed, Premier Inn has created the perfect solution – the Zzzoovet in partnership with The Sewing Rooms.
Initially created to mark Sleep Month – a period traditionally focused on getting a great night's sleep, the Zzzoovet was announced to help people working from home stay warm and cosy, whilst appearing completely professional on video platforms such as Zoom or Teams video calls.
To help bring the Zzzoovet to life the team at Premier Inn enlisted the expertise of local social enterprise The Sewing Rooms, based in Skelmersdale – a business with values in line with its own Force For Good strategy.
The Sewing Rooms social enterprise is a business that trades to tackle social problems. Their goal is to improve the health and wellbeing of the communities they work with, working particularly closely with groups and individuals who may be isolated, long-term unemployed and at risk of developing mental health problems. As well as improve the life chances of the people who live in those communities – where possible offering trainees employment opportunities in our curtain-making and upholstery department.
The Sewing Rooms' manufacturing department makes soft furnishings, accessories and bespoke upholstery for private and corporate clients, and this is where their partnership with Premier Inn came about. One of Premier Inn's soft furnishings manufacturers has a close partnership with The Sewing Rooms and recognised that they had the skills needed to bring the prototype of the Zzzoovet to life.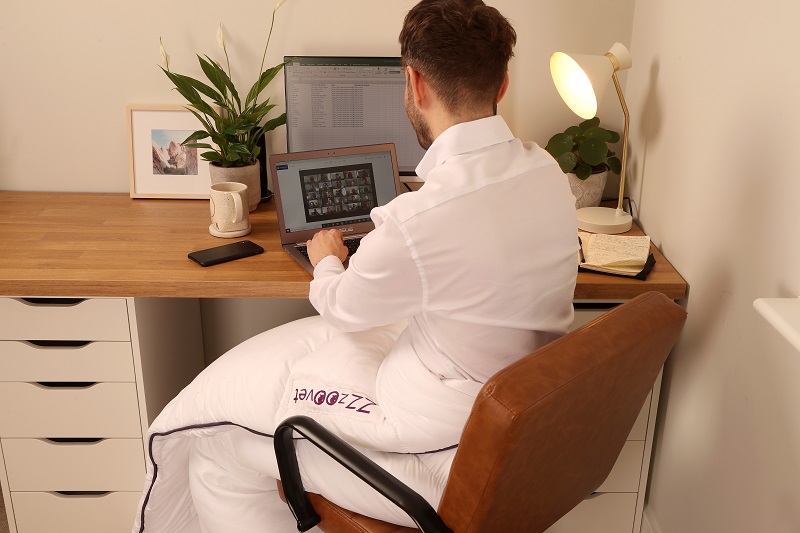 The curious clothing is comprised of a wraparound duvet with a special fastening so it can be adjusted to fit most wearers, and comes with either a smart unisex crisp white buttoned shirt or a fresh white sweatshirt, giving the wearer a completely professional appearance whether they need a more formal look or when a more relaxed appearance is called for. The Zzzoovet wearer looks set for the office from the waist up, but their outfit transforms into a 10.5 tog microfiber duvet from the waist down, off-screen and out of sight of the laptop camera. The luxurious bedding envelops the wearer, allowing for that cosy snuggled-up-in-bed feeling, whilst letting you still be productive and presentable for work.
The Zzzoovet went through a few rounds of development before the perfect design was settled on. In order for it to be as comfortable as possible, the latest prototype features has a handy detachable waist band that can be worn with any top, allowing the wearer to quickly remove their Zzzoovet if they need to dash to the door for one of those inevitable home deliveries.
 Natalie McConnon a spokeswoman for Premier Inn says "With TikTok videos of Premier Inn pillows going viral and sales soaring, we're aware that our customers love to bring the comfort of our hotels into their homes. We have a home range of Premier Inn mattresses, duvets and pillows that are hugely popular, and whilst thinking about what other at-home Premier Inn products we could offer, the idea of the Zzzoovet was born.
Our research shows that over 10% of Brits already work with a duvet wrapped around them, and our Zzzoovet allows you to do that whilst still looking smart for work. The Zzzoovet ticks so many boxes, you look unassuming and professional on camera, but you're kept warm and cosy off screen with that snuggly feeling of still being in bed. The Zzzoovet is a fun way of giving you a little touch of Premier Inn comfort whilst you work.
The Sewing Rooms were the perfect partner for this unique project, and the team's creativity and skills really came to the fore with this quirky piece of clothing – managing to create something stylish and comfortable whilst working with the reality of a large quilted duvet impressed everyone involved, no request was too big or small and we are so excited that they were able to bring our idea to life!"
 Early feedback for the Zzzoovet has been very positive, with early testers saying "My house is freezing and I was putting on a dressing gown in-between Zoom calls, but I can just leave the Zzzoovet on and stay warm all day!"  Other feedback included "This is brilliant, my colleagues had no idea I'm tucked up in a duvet – on screen I just look like I'm at my desk!" 
Paula Gamester, Director at The Sewing Rooms commented "The Zzzoovet has been a really fun project to work on, it has been something completely different for us to create and working with a duvet has certainly tested our creativity as well as our equipment! We are so proud to see the finished item be so well received by Premier Inn and look forward to seeing how the public react to it. The Zzzoovet is such a fun product, and we were really pleased we managed to keep the right balance between looking smart and keeping comfy."
 To find out more about the Zzzoovet visit www.premierinn.com/zzzoovet.
© 2021 Marketing Lancashire