Moor Hall in Lancashire named UK's best restaurant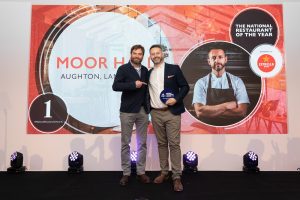 Moor Hall in Lancashire has been crowned National Restaurant of the Year at The Estrella Damm National Restaurant Awards 2019. 
The Grade II listed restaurant with rooms, in Aughton, Lancashire, is overseen by chef-patron Mark Birchall and has built a strong reputation for its modern British cuisine using, where possible,
produce grown on the five-acre estate.
It was bought by Andy and Tracey Bell in 2015 and underwent a multi-million pound renovation before reopening in 2017. Last year the restaurant was awarded two Michelin stars.
"Mark is an incredibly talented chef who has a clear ambition to not just create one of the best restaurants in the UK but in the world," says Stefan Chomka, editor of Restaurant magazine, which
runs the Estrella Damm National Restaurant Awards.
"This award reflects that vision. Moor Hall is an almost immaculate experience – Mark's food is clever and inventive but also delicious, the service is exceptional and the atmosphere is relaxed and
friendly. It's an outstanding restaurant that deserves its title as the best in the UK."
Moor Hall's victory sees the top spot return to a restaurant outside of the capital. In total, 46 of the top 100 restaurants are located outside of London, showing the true geographical spread of the list. This year also sees the highest number of Northern restaurants placed than ever before, with 23 Northern and Scottish restaurants on the list.
Second place goes to hit London restaurant, Brat, in Shoreditch, which is followed in order by four other restaurants in the capital, Cornerstone, Core by Clare Smyth and Sabor. Sixth place returns to the North West with Simon Rogan's L'Enclume where Birchall was previously executive chef.
This year also sees three female chefs place in the top 10. Nieves Barragan of Sabor, in Mayfair, follows Clare Smyth from Core in Notting Hill, ranked at fifth in the list, while Monica Galetti's Mere in Fitzrovia comes in at number six.
John Williams MBE, executive chef at London's The Ritz, won this year's Lifetime Achievement Award. William's career spans more than four decades in some of London's most prestigious hotels
including Claridge's and The Berkeley.
Clare Smyth, chef-patron at Core in Notting Hill, was named this year's Chef's Chef of the Year. The winners were announced this evening, Monday 10th June, at a ceremony held at The Hurlingham Club in London by Restaurant magazine.
The full list of the UK's Top 100 Restaurants can be found on the newly-launched website (www.nationalrestaurantawards.co.uk)
To coincide with the awards, 'National Restaurant Month' will run from 11th June until 10th July 2019 with many restaurants listed running special offers, including complimentary drinks, dishes and discounts for diners booking through the new website. In partnership with Estrella Damm, there will also be a competition to win 'meals for two' in the top 100 restaurants during this month.
The Estrella Damm National Restaurant Awards is Restaurant Magazine's annual countdown of the top 100 restaurants in the UK as voted for by the UK's leading chefs, restaurateurs and food writers.
Estrella Damm's long-standing support of gastronomy and the wider hospitality industry is underpinned by a high quality and natural approach to its own brewing process – using only 100%
natural and locally sourced ingredients and partnering with only local Mediterranean farmers.
Estrella Damm takes inspiration from its collaborative production process to partner with the most exceptional and innovative chefs, restaurants and gastropubs to raise the profile of quality beer and food pairing in the UK."
James Healey, UK Country Manager for Estrella Damm, said: "As the authentic premium Mediterranean beer of Barcelona, brewed using only local and natural ingredients, we are proud to
share our passion for brewing authenticity and integrity with the best restaurants in the UK, who share our devotion to quality and taste. Congratulations to all the 100 restaurants on the list – we
look forward to seeing the chefs' special menus for National Restaurant Month!"
Full List of Awards:
• One to Watch, sponsored by Schweppes 1783: Emilia
• Best Restaurant in Northern Ireland, sponsored by Hildon: Yügo
• Best Restaurant in Wales, sponsored by Hildon: Ynyshir
• Best Restaurant in Scotland, sponsored by Hildon: Ondine
• Wine List of the Year, sponsored by San Marzano: Hide
• The Sustainability Award, sponsored by John Mower: TBC
• Cocktail List of the Year, sponsored by Seedlip: The Frog by Adam Handling
• OpenTable Diners' Choice 'Fit for Foodies': Carters of Moseley
• Chef to Watch, sponsored by Woods Foodservice: Sally Abe
• Chef of the Year, sponsored by Ritter Fresh: Clare Smyth
• Restaurateur of the Year, sponsored by threesixty° by UCC Coffee: Tom and Michaela Kitchin
• Gastropub of the Year, sponsored by Estrella Damm: The Sportsman
• Lifetime Achievement Award, sponsored by Quandoo: John Williams
• The Service Award, sponsored by Liberty Wines and Piper Heidsieck: Bibendum by Claude Bosi
• Estrella Damm National Restaurant of the Year: Moor Hall
© 2018 Marketing Lancashire