Morecambe Bay/Cedric Robinson book shortlisted for top honour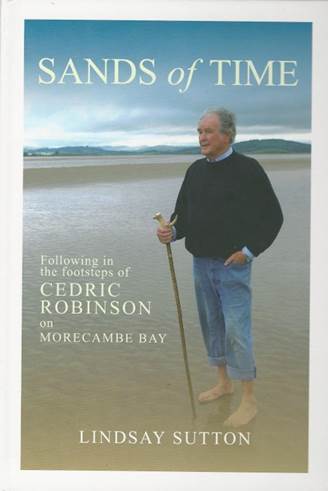 A book revealing the changes in and around Morecambe Bay through the observations of former Queen's Guide to the Sands Cedric Robinson is in the running for a prestigious national award.
'Sands of Time,' written by award-winning journalist and author Lindsay Sutton, is on the three-strong shortlist for the British Guild of Travel Writers' 'Travel Book of the Year.'
The book, published by Great Northern Books, was judged jointly by a travel writing panel from Britain, America and Australia, who chose the three finalists from a large entry of narrative travel books.
The final winner will be announced at a star-studded awards evening at the five-star Savoy Hotel in London's West End next March (2021) when it is hoped that representatives from both Cumbria and Lancashire and the North West will be able to attend.
'Sands of Time,' published before the Covid-19 pandemic crisis and lockdown halted this year's cross-bay charity walks, looks at Morecambe Bay and its surrounding communities through the prism of Cedric's keen observations and thoughts. With characteristic openness, he tells it how he sees it. His views are fearless, but also illustrate his fondness, sprinkled with his often-wicked sense of humour.
The author is a long-standing friend of Cedric, and a volunteer helper on the seasonal cross-bay walks between late April and the end of August. He is a journalist and broadcaster by profession, and has won three top awards for his articles, including an American Travel Writer of the Year award from the US Travel Association.
Mr Sutton said of the Sands of Time' shortlisting: "We think the judges could see that the book has a real sense of place, and a sense of time and experience, through the eyes of Cedric. After all, he was the Queen's Guide for a record 55 years before handing on to the newly-appointed guide Michael Wilson, a fisherman from Flookburgh, on the Cumbrian side of the Bay.
He added: "The judges seem to have been intrigued by the fact that every year, up to 10,000 charity and recreational walkers are led safely across the vast expanses of shifting sands and tidal channels that cut into the 20 square miles of Morecambe Bay.
"Those of us who help with the walks between Arnside and Kent's Bank near Grange over Sands have become entranced by the Bay, and we hope that the book has got this across to the judges. It faces strong competition, but it's an honour to make the last three. It's another feather in the cap for Cedric; the volunteer team of cross-bay walk assistants; and for charity walk organisers, who raise thousands of pounds for those in need.
"As for Cedric, he went out on the sands as a 'fishermen by foot' when he was just 14, and although he's now taken an advisory and supporting role as 'Ambassador of the Sands,' he's still going strong at the age of 86. He's already been awarded an MBE, and now this. There's no-one more worthy of recognition than 'Ced.'
* The other two finalists are 'Wayfaring Stranger: A Musical Journey in the American South', by Emma John, and 'Scotland Beyond the Bagpipes' by Helen Ochyra.
* 'Sands of Time' is published by Great Northern Books – www.gnbooks.co.uk
It is now available hardback with colour pictures and illustrations for £9.99.
© 2020 Marketing Lancashire