Hampton by Hilton opens new property in Blackburn, Lancashire
Blackburn, Lancashire, UK – Thursday 3rd December, 2020 – Today, Hampton
by Hilton – Blackburn opens its doors to guests. Owned by Monte Hospitality and
managed by leaf HOSPITALITY, Hampton by Hilton Blackburn features 152
modern and spacious rooms, providing high-quality accommodation, value-added
amenities and thoughtful guest service.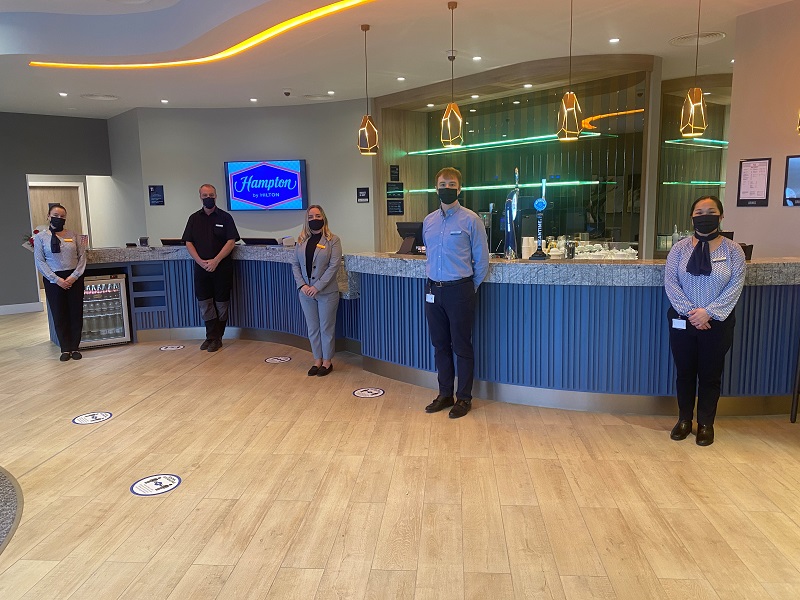 "At Hampton by Hilton Blackburn, guests will have a worry-free stay with
comfortable spaces that are intuitively designed to feel familiar and inviting," said
Samantha Strefford general manager. "Hampton by Hilton guests can confidently
expect thoughtfully designed bedrooms backed by the brand's satisfaction
guarantee."
Hampton by Hilton Blackburn is located just off the M65 on the border of Hyndburn and Blackburn, with the nearby Frontier Retail Park just a five-minute walk away. The property features a fitness centre and all bedrooms come fully equipped with a 55" HD Smart TV.
Every Hampton by Hilton guest will enjoy the brand's signature free breakfast with
healthy options; On the Run™ breakfast bags; and free Wi-Fi in every room.
Hampton continues to lead the pack in terms of guest experience, with Hampton
by Hilton Team Members committed to delivering friendly and authentic service,
backed by the industry-leading 100% Hampton Guarantee™.
Hampton by Hilton Blackburn benefits from Hilton CleanStay, Hilton's industry leading programme of cleanliness and disinfection in Hilton properties across the
world. Developed in collaboration with RB, maker of Lysol and Dettol, and Mayo
Clinic, Hilton CleanStay allows guests to enjoy an even cleaner and safer stay,
providing peace-of-mind from check-in to check-out. New standards include a
Hilton CleanStay Room Seal to indicate that a room has not been accessed since
being thoroughly cleaned and disinfected, increased frequency of cleaning of all
public areas, and flexible housekeeping options.
The hotel is also part of Hilton Honors, the award-winning guest-loyalty program
for Hilton's 18 distinct hotel brands. Members who book directly have access to
instant benefits, including a flexible payment slider that allows members to choose
nearly any combination of Points and money to book a stay, an exclusive member
discount, free standard Wi-Fi and the Hilton Honors mobile app.
Book direct at Hilton.com, through the Hilton Honors app or through other official Hilton channels for more perks and a price match guarantee.
For more information or to make reservations, please visit Hampton by Hilton
Blackburn or call 01254 946060.
Read more about Hampton by Hilton at www.hampton.com and
newsroom.hilton.com/hampton.
© 2020 Marketing Lancashire