Never before seen in the UK show coming to Accrington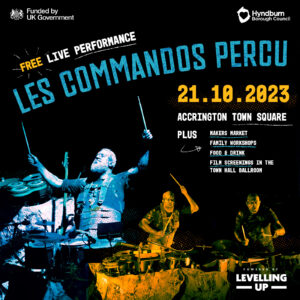 Spectacular live French performance set to enchant with FREE, NEVER BEFORE SEEN in the UK show in Accrington!
Get ready for a spookily exciting full day and evening of live shows, scary films and creativity as Accrington welcomes a UK first, never-before-seen live outdoor show, Les Commandos Percu's "BLAST," on October 21st, 2023, at 7:00 PM on Accrington Town Square. And the best part? It's absolutely FREE!
Les Commandos Percu Arrive from France to bewitch Accrington
Prepare to be spellbound by a live show of music, drumming and fireworks as the world-renowned Les Commandos Percu from France bring their exhilarating show "BLAST" to the UK for the very first time! An explosive blend of energy, circus, pyrotechnics, and visual artistry that promises to leave you in awe.
Accrington Makers Market returns
But wait, the excitement doesn't end there!
Following the overwhelmingly successful launch of Accrington Makers Market, over 50 makers will return for the second time from 10:00 AM to 4:00 PM in Accrington Town Square. Showcasing "fang-tastic" handcrafted goods, from mouthwatering food to exquisite home decor, spine-tingling art, jewellery, it's the perfect place to "trick-or-treat" yourself whilst supporting local artisans.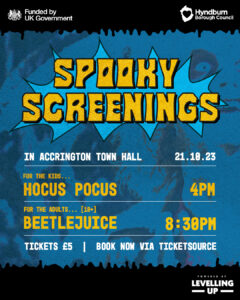 Spooky screenings…
And that's not all – it's not just a bunch of Hocus Pocus! For movie lovers and Halloween enthusiasts, Accrington Town Hall has two spooky screenings. At 4:00 PM, the Boo-tiful Ballroom will be visited by the Sanderson sisters on the big screen for the classic family favourite "Hocus Pocus". Accrington Town Hall will be offering no tricks, only treats with Halloween food and drinks available to purchase. Following Hocus Pocus, the wonderful local business Create Yourself will be delivering a variety of crafty Halloween activities inside the Town Hall ahead of the Blast! performance at 7pm.
Arroooo! After the 7:00 PM "BLAST" performance, summon your friends and family for lots of laughter at the exclusive adult-only screening of the cult classic "Beetlejuice". The dark comedy will light up the ballroom at 8:30 PM.
Tickets for films must be booked in advance through ticketsource and are priced at just £3 per person for Hocus Pocus and £5 per person for Beetlejuice. Food is available to pre-order, snacks and drinks will be available to purchase inside Accrington Town Hall. It's the ideal way to welcome Halloween with a fun-filled date with your boo, friends and loved ones.
Does the Ballroom's resident ghoul really exist? There's only one way to find out…secure your tickets by booking through ticketsource:
https://www.ticketsource.co.uk/hyndburnleisure/t-novrpxp
https://www.ticketsource.co.uk/hyndburnleisure/t-ojzdxdz
Get ready to experience an unforgettable day and evening in Accrington. Keep your eyeballs peeled for updates by following @halloweenblastaccrington
https://www.facebook.com/profile.php?id=61550884034904
Accrington is fast becoming the place to be. It's new cultural calendar of events, made possible as part of the levelling up fund from the UK government through the UK Shared Prosperity Fund, further supporting the vibrant arts and cultural scene in Hyndburn.
Hyndburn has received £500,000 from the UK Government through the UK Shared Prosperity Fund for projects, including Halloween Blast, which deliver a new cultural and heritage programme for the borough. This package will be delivered by March 2025 and includes curated events, strategy compilation, consultancy and appointment of a Head of Culture and Heritage.
The UK Shared Prosperity Fund is a central pillar of the UK government's Levelling Up agenda and provides £2.6 billion of funding for local investment by March 2025. The Fund aims to improve pride in place and increase life chances across the UK investing in communities and places, supporting local business, and people and skills. For more information visit http://www.gov.uk/government/publications/uk-shared-prosperity-fund-prospectus
This project is funded by the UK government through the UK Shared Prosperity Fund.
© 2023 Marketing Lancashire