Leading Lancashire Italian restaurant boosted with Rosebud Finance funding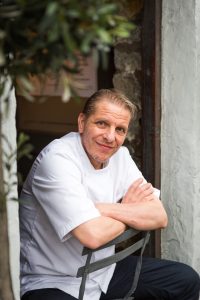 Award winning Gisburn-based Italian restaurant, La Locanda, has secured a second loan of £15,000 from Lancashire County Council's Rosebud Finance, managed by GC Business Finance.
Since its inception in 2003, La Locanda's owners, Maurizio and Cinzia Bocchi, have remained dedicated to sharing genuine Italian cuisine with the local community. With such a keen focus on the regional economy, La Locanda is also committed to supporting local suppliers and produce through its menu. The team has also been expanding its product offering through a premium range of authentic Italian olive oils.
This commitment to quality, authentic Italian cuisine has earned La Locanda a number of prestigious accolades, including winning the Ospitalita' Italiana Award every year since 2010, the only certification released from the Italian Authorities to recognise the authentic Italian restaurants abroad. Maurizio has also been honoured as a Taste Lancashire Ambassador.
Access to financial support has been instrumental in La Locanda's growth and commitment to quality. A few years ago, the restaurant's kitchen required an upgrade to facilitate its expanding roster of interactive cookery workshops, along with ensuring its high standards of service could be maintained.
Initially, the team sought assistance from Lancashire's Business Growth Hub, Boost, where they were then referred to Rosebud Finance. This support not only facilitated the kitchen's upgrade but also enhanced energy efficiency and overall operational efficiency. Furthermore, it provided opportunities to host guest chefs, enriching the culinary experience for the public while reducing energy costs.
This follows an initial loan for the restaurant in May 2022. The team were referred to Rosebud through Lancashire's Access to Finance (A2F) service, subsequently leading to a £95,000 loan.
With the new kitchen fully installed, the restaurant is currently in discussions with nationwide retailers to bring its high-quality olive oil range to a wider market, with a focus on highlighting the health benefits of natural, well-refined olive oil. With its upgraded kitchen facilities now in place, La Locanda also aims to expand its workshop offerings and host more events, providing its loyal patrons with even more opportunities to experience the joys of authentic Italian cuisine.
Maurizio Bocchi, owner and head chef at La Locanda, said: "At La Locanda we set out with a mission to challenge the status quo and redefine perceptions about Italian cuisine. Through years of dedication and hard work, we've not only achieved this vision but also solidified our position as a renowned Italian dining institution. Their commitment to our vision aligns seamlessly with our mission of delivering authenticity and excellence to our customers. We are immensely grateful to Rosebud for their partnership, which has been instrumental in making La Locanda the renowned Italian dining institution it is today"
Jonathan Nelson, fund manager at Rosebud, said: " We are proud to have supported Maurizio and Cinzia's ongoing mission of delivering true Italian flavours to Lancashire's local community, while also contributing to the broader awareness of authentic Italian cuisine. In working closely with Maurizio and Cinzia, we were able to provide the necessary financing to ensure their kitchen could provide the best possible service, while also prioritising energy efficiency. I look forward to seeing La Locanda continue to grow, from its new olive oil range to exciting upcoming workshops and events."
Councillor Alan Cullens, Lead Member for Community and Cultural Services at Lancashire Country Council, added: "Over the last 20 years Maurizio and Cinzia have managed to build a true Lancashire institution, bringing their authentic take on Italian food to the Ribble Valley and beyond. With the support from Rosebud and new kitchen in place, this will help them to further expand and share their love for Italian food and culture with more people across the country."
© 2023 Marketing Lancashire