Pendle Leisure Trust reports on its 20th Anniversary year – 2020
Last year Pendle Leisure Trust marked its 20th anniversary.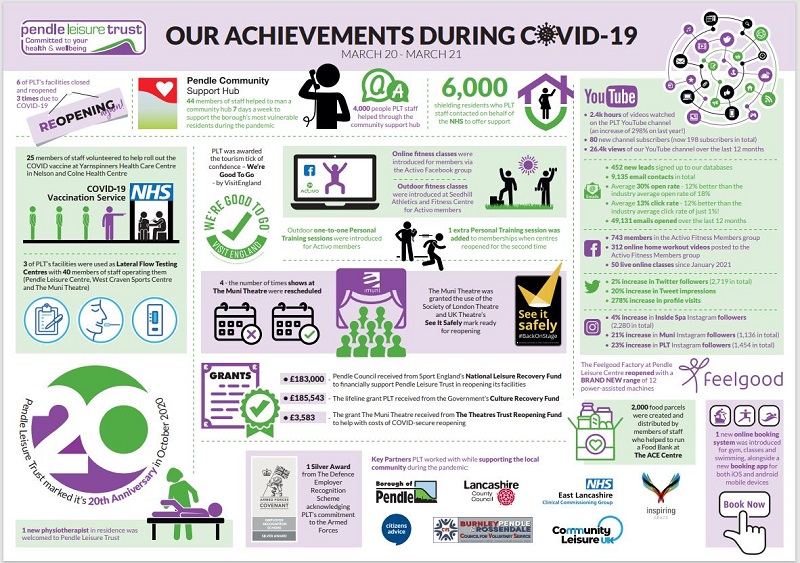 But celebrating 20 years of being the key provider of leisure in the borough – through a range of top quality leisure facilities, activities and services – had to be a scaled down affair.
Instead, 2020 mostly turned out to be all about helping the borough's vulnerable residents through the COVID-19 pandemic; with many of the Trust's furloughed staff turning their hands to help Pendle Council and the NHS provide vital support to the local community.
In between closing and reopening its facilities three times, Pendle Leisure Trust staff also worked on securing grants to help with reopening once the Government allowed; and kept members active throughout with online fitness classes, outdoor fitness classes and Personal Training sessions.
Key Achievements in 2020 included:
44 members of staff helped to man a community hub 7 days a week to support the borough's most vulnerable residents during the pandemic
PLT staff helped 4,000 people through the community support hub
PLT staff contacted 6,000 shielding residents on behalf of the NHS to offer support
2,000 food parcels were created and distributed by members of staff who helped to run a Food Bank at The ACE Centre
25 members of staff volunteered to help roll out the COVID vaccine at Yarnspinners Health Care Centre in Nelson and Colne Health Centre
3 of PLT's facilities were used as Lateral Flow Testing Centres with 40 members of staff operating them
A brand new kit of power-assisted machines were installed at the Feelgood Factory at Pendle Leisure Centre
A new online booking system was introduced for gym/classes/swimming, alongside a new booking app for both iOS and android mobile devices
£185,543 – The lifeline grant PLT received from the Government's Culture Recovery Fund
£183,000 – Pendle Council and Pendle Leisure Trust received from Sport England's National Leisure Recovery Fund to financially support PLT in reopening its facilities
£3,583 – The grant The Muni Theatre received from The Theatres Trust Reopening Fund to help with costs of COVID-secure reopening
Alison Goode, Chief Executive of Pendle Leisure Trust, said: "The start of 2020 didn't quite go according to plan with the sudden impact of the Coronavirus pandemic!
"Instead of continuing to expand on what had been a very successful previous year, we were suddenly halted in our tracks.
"But we mustn't dwell on the past, just concentrate on the future. Although times have been challenging these last 12 months, we are now starting to see progress with most of our facilities back open – and thinking positively towards the rest of the year.
"People need to remember the Trust is a not for profit organisation and every pound spent with us is invested back into the facilities and activities for the benefit of the local community.
"And looking towards the next 12 months, we will aim to continue to provide an efficient, effective service, with accessible and well-maintained facilities that cater for all our customers; increase participation in sport, physical activity and the arts to improve the health and well-being of our communities – as well as hopefully bring into fruition some exciting new projects we have planned – proving once again Pendle Leisure Trust is 'Tried & TRUSTed'!"
© 2021 Marketing Lancashire