Preston-based Soap Media ends the year with triple awards glory
Digital marketing agency Soap Media has started 2021 on a high with three highly regarded industry accolades. The Preston based firm, which also has an office in Manchester, has secured two global Clutch awards and a nomination in the Drum's Top 100 Independent Agencies.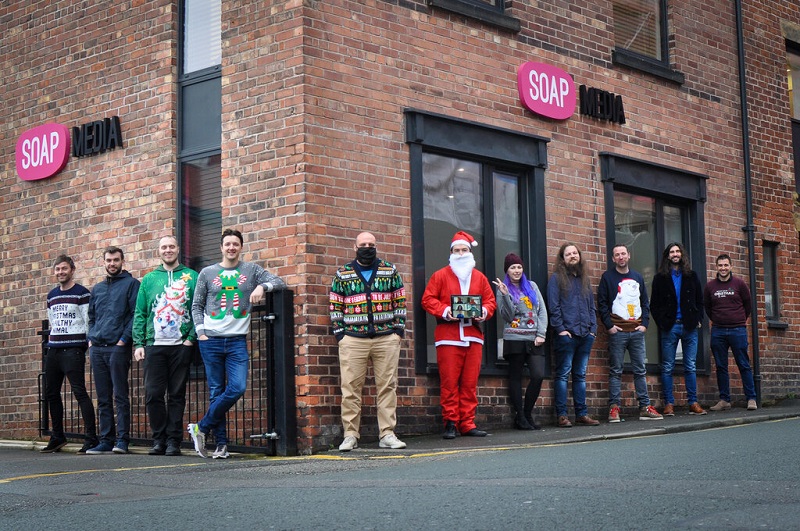 A nomination in the Drum Top 100 is particularly impressive for Soap. It's considered the most important index of its kind within the digital marketing industry, the results determined via a detailed analysis of two years of financial performance. This data is extracted via their Independent Agencies Census, looking at six key areas; turnover, turnover growth, turnover percentage growth, turnover per head, gross profit and gross profit growth.
The list rounds up the top 100 independent agencies in the UK, with only the most successful firms who deliver high-calibre campaigns making the cut. Traditionally populated by larger, London-based firms, it's proof of Soap's status within the elite of their industry and marks a new milestone in their fifteen-year history.
The nomination in the Drum Top 100 follows an earlier announcement of two global Clutch awards. Clutch is perceived internationally as a sophisticated "Trustpilot for business services", using review insights and client interviews as part of how they decide their awards. They collate data from extensive client feedback across for a variety of business services, not just digital agencies.
This translates as Soap boasting one of the best client satisfaction scores in the world. It's the fourth consecutive year Soap has been awarded by the platform, scooping the dual honours of Top Global B2B Partner alongside being added to their Top 1000 global companies list.
Despite what has been a taxing year for many businesses, Soap's worldwide success can be attributed to both sticking to their long-held beliefs and adapting to the times. The challenges of remote working also represented the opportunity to widen their workforce. As part of a strategic thrust towards continental expansion, the Soap team currently has staff based in Romania and Greece, as well as across the UK.
In 2020 Soap worked with a variety of clients across different sectors. These include housing development titans Redrow, fintech pioneers Globacap, and award-winning online training and education provider Centre of Excellence.
Statement from Markerle Davis, CEO of Soap Media
"We're delighted to be starting 2021 on a real high with recognition from two of the industry's most trusted and respected award platforms. It's the fourth consecutive year we've been honoured by Clutch, with these two awards proving that we are in the global elite.
"The Drum Top 100 nomination is also a significant achievement for us. Whilst we've won a lot of awards over the years, this is pretty much the gold standard for our industry. You only have to look at the other agencies who have been included in the past to realise how well we've done. These are hugely successful companies with well-earned reputations for top class results, so for us to be considered on this level is a tremendous accolade. I'm proud of the team we've built over the past fifteen years, and it's hugely inspiring to see their efforts rewarded in this way.
"2020 was an unconventional year for business, but it's reinforced our belief that our approach is the right one. We don't look at the people we work with as merely clients or monthly revenue statistics; they are partners with visions we need to believe in. Every pound and every second is more valuable than ever, so our focus in going above and beyond expectations is why we secure these awards and continue to attract such brilliant businesses to work with.
"We've also adapted to the times, launching our lead generation specific brand Soap Leads and employing more and more people not only outside of our north-west base across the UK but in mainland Europe too. We're currently exploring the possibility of building on this global success and outlook with an office on the continent, so it's an exciting time for us all."
© 2023 Marketing Lancashire