Preston Wellfest comes to the Harris
Source: Preston City Council
4 October 2019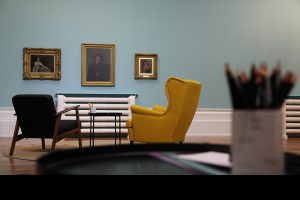 World Mental Health Day is on 10 October 2019. Working together, local healthcare organisations, charities and peer-led mental health groups have planned Preston's first Wellfest.
Everyone is invited to a day of free wellbeing workshops, creative activities and opportunities for us all to think about our mental health. Whether it's trying some positive thinking, listening to people's stories, or getting some self-care tips – why not pop along to the Harris.
We're kicking off the day at 10am with bacon butties and a game of table football in our Chatty Café. Chatty cafes are a nationwide schemed designed to get us all talking more. We'll finish at 4pm with local choir Company of Voyces performing an uplifting selection of songs.
Throughout the day visitors will find staff from local mental health organisations such as Lancashire Mind in the Harris' Chatty Café. Everyone is happy to chat, listen or point you in the direction of local support.
Highlights from the programme include a special focus on family wellbeing in our Children's Space on the ground floor. Families can enjoy a special Baby Bounce & Rhyme session, along with craft sessions, and physical wellbeing sessions lead by local group, Mums United Movement. Homestart and pre- and post-natal health specialists will also be available for an informal chat. Preston Dadsnet will be here and everyone can find out more about the support they offer such as their Kickabout sessions.
Although it is a busy programme there are special quiet spaces – including the Harris's new Wellbeing Gallery on Floor 2. Why not take some time out in this space and look at art with a wellbeing focus.
Tim Joel, Deputy Head of Culture at the Harris, said,
"World Mental Health Day is a global event and with Preston Wellfest local services have coming together to plan a day signposting services and support and reducing stigma in talking about mental health. Importantly, the day has been led by people who have experience of mental health challenges – and we hope it is really useful to the widest range of people."
If you've not been to the Harris before and would find it helpful to have a buddy to support your visit please email harris.museum@preston.org.uk and we'll arrange this for you. It will be someone from the Preston Wellbeing Network – all people who are part of groups or organisations with a mental health focus.
What will I find?
 On our first floor, Big White Wall are coming to Preston. Many people will have heard about this online community for people who are feeling stressed out, anxious or low. At the Harris we're going to 'bring the wall to life' by asking everyone to share their tips for living well, managing anxiety and keeping positive. Pop along and share your tips, and pick up some new ones.
In our Discover Preston Gallery there is a series of free 30 minute workshops. First off you can listen to Preston author Ross McWilliam talk about wellbeing and resilience. Then Mindsmatter will offer free workshops on relaxation and positive psychology. And you can even pop in for a 30 min workshop over lunchtime on 'Sneaky Yoga'. Emma Lowther-Wright from Be Bliss Yoga in Preston will teach us a few very gentle stretches you can do when standing at the bus stop or sitting in a boring meeting at work. No need to take your shoes off or bring a yoga mat – this is sneaky yoga!
In the Heritage Reading Room artists from Guild Lodge in Preston will be inviting us all to participate in a collaborative community art work about the Five Ways to Wellbeing. Why not join in, or visit the Creative Space just off our café on the ground floor and meet local groups who meet here every Thursday using art to improve their wellbeing.
In a private discussion area people with experience of mental health challenges, addiction issues, and overcoming thoughts of suicide will share their stories and lead discussions aimed at reducing stigma. The groups leading these include Men Hear based in Ribbleton and Happy Daze based at the Harris.
There will be 'Help in Preston' information points on every floor with leaflets from all the mental health services and support groups in our area. Staff from local groups such as Peer Talk and Lancashire Recovery College will be available for a chat or just to listen. Samaritans will also have a private space in the Harris for anyone who needs their support. In the café there is a private advice corner for anyone who would like to get help with a welfare, benefits, debt or housing queries.
Preston Wellbeing Network includes:
Addaction; Art & Mind Group; Big White Wall; Dadsnet; Chatty Café network; Community Gateway; Green Close Arts; Happy Daze Support Group; Homestart Lancashire; The Harris; The Haven; Lancashire and South Cumbria Foundation Trust; Lancashire County Council Public Health & Community Projects Teams; Lancashire Recovery College; Lancashire Libraries; Lancashire Mind; Lancashire Women; Men Hear; Mental Health Learning; Mindsmatter; Mood: Mums United Movement; Notes to Preston; Peer Talk Preston; Positive Futures; Preston Clinical Commissioning Group; Preston Samaritans; Preston City Council Community Engagement; Red Rose Recovery; Release into Victory Adult Support for CSA; UCLAN Mental Health & Wellbeing Teams – along with local people who have experienced mental health challenges. New member are always welcome – please get in touch via the Help in Preston website: https://helpinpreston.com/
© 2020 Marketing Lancashire