Brew + Bake Expands in the Market Hall
Source: Preston City Council
4 October 2019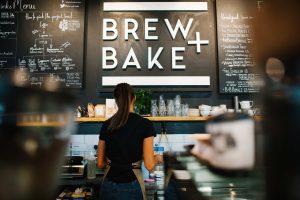 Brew + Bake are expanding their business within the Market Hall. Within the next few weeks Julie and her team will be moving to the corner unit, which backs onto Pickles. At the same time Brew + Bake will also be launching a new food and drink menu which will be available to sit in or take away.
Brew + Bake first opened in February 2018 as a new business in the Market Hall. It is family run business lead by Julie, with help from her husband and two children.
Julie Fauset, Owner of Brew + Bake said:
"I am really excited for the future of my business within Preston Markets. I can't wait to reveal the finished space and new menu which will be on offer.
Councillor Robert Boswell, Cabinet Member for Environment at Preston City Council said: "It is great to see a well-known trader expanding their businesses at Preston Markets. Brew + Bake has been a busy café since their opening in February 2018 and I believe this expansion will see their popularity grow even further.
I encourage Prestonians to continue to support these local businesses and enjoy what Preston Markets has to offer."
© 2020 Marketing Lancashire