Preview of stunning Preston Shankly Hotel 'Elysium'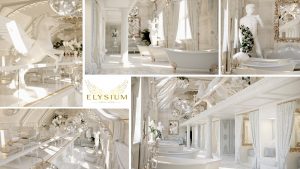 The much talked about and eagerly awaited £15M Shankly Hotel Preston – which is due to open this Summer – has revealed a sneak preview of its new party room with an amazing private event space "ELYSIUM" and its simply stunning !
Stunning new images and a short teaser video of "ELYSIUM" have been revealed for the first time and it's unlike anything Preston has ever seen before.  This unique event space and accommodation will cater for over 100 covers for weddings, parties and special occasions including hen parties.
Opening the doors into "ELYSIUM" is like entering a magical kingdom, a world of heavenly white with angel wings, where flying horses leap across silver and gold disco glitter balls and where Aphrodite the Greek Goddess of love, beauty and pleasure charms Michelangelo's biblical statue of David.
Gilted white gold and silver mirrors contrast against the opulent white and gray fabrics and drapes throughout the event space interior with deep luxurious upholstered chairs, intimate booths and chaise lounges.  Intelligent mood lighting highlights the innovative interior design which takes its design hues from the art deco and renaissance periods with a contemporary feel.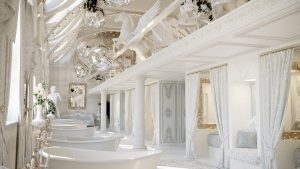 Beneath the main event space – under Roman marble arched pillars – are uniquely designed berths with luxurious drapes, fabrics and soft furnishings that will take up to 20 guests. The brilliant white roll top antique baths positioned just outside of the cabins  can be seen from the event space and give an amazing opportunity to gain that ultimate Instagram picture.
The flexible design means that the space can be sold for an event with accommodation or simply a room only option for those wanting to party in the ultimate luxurious setting.
Commenting on the new event space images Shankly Hotel Preston co owner – Christoper William Shankly Carline – and Grandson of the legendary Bill Shankly OBE said;
"This is going to be a unique addition to Preston; the ultimate party experience and will be like nothing ever seen before. "ELYSIUM" will be the perfect setting for hen and stag parties, special occasions and wedding functions. This space will be similar to the Laurent Perrier (LP Room) we have in the Shankly Hotel Liverpool which has been a phenomenal success, but once again we have gone bigger and better to offer something truly unique. Shankly is all about being all things to everyone; giving people genuine experiences whatever the demographic and Elysium is our flag in the sand for the party side of our offer. Nobody can do what we do and we have proven it once again with this stunning concept"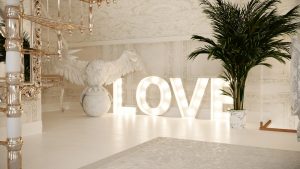 The former Grade II listed post office building which is 114 years old will finally open its doors in 2019 following its transformation into a luxurious 60 room boutique hotel, breathing new life into this iconic building. The Shankly Preston will not only feature memorabilia, photographs and nostalgia from the career of Bill Shankly OBE, but also his team mate and close friend Sir Tom Finney CBE. The unique items on display will be connected to their time together at Preston North End. In addition to the Shankly themed rooms, it will also feature the distinct and unique Signature Living group accommodation rooms that have helped Shankly Liverpool rocket to a 97% occupancy rate and become the most Instagrammed rooms in the UK. A ground floor restaurant 'The Carriage' will house 140 covers and in addition to Elysium, there will be 2 further event spaces including a 300 cover rooftop venue plus 60 cover private dining room.
Demand and interest in the Shankly Hotel Preston has been unprecedented. Carline is delighted with the response and interest in the hotel.
"I cannot tell you how excited we are to be nearing the official  launch date for the Shankly Hotel Preston. To create a second hotel in honour of my Grandfather Bill Shankly OBE is a truly proud moment for me and the Shankly family. To continue his legacy in this way by developing two hotels in the cities where he spent most of his life and professional career is truly humbling.  For us to also be able to honour the incredible achievements of Sir Tom Finney CBE is also incredibly important to us. Together with my Grandfather they were not only iconic players at Preston North End, but also true Gentleman of the sport, they embodied a unique spirit and class of what football was founded upon." 
Listed as the No1 Most Improved City in the UK, Preston has outranked all other cities in the UK as part of the Price Waterhouse Coopers 2018 Good Growth For Cities Index. The city has scored highly for its low unemployment rate, improvements above the national average for health, transport and economic prospects and the best all round work life balance for its residents.
Demand for the new ELYSIUM event space is expected to be very strong based on the phenomenal demand when the hotel opened its booking lines.
The Shankly Hotel Preston is now accepting bookings and offers a range of packages on all rooms available including Elysium, plus wedding and corporate event space.
To book ELYSIUM call 0151 236 0166 or for more information email at info@signatureliving.co.uk
© 2020 Marketing Lancashire