Roll Up! Showtown Blackpool unveils March 2024 opening date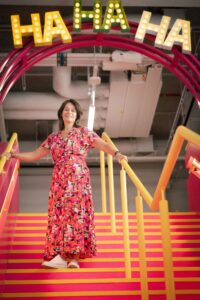 The news comes alongside the appointment of new Chief Executive Elizabeth Moss.
Its official, Showtown: the museum of fun and entertainment has announced it will open its doors to the public in March 2024, bringing a world class interactive museum for all the family to Blackpool.
When open, Showtown will celebrate the seaside, circus, magic, shows dance and Blackpool's world-famous illuminations, as well as some of the show people who have helped make the town famous.
The announcement comes alongside the appointment of Elizabeth Moss as the Chief Executive of the Blackpool Heritage and Museum Trust, the charity that will operate Showtown.
Blackpool Heritage and Museum Trust, aims to deliver engagement programmes which foster knowledge, understanding, appreciation and enjoyment of the history and heritage of Blackpool and the maintenance and preservation of the Blackpool heritage collections.
This also includes the operations of the Showtown History Centre, located at Blackpool Central Library, which currently closed for renovation.
Liz joins the Showtown team from her role as Chief Executive Officer at Heritage Trust for the North West and was previously Chief Operating Officer at Lakeland Arts.
Showtown: the museum of fun and entertainment has confirmed its opening date as 15 March 2024 with tickets going on sale from Autumn 2023.
It is set to attract over 200,000 visitors each year with its six interactive, fun and family friendly galleries, making a positive contribution to Blackpool's economy through job creation and tourism.
Chief Executive Liz Moss said: "This is such an exciting time to join the Showtown team, as we near the official opening for what will an incredible, interactive celebration of Blackpool and the fun and entertainment industry that made it famous.
"The establishment of our charity, the Blackpool Heritage and Museum Trust, also known as Showtown, is an important step and provides a great platform from which we will be able to share the full breadth of Blackpool's rich heritage with residents and visitors alike.
"Not only that, Showtown will also offer a centre for research, learning and education which will contribute to the wider understanding and appreciation of this great town.
"I have been very impressed by the commitment, knowledge and professionalism of my new colleagues and supporters from across Blackpool, and beyond, who have been working together to bring this ambitious project to life.
"I would like to thank our partners, Blackpool Council, for the faith they have shown in the museum as a part of their major regeneration plans, and we are very much looking forward to working with them in the future."
Chair of Trustees for Blackpool Heritage and Museums Trust, Spencer Phillips said: "Liz's appointment, will help steer us towards the final steps of the delivery of Showtown museum project, as well as well as the re-opening of the Blackpool History Centre next year.
"Liz's mix of commercial, cultural and heritage experience will be a huge asset and we were very impressed with her commitment to our audiences and to offering incredible, accessible experiences and opportunities for learning."
Leader of Blackpool Council, Councillor Lynn Williams, added: "The Showtown museum has been a vital regeneration project for Blackpool and will enable culture-led economic growth, offering a new kind of experience to complement the incredible attractions for which the town is already known.
"We are passionate about continuing to support the full and exciting programme of fantastic community projects that the Showtown team have been leading on, which includes tours, talks and family activities across Blackpool.
"We are looking forward to working in partnership with Liz and the Blackpool Heritage and Museum Trust, to celebrate the history and the future of our town, the Showtown museum and Showtown History Centre."
© 2023 Marketing Lancashire