Lancashire Business Day returns with new headline sponsor
The social event of the year for businesses who are 'Lancashire and proud' will return this November – with a brand new headline sponsor. Lancashire Business Day 2023 will take place in the Lounge 1968 at Accrington Stanley FC on Friday 24 November.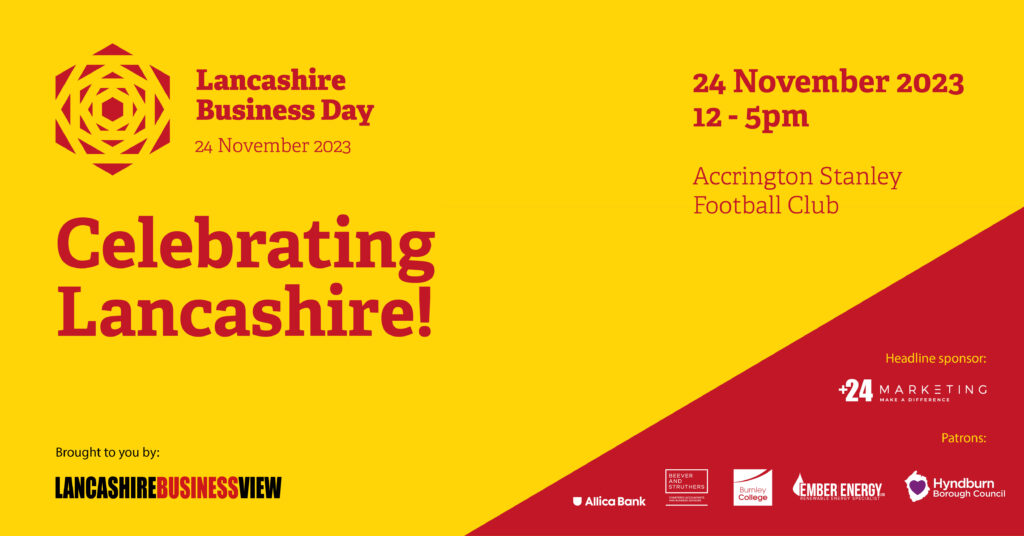 And Padiham-based +24 has stepped up to the role of headline sponsor. The marketing agency exemplifies the 'Lancashire and proud' ethos, using its talents to win contracts from around the globe as well as establishing its own academy to ensure the county continues to produce the best talent.
The event, which was first held in 2017, is a fun way for the business community to celebrate the official Lancashire Day. Guests can enjoy inspiring speakers, lively entertainment and the best of Lancashire food and drink
As well as hearing the real-life experiences of Lancashire businesspeople, discussing heritage, transformation, growth and going global, there will also be plenty of networking opportunities in order to keep the success rolling and to help forge the inspiring stories of tomorrow.
Dave Walker, +24's founder and managing director, said; "+24 is delighted to be involved in Lancashire Business Day as headline sponsor. We are a Lancashire based business and we're extremely proud to bring clients from all over the world to our Lancashire home.
"In Lancashire we need to celebrate our incredible diversity, our innovation, talent and people much more than we do. We can't wait to celebrate with other fantastic Lancastrians!"
Joanne Hindley, sales director at Lancashire Business View, which founded and hosts Lancashire Business Day, said: "We're excited to be bringing back this event for another year. It's a brilliant way for the businesses to come together to share their stories, inspire each other, make new connections – and to be loud and proud about their Lancashire roots."
Joanne added: "I'm delighted that +24 have signed on as this year's headline sponsor. They have supported previous events as a patron, so to increase their investment shows how much they believe in the message we're promoting, as well as how effective our events are as a marketing tool.
"Building long-lasting relationships that are mutually beneficial year after year is what underpins our success, and that's what we aim to facilitate for other Lancashire businesses through our magazine, website and events."
Lancashire Business Day is presented in association with +24 Marketing and supported by Allica Bank, Beever and Struthers, Burnley College, Hyndburn Borough Council and Ember Energy Lancashire.
Tickets are available now for £75 +VAT, or £140 +VAT for a pair.
Businesses can also take part in the wider Lancashire Business Day campaign by using the #Lancashireandproud hashtag in social media marketing. It's a great opportunity to raise your profile, connect with other like-minded businesses and grow your network.
There are a limited number of sponsorship opportunities available in association with this event which provided more than 350,000 opportunities to be seen across the 2022 campaign.
For sponsorship opportunities, contact Joanne Hindley on 07442 949697 or [email protected]
© 2023 Marketing Lancashire