Speedworks Motorsport and Hoyle Bottom Spirits Ltd announce official hospitality partnership for BTCC season 2020
Source: Hoyle Bottom Spirits Ltd
22 June 2020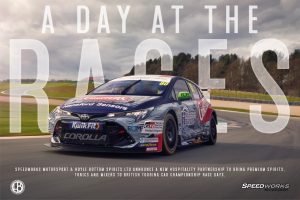 Speedworks Motorsport and Hoyle Bottom Spirits Ltd today announced a new hospitality partnership to provide premium spirits and mixers to guests of the British Touring Car Championship season 2020.
The partnership will make available a range of premium spirits and mixers to guests and invitees of Speedworks Motorsport at race events and further extends the current refreshment options served beyond beers and wines to include spirits and liqueurs and will further include special events, including tasting sessions and exclusive previews of new products, cocktail services and workshops for attendees and guests of the team.
Speedworks Motorsport (run by husband and wife Christian and Amy Dick) has had much success since joining the BTCC in 2011. Having taken back to back independent championship wins in 2017 and 2018, the team acquired manufacturer backing from Toyota in 2019.  Replacing the trusty Toyota Avensis with the new sharp Toyota Corolla, the team went about winning from the second round of the championship and finished the season on a high and when 2020 gets going, it is sure to be exciting after a raft of development work over the off season.
Hoyle Bottom Spirits Ltd is an independent boutique spirits distillery based in Lancashire. Since their incorporation in 2018, the company has introduced a number of products into the market, including Tinker Brook Lancashire Dry Gin, A Drop of Pearfection pear drop flavour gin liqueur, as well as a range of limited edition products. The company enjoys a growing list of stockists that include a major international hotel chain, award-winning eateries and restaurants, first class suites of a major rail company and an extensive network of merchants and bars.
Responding to both the diversification of guests at BTCC events and the growing expectation of premium spirit options in the hospitality industry, the partnership will bring a number of products including Hoyle Bottom Spirits Ltd own Tinker Brook Lancashire Dry Gin and A Drop of Pearfection gin liqueur to guests and attendees of the team's hospitality suite. Hoyle Bottom Spirits Ltd will also cater with tonics and mixers from the Fitch and Leedes range in their capacity as exclusive UK distributors of the South African brand.
Amy Dick; Speedworks Team Manager 'Our partnership with Hoyle Bottom Spirits is a fantastic fit, we are both small, innovative family run teams where attention to detail and producing top quality is at the forefront.  We are excited to introduce the fantastic range of spirits to our guests and BTCC fans alike. They will prove a fantastic addition to our hospitality experience!'
Jamie McNally, Managing Director of Hoyle Bottom Spirits LTD added: "This is a hugely exciting partnership for us and after meeting with the team it was evident that our shared values and ambitions would make for a fantastic opportunity for both businesses. I am very much looking forward to the rescheduled season getting underway and sharing our brand and products with guests of Speedworks Motorsport."
A provisional calendar of the BTCC 2020 season has announced a season start of 1st – 2nd August, further to government guidance regarding Covid-19 safety measurements.
© 2021 Marketing Lancashire