Blackburn business incorporating rainbows and NHS tributes in road maintenance
Blackburn business incorporating rainbows and NHS tributes in road maintenance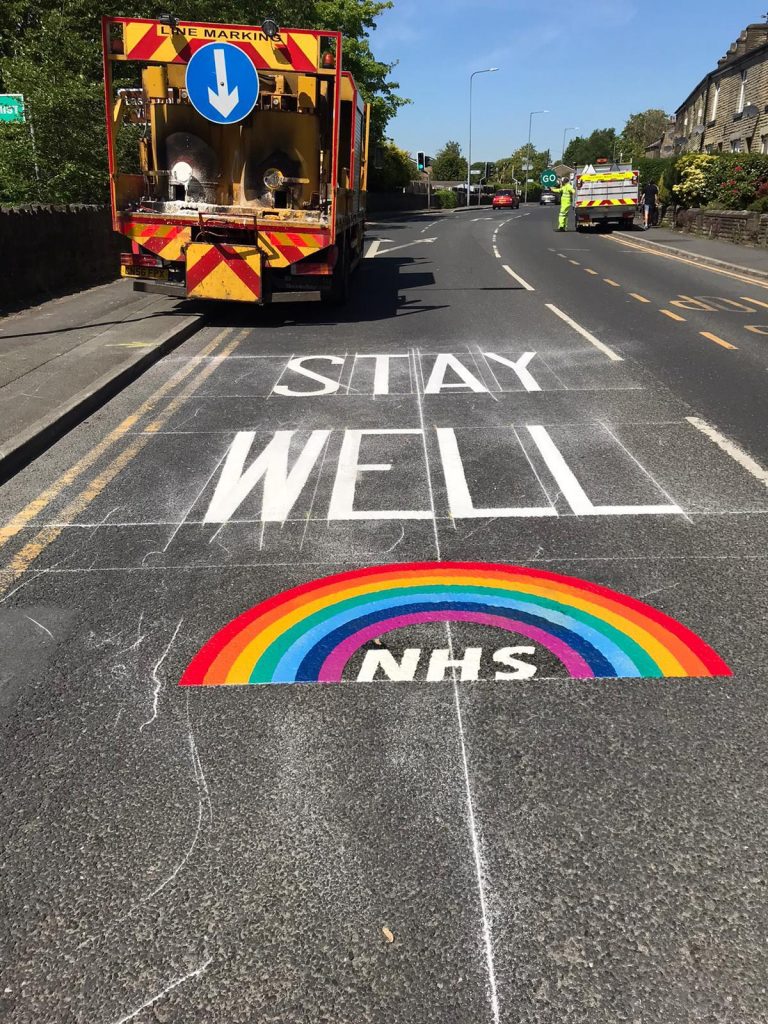 As many businesses worldwide have furloughed staff and adapted to a new way of life, Kays, the independent, family run, road maintenance business based in Blackburn, has been working harder than ever throughout the lockdown in support of the North-West's attempt to keep people safe and the country moving.
Whilst many have been working from home, or restricted by quarantine measures, the roads of the UK have never been emptier. Kays Traffic Management is at the heart of the North's support system keeping those that are still using the roads safe.
Headed up by commercial director Shaun Hargreaves, Kays has set out to imbue its ordinary tasks with the warmth and community spirit that courses through the family business. Amongst the typical traffic lines and zebra crossings, the 50 strong force at Kays worked with local authorities to place a series of rainbows and messages of thanks to the NHS; symbols of resilience and gratitude that epitomise their community.
These powerful messages offered a daily reminder to those on the roads of the great effort of the NHS and the gratitude of the wider community for their work.
KAYS, has also been busy implementing the roll out of social distancing markings in Bolton town centre, helping locals to feel safer when venturing outside in the hope that the town centre can once again be busy.
As the roads get busier, it makes sense that socially distant forms of transport will become more prevalent. To aid this, KAYS has been working with local authorities to build temporary cycle lanes, adding greater safety, fitness and environmental incentives for their community.  These have included 'Stride to Ride' for Blackburn with Darwen Borough Council and Bolton Metropolitan Borough Council's cycle initiative.
The 23 year old business has also assisted with the implementation of two testing centres in Blackburn and East Lancashire, two areas that are experiencing increased measures to avoid a total local lockdown.
Commercial director Shaun said: "While many businesses have been forced to make staff redundant or struggled to adapt to the 'new normal', at Kays we have found new ways to utilise our expertise effectively.  Myself and the team have been on site every day working harder than we ever have.  We are proud to be a backbone for our community, keeping our teams in jobs at a time when unemployment has risen, whilst also knowing that we are providing a much needed service as a time when local authorities and other organisations really need a reliable partner.
"Of course we would never have wanted to find ourselves in the midst of a global pandemic but I think we are all proud that we are able to do something productive to help keep the North West safe and moving."
Click here for more information on KAYS  and their current projects