Business as a power for good #BCORPFEST
Business as a power for good #BCORPFEST
B Corp Fest is a North West event for business leaders, disruptors, change-makers, the curious and decision makers.
Combining a business event with FUN – yes the two can go together!
Thursday 28 September, 9.30am-4.30pm at Wellbeing Farm, Edgworth
Tickets: £54.88 Book Now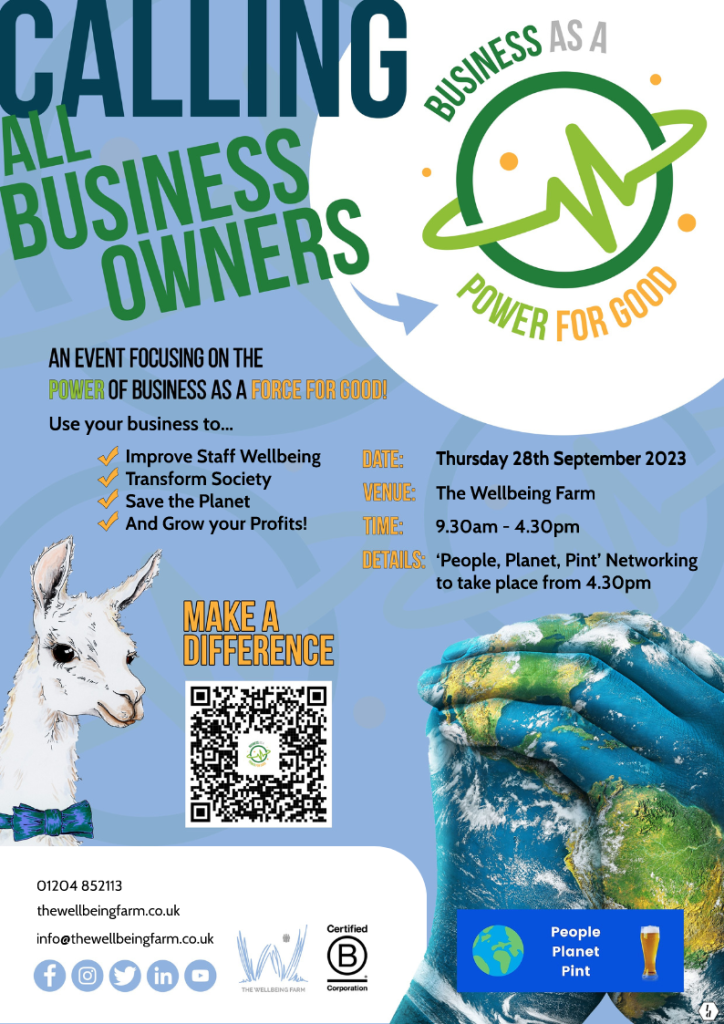 B Corp Fest is less about PowerPoint presentations and more about workshops and networking and creating your personalised action plan:
By attending you will:
Learn more about purpose-led business.
Understand how to use your business as a force for good.
Be inspired to create more trust for your customers.
Get ideas to improve staff and team wellbeing.
Create actions to do your part to save the planet.
Generate more ideas to engage with your local community.
Have fun (experience bow tie-wearing llamas and sheep)
Experience amazing healthy food purposely designed to energise.
Enjoy post-event networking with People, Planet, Pint.
Finally, learn about how to become a B Corp and how this amazing movement can transform your business
From 4.30pm People, Planet, Pint: No agenda, workshops or webinars. Just chat over some nibbles and beers with others who have a shared passion for sustainability in all its forms.
Don't miss this #BCORPFEST opportunity – book now.