Foraging with Taste Lancashire Award-winning gin makers
Foraging with Taste Lancashire Award-winning gin makers

Spending a day on one of multi award-winning Goosnargh Gin's foraging and distilling days in the Forest of Bowland, gave a unique insight into one of the county's favourite tipples.
For many food and drink producers, a contract with a big-name retailer would be the stuff dreams are made of. But not for Rachel and Richard Trenchard, founders of artisan drinks business Goosnargh Gin. The couple, who fostered a love for the tipple for more than a decade, are determined to keep the gins they produce near Beacon Fell, small scale, small batch and treasured by the customers who drink them.
'We don't want to throw gins out on the market for the sake of us having lots of gins out there. To us, and our customers, that has no meaning or relevance,' said Richard.
'We're not interested in moving down the wholesale, or supermarket route – and we've turned down approaches from big retailers. Instead, we like to get out and speak with those who run the places we are stocked or served in.  We feature in a number of farm shops, delis, independent wines and spirits retailers and select bars and restaurants, and that's how we like it.'
Their gins also show their deep connection with the countryside around their home in Whitechapel. In fact, their love of the Bowland countryside permeates their business.
Their Chapter One – Signature Gin has been likened to a meadow in your mouth, while Chapter Two – Dark Skies celebrates Bowland's star-gazing status.
The names allude to Richard's more than two decades as a writer and journalist. The couple have also deepened that connection with the release of two seasonal gins which will return to the collection in  the summer months. Chapter Three – Floral Notes using rose, hibiscus and an 18th century variety of freshly grown peony which reflects their traditional methods of distillation. Chapter Four – Hay Time is created working with the Forest of Bowland Area of Outstanding Natural Beauty team and Peter Blackwell, of Bell Sykes Farm in Slaidburn.
'Our gins are designed to reflect and celebrate the area in which we live, work and distil,' said Richard. 'Whether that is in the botanicals we use, or as some other nod to the Forest of Bowland's geography or heritage.
'Chapter Three is a feast for the senses, like stepping into the garden on a balmy summer evening. For Chapter Four, we use a fresh cut of Peter's ecologically diverse and highly renowned hay meadow to produce our Hay Time gin. A percentage of profits are donated to support the work of the Forest of Bowland AONB educational projects. It's something we're extremely pleased to be involved with.'
They have also developed a bespoke gin for Lancashire's 2 Michelin Star restaurant Moor Hall.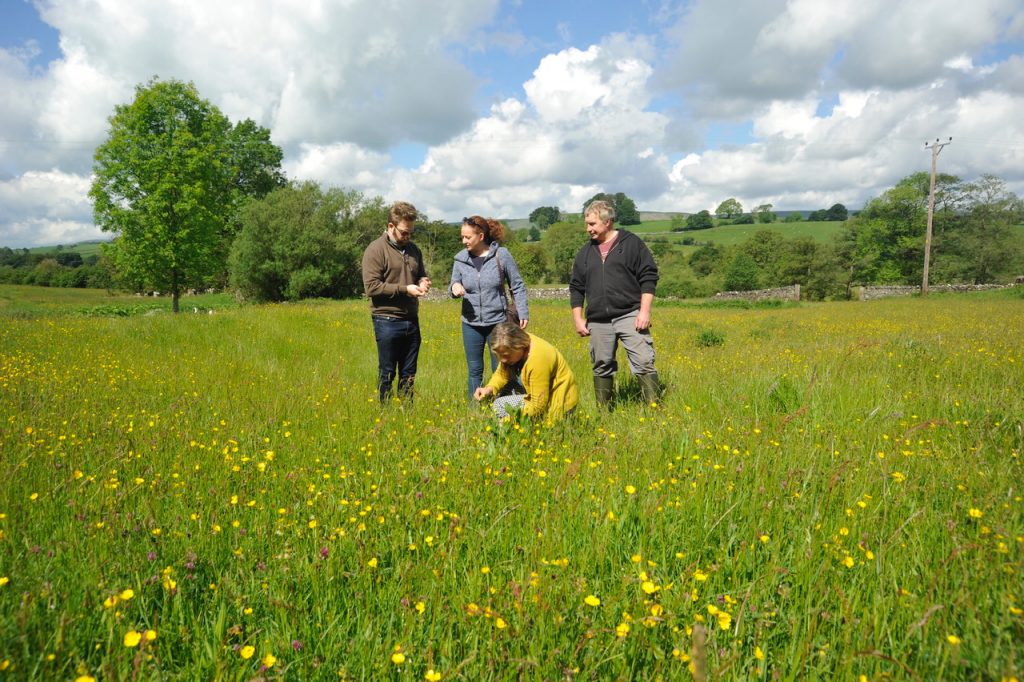 It seemed a natural progression to launch a series of new foraging and distilling days with Adrian Rose, a nationally known expert on what – and more importantly, what not – to forage. The Chatburn-based specialist discovered his love for wild edible foods as a child under the stewardship of his Romany gypsy grandmother. What Adrian doesn't know about the great outdoors, is not worth knowing. He puts this knowledge to good work through courses, bushcraft experiences and runs a community interest company passing on his skills to help military personnel deal with trauma and PTSD.
'Foragers'  spend a morning soaking up Adrian's knowledge, challenging and testing our taste buds with the likes of  pea green coloured leaves that delivered a surprising burst of apple and citrus. Throughout the morning young sycamore flowers, wood sorrel and bilberries were also on the menu. Delicately picked – in small amounts to preserve plant numbers – we took them back to Rachel and Richard's distillery, next to their home in Whitechapel.
After a fine lunch, next stop was their adjacent micro-distillery. This is home to three stills Beatrice, Constance and Felicity – the first three letters of each references the area in which they distil. Our foraged botanicals were destined for their six new beautifully crafted mini copper stills.
We weighed out the foraged botanicals, each forager choosing their preferred dominant choices (ours were bilberries and meadowsweet) then we sat back and waited for the mini still to do its work. While the alcohol was gently heated, we spent a sociable few hours chatting and learning more about Goosnargh Gin, before tubes released a pure, crystal clear liquid. Using an intriguing bit of equipment, we were able to measure the strength of our gin before diluting it with spring water to take home and enjoy at leisure. The distilling days show perfectly the importance of Goosnargh Gin's connection to the Lancashire countryside. A not-to-be-missed experience.
For more information about Goosnargh Gin's seasonal foraging and distilling days contact [email protected]
__________________________________
Goosnargh Gin is proud to be a Taste Lancashire Partner – helping raise awareness of Lancashire's incredible food, drink and hospitality businesses. They also won the Taste Lancashire Producer of the Year Award at the Lancashire Tourism Awards in November 2019.
Click here for more information about joining our  Taste Lancashire Partnership