Lancashire champions #VOTENIGEL for National Tourism Superstar Award
Lancashire champions #VOTENIGEL for National Tourism Superstar Award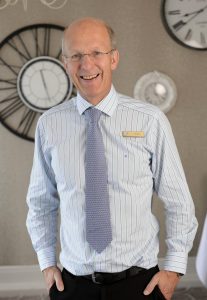 Lancashire's own Tourism Superstar Nigel Seddon, Managing Director of the Elgin Hotel in Blackpool, won his Lancashire 'crown' at the Lancashire Tourism Awards in November 2019 and is now one of ten finalists in the running for the title of VisitEngland's Tourism Superstar 2020. The winner of this national award will be decided by public vote, which opens on Saturday 7 March at 9am.
Organised by VisitEngland and supported by The Mirror, the competition invites members of the public to visit mirror.co.uk/travel to watch a short film created for each of the finalists and then vote for their favourite.
Marketing Lancashire, organisers of the Lancashire Tourism Awards, is now leading the campaign to encourage votes for Nigel using the social media hashtag #VOTENIGEL.
Nigel Seddon, Managing Director, Elgin Hotel, commenting on reaching the finals said, "Following my shock nomination, and win, at the Lancashire Tourism Awards 2019, I'm overwhelmed to have now been shortlisted in the final ten for VisitEngland's Tourism Superstar competition 2020. Whilst my achievements would amount to nothing without the fantastic team I work alongside, I am absolutely delighted to be representing Lancashire in the national finals. Lancashire is an out-and-out gem, and if nothing else, I hope to shine a spotlight on our fabulous county and all it has to offer."
Rachel McQueen, Chief Executive of Marketing Lancashire said, "Nigel was an incredibly popular recipient of the Lancashire Tourism Superstar Award 2019. Having won the most votes across Lancashire, we were very confident nominating him for the national award. Nigel is such a wonderful character, is a great ambassador for the county and we're absolutely thrilled to see him reach the final."
Nigel is the only finalist from the North West of England and hopes that visitors from Lancashire and the North West in particular, will vote for Nigel and spread support through social media using #VOTENIGEL.
The Tourism Superstar finalists are:
Chris Earlie, Head of Tower Bridge, Tower Bridge, London
Chris French, MD, French Brothers Ltd, Windsor
Clare Phillips, Visitor Services Manager, Mayflower Plymouth
Guy Rowland, Visitor Experience Facilitator, Ironbridge Gorge, Shropshire
Hayley Mullraney, Head Mammal Keeper and Assistant Curator, Cotswold Wildlife Park
Jim Morrison, Volunteer Tour Guide, Old Royal Naval College, Greenwich
Lorry Middleton, Hovertravel Handling Agent, Hovertravel, Portsmouth
Nigel Seddon, Managing Director, Elgin Hotel, Blackpool
Olivia Thackstone, Front of House Manager, World of Wedgwood, Stoke-on-Trent
Tori Godall, Head Falconer, Walworth Birds of Prey, Durham
Vote for Lancashire's Tourism Superstar Nigel Seddon at mirror.co.uk/travel. The voting closes on Tuesday 21 April and the winning Tourism Superstar will be announced on Saturday 25 April at the end of English Tourism Week 2020 (18 April – 25 April).
Follow the campaign progress on @MarketingLancs #VOTENIGEL