Lancashire collaboration to help combat food and fuel poverty
The Larder and Sewing Rooms join forces
Lancashire collaboration to help combat food and fuel poverty
Two of Lancashire's most innovative social enterprises have joined forces to help combat food and fuel poverty across the county, bringing together the creative skills of The Sewing Rooms in Skelmersdale and the food and nutritional knowledge of The Larder in Preston.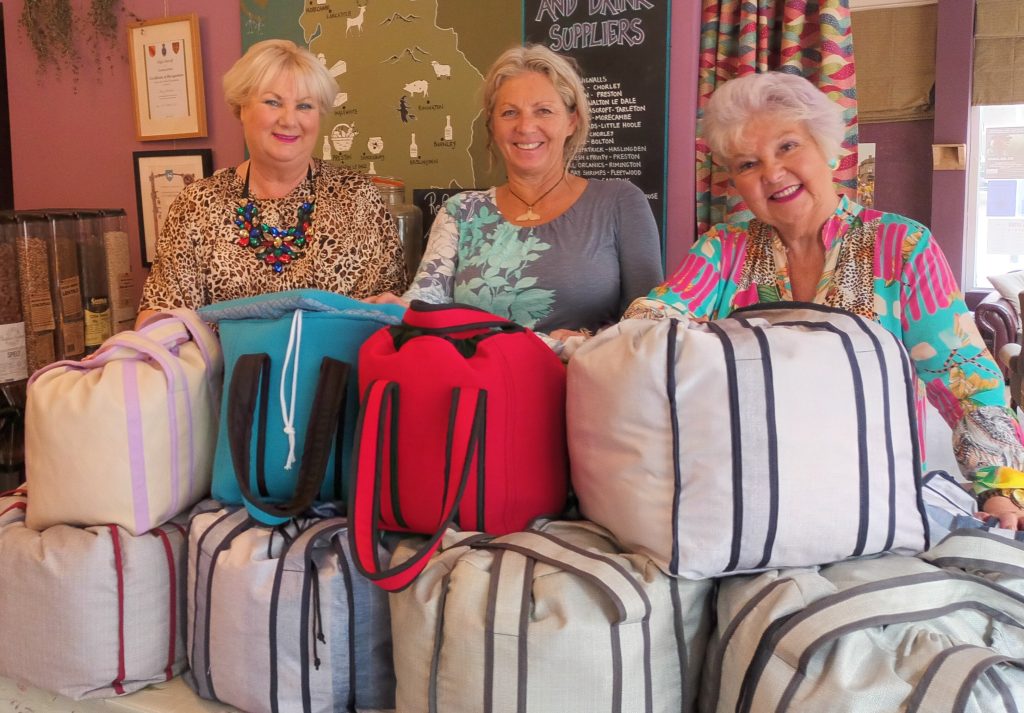 Kay Johnson MBE, founder of The Larder, a dietary education resource with a big ambition for food fairness for all and Paula Gamester, Founder Director of The Sewing Rooms, which trades to tackle social problems by upcycling, recycling and diverting textile waste from landfill, both have huge respect for the others work but, until now, had not worked together.
The opportunity presented itself when both women were increasingly concerned by the hardships arising from the increase in the cost of living, that was exacerbating the levels of need and poverty in their communities and across the UK.
"I was ill at the beginning of the year with Covid" said Paula "And while at home I  was listening to the news about the fuel and cost of living crisis heading our way. I started to think about what we could do at the Sewing Rooms to help those families and elderly who were struggling most.
"I started researching products that we could make to keep people warm, then my co-director Maureen sent me some information about a thermal cooking bag made from textiles in America. I soon discovered this method of slow cooking was also used in Africa and that insulation cooking in this country, went back to Medieval times.
"I headed into the Sewing Rooms one Saturday, when no one was around, and set about making a thermal cooking bag.
"The next day I was up early peeling potatoes, carrots onions and set about making a beef casserole. I fried it all, added stock and thickener and heated it for 10 minutes at boiling point, that's the key.
"I then put the lid on, wrapped the pan in a tea towel and placed it in the bag I'd made. I was so excited I couldn't wait to see and taste the results. To my amazement after 4 hrs, the pan was very hot; it was too hot to hold without oven gloves and when I took the lid off,  the steam from the cooked casserole steamed up my glasses!
"I was astounded but since then I've made biryanis,  soups, stews. It's a fantastic way to cook and the savings just add up."
Around the same time Kay was planning The Larder's Food Champions programme, which encourages people to cook from scratch using fresh local ingredients, but she was concerned with the cost of energy this required, in the midst of the fuel crisis.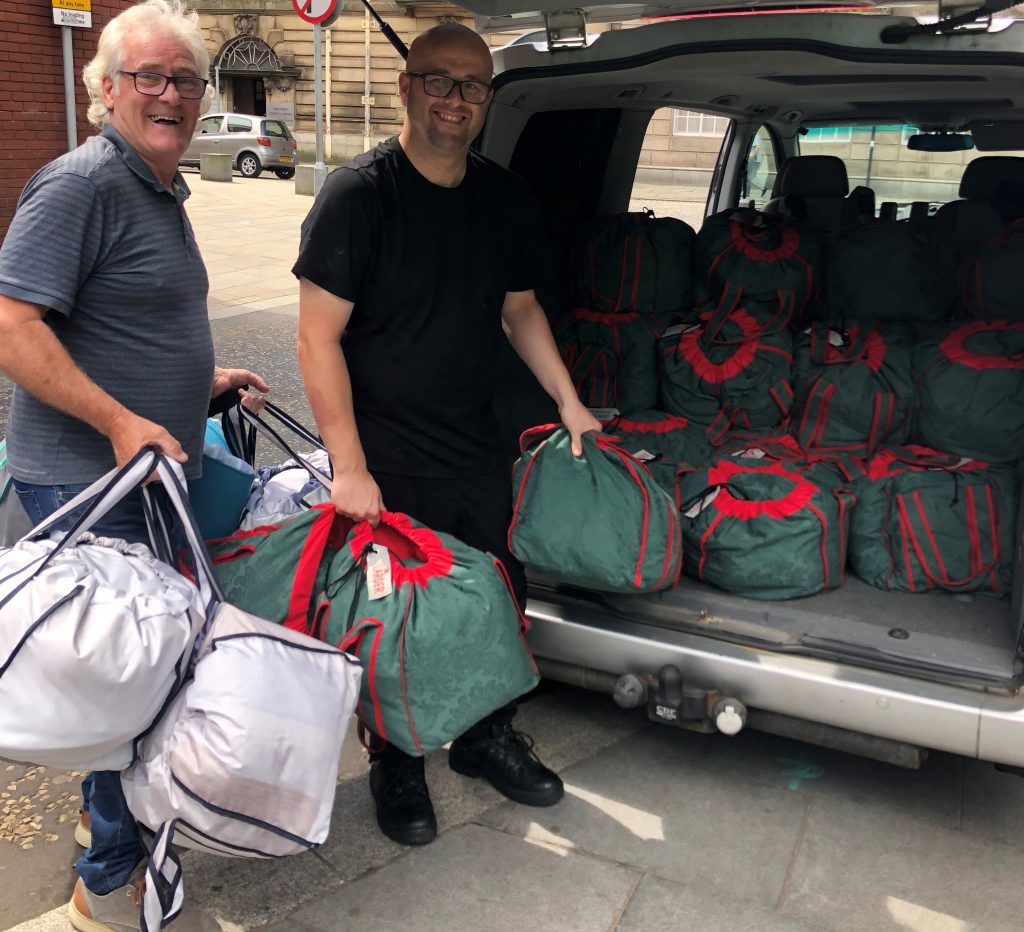 The cost of running an oven is estimated at around 70p per hour and Kay was all too aware that  "Due to rising energy costs, many local families have been identified, by the organisations we work closely with, as requiring immediate, dignified and sustainable solutions to help reduce fuel costs and access nutritious food."
Kay credits Greg Mitten at West Lancs CVS for making the connection and Paula for calling with a solution to the energy issue she was grappling with.
The Sewing Rooms are partnered with Senator Group and Panaz Fabrics,  both Lancashire  based companies, who support them by donating end of roll textiles. They also take Senator's scrap materials from their cutting room,  diverting them from landfill and each thermal cooking bag uses around 5 kilos of shredded textiles.
The profits from The Sewing Rooms commercial work goes to create employment opportunities and to pay for skills and wellbeing training for individuals they work with.
"It's what we do with these end of roll textiles that makes all the difference to the people we work with" says Paula "It's very exciting as we don't know what colours or textiles we are getting, so we say to our customers it's a surprise what colour bag they'll get."
The thermal cooking bags are available to buy at www.sewfab.co.uk  ebayforchange and at The Larder for £49.99. The Sewing Rooms also offer significant discounts for large orders from charities and social business such as housing associations, as well as from businesses looking to support their staff.
Based on cooking a casserole for around 3.5hrs, the new thermal cooking bags used 3 or 4 times a week could save households somewhere between £382 – £509 a year.
The Larder is one such social enterprise benefitting from the new thermal cooking bags.
As Kay explains "In Skelmersdale we will be running our Food Champions programme which trains people to deliver healthy and sustainable food messages within their communities. By autumn the newly trained Food Champions will be showing people how to use the thermal cooking bags to make hearty, nutritious meals and save money on their fuel bills.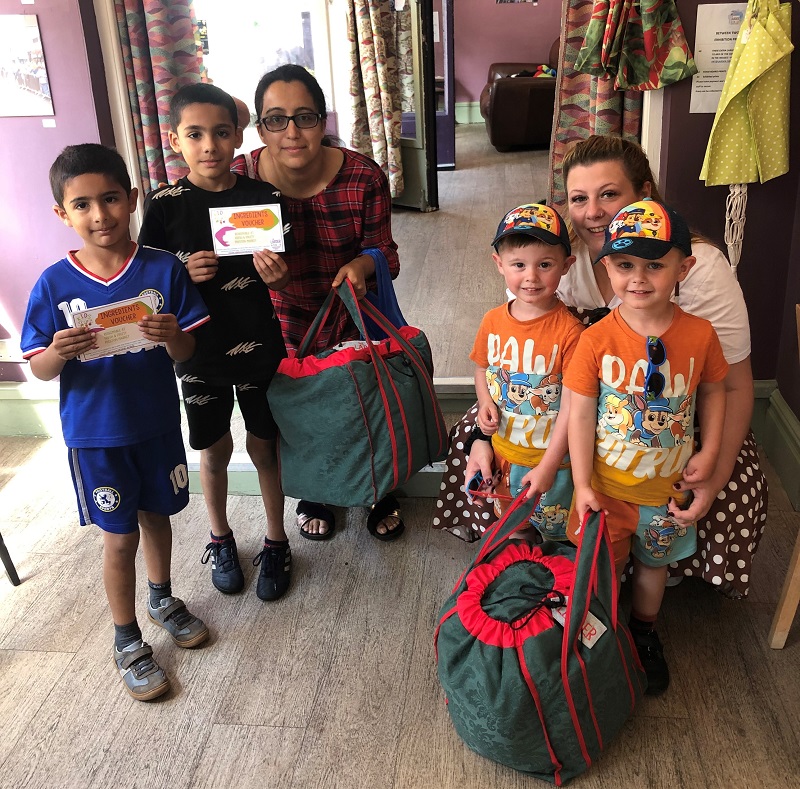 "In addition we are currently delivering our Summer Kids in the Kitchen programme in Preston where 40 families receive a thermal cooking bag, online instructions, recipes and ingredients.
"We're also selling the bags for £5 to everyone who is already involved in our programmes and we're hoping to raise funds so we can run these programmes throughout Lancashire."
_______________________
Buy the bag at sewfab.co.uk – in the knowledge that all profits go to households that are really struggling at this time.
Visit The Larder at 50 Lancaster Road, Preston, PR1 1DD and learn more about their work at  larder.org.uk