Plumbs and local sewing group provide NHS scrubs
Plumbs and local sewing group provide NHS scrubs
Lancashire upholstery manufacturer Plumbs, now in its 60th year, has helped a local sewing group to provide much-needed NHS scrubs.
When Rachel Crisp, a fourth generation member of the family business, spotted a call for help with sewing scrubs, she knew the company could play their part.
A family-run business that began its life on market stalls across Lancashire, Plumbs now offers a nationwide service that combines traditional textiles skills with high quality manufacturing technology, and above all else still prioritises the market stall values of honesty, high quality products, and friendly service.
Once Rachel had checked with mum, Managing Director Sarah Page, they swiftly donated 600m of fabric to a local community initiative who are utilising in-home sewers to produce essential goods such as scrubs, scrub bags, headbands and ear savers.
Sarah Page believes that  "In challenging times like these, it is important that those who can provide help, do so. We had been on the lookout for any way the company was able to assist, and with all the calls for more PPE, this seemed like the best way to offer our help and equipment. We were incredibly proud to see such enthusiasm from our team – this really is community spirit at its finest."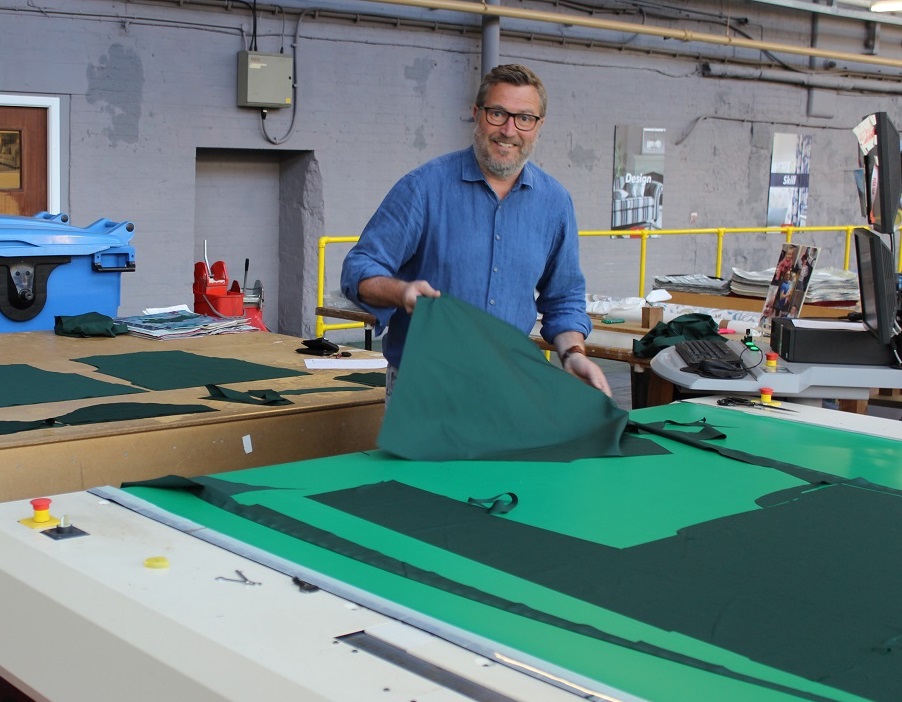 With a highly skilled team of sewers behind them, professional fabric cutting technology, Plumbs felt they would contribute even more to the cause.
The Plumbs team decided to donate £5000 to purchase large volumes of royal blue and green scrub fabric, which they then digitised and cut on their machines which they returned  'ready to sew' to the community group.
A small team of staff volunteered to come into the businesses' Preston factory in order to help operate the machines, with the appropriate health and safety measures in place. Members of the Plumbs production team were also inspired to help, and many have dusted off their sewing machines at home to take on batches of the essential goods. All products produced have and will be distributed locally to Preston based hospitals and medical facilities.
Sarah is very proud of the Plumbs team and their commitment to the community "Plumbs has a history of doing things in the local community. This started when Dad ran the company and we have continued. We are so proud to have Lancashire as part of our history, and by supporting the community and contributing where we can, we hope to make Lancashire proud of us in return."
The community sewing group continues to raise money to buy fabric and goods to continue their work to help support the NHS during the Covid-19 crisis.  If you or your business can help then please visit their GoFundMe page