#RedefiningLancashire – with an unforgettable pop-up festival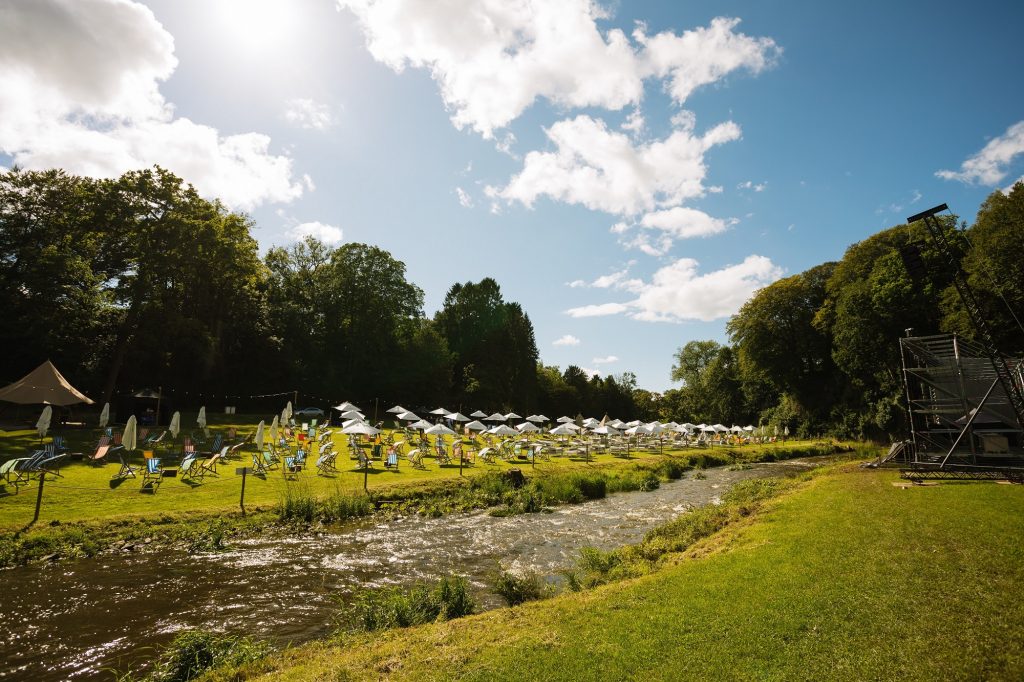 The UK's first purpose built socially-distanced festival is taking place in the Lancashire countryside for eight weeks with big name DJs, live entertainment, open-air cinema, family fun and on-site glamping – making it the perfect staycation or day trip for fun-loving Brits this summer.
Taking place from July 11 to August 30 2020, the new Gisburne Park Pop Up, will take place on the Gisburne Park Estate: a historic Grade I-listed, 1,000-acre private estate within the Ribble Valley. Festival-goers can purchase day passes or multi-day glamping tickets with 24,000 attendees expected over the eight weeks.
Up to 480 festival goers will attend each event and will book their own individual hexagonal pitch, each large enough for a social bubble of six and spaced 2.6m apart. Drinks and food are delivered by waiters to the hexagonal pitches, eliminating the need for queuing. A one-way system ensures guests can make their way around the 10-acre site with a minimum of 2m physical distance between themselves and other guests.
Festival-goers can choose from four event concepts:
Party in the Park
Taking place every Friday and Saturday evening, this open-air party sees some of the biggest names in dance music perform on the banks of the river with incredible stage production. Festival goers can dance under the stars to acts such as Hot Since 82 (18 July), Jonas Blue (29 Aug), Sam Divine (1 Aug), Jackmaster (22 Aug) The Shapeshifters (25 July) and Symphonic Ibiza Orchestra (24 July) with more to be announced soon. View the full schedule
Pictures In The Park
The dreamiest way to watch a classic film is under the stars, far from civilisation. Recline in your deck chair and reach for your popcorn, as the silver screen lights up the night with some of the most enchanting movies ever made. Immersive open-air cinema nights take place every Wednesday and Thursday evening where guests are encouraged to dress up in keeping with the movie theme. Screenings include Grease (15 July), Dirty Dancing (16 July), Moulin Rouge (29 July) and Rocket Man (6 Aug). View the full schedule
Pub In The Park
Here it is! The biggest, most beautiful pub garden in the country is now open on Sunday evenings. We all hate Mondays (right!?) so this is the perfect time to relax and socialise in an adults-only environment. With bands on stage, a choice of real ales, bottled cocktails and fine wines – you name it we've got it, oh and did we mention the long, lost (almost forgotten) classic pub roast? Sundays are back.
The Family Show
Taking place Thursday, Friday & Saturday afternoons, Picnic in the Park is an interactive day time event designed for families of all ages to enjoy together. While the entertainment kicks off on stage, from a Disney Sing-along complete with actors and entertainment to an afternoon of Opera
On-Site Accommodation
For guests wishing to stay the entire weekend, onsite luxury five-metre wide bell tents are available to book. Each comes with electricity, an outdoor fire pit and access to on-site private showers.
Guests can also choose to stay at the north of England's leading hot tub holiday destination, Ribblesdale Park, which is also nestled within the Gisburne Park Estate and features luxury lodges and cosy cottages.
Glamping guests are invited to explore Gisburne Park, which is one of Lancashire's finest private estates. A thousand acres of picturesque Ribble Valley countryside, owned and managed by Guy Hindley and family. With beautiful walking trails, wildlife and horse riding it is the perfect place to reconnect with nature. The estate is close to the picturesque town of Malham, Hurst Green (which is the landscape that provided inspiration for J.R.R Tolkien's 'Lord of the Rings") and White Scar Caves – the UKs largest cave.
Food and Drink
Gisburne Park Pop Up is sponsored by Moet Et Chandon, Peroni, HUN Wines and Aperol.  All drinks will be single serve including bottled and canned wine, bottled champagne, bottled beers and bottled and canned cocktails created especially for the festival by some of the world's best bars including Three Sheets, Lyaness and Filthy 13.
The festival's alcohol free drinks partner is ISH Spirits who will be serving their no-abv spritzes to drivers and mindful drinkers.
Guests can tuck into the culinary delights of the on-site Betty's Kitchen with dishes being delivered straight to their pitch. Choose from gourmet burgers, 'dogs, plenty of vegan and veggie delights and even a propa' Northern roast  dinner every Sunday.
The Gisburne Park Pop-Up festival is taking place at the Gisburne Park Estate, Clitheroe BB7 4HT until 30th August.
Tickets are available to buy from from https://www.gisburneparkpopup.com/. Prices start from £20 per hexagonal pitch with ticketed events starting from £10 per adult and £5 per child. Boutique glamping starts from £120 per tent per night.
Health + Safety and Covid-19
How is the festival set-up?
The main event site will be set up with dozens of individual hexagonal pitches, each large enough for a social bubble of six, are arranged across 10 acres of unspoilt meadow and ancient woodland. Suitable distance has been designed between each pitch to adhere to social distancing guidelines. Each pitch is equipped with deck chairs and an umbrella. The pitch is carefully designed to be large enough for everyone within to stay 2 metres apart if you wish. Designated bar to pitch service brings delicious food and drink directly to attendees, so there's no need for queueing.
What social distancing measures are being put in place to protect guests?
Whilst the event is outdoors and therefore suggested the COVID-19 risk of transmission is lower, the following arrangements will be adopted to manage COVID-19 during the live event. This will constantly be reviewed to ensure it adheres to any further government guidelines:
Audience arrivals and departures will be staggered to reduce the likelihood of large numbers of people during ingress and egress
A well configured and sign posted car park
At any event it is important that the audience feel the space they are in is well organised and calm. This will be achieved via the prearranged segregated areas within the event footprint
The event footprint will be split into zones to ease movement of personnel during the live event, both staff and audience.
Each zone will have its own unisex toilets as well as service areas
All service will be undertaken by trained catering staff
The event footprint has been arranged to ensure social distance can be maintained so far as is reasonably practicable
The only time the audience should need to leave their area is initial entry, when using the welfare facilities and when leaving at the end of the event
Welfare areas will have clear markings on the floor to denote queues and give instruction on maintaining social distancing measures. Sufficient quantity of toilets, kept clean and tidy
The big screen and audio will be used to give further instruction to the audience prior to the event going live
Security and event staff are on hand to monitor, who in turn will all be trained in the procedures. Approachable support staff who can answer questions accurately.
Contactless ticket checking
Hand sanitiser available at multiple stations No
Sufficient quantity of toilets, kept clean and tidy
Designated smoking areas with capacities monitored
Clear communication of emergency procedures and facilities (such as first aid provision) through audio messaging and signage
Signage to designate spacing
 Visible signed cleaning rota checks in washroom facilities
Spare PPE available if requested
What handwashing facilities will be available?
Adequate numbers of toilets, urinals and washbasins and hand-sanitising points will be provided by a competent supplier. These facilities shall be maintained to ensure that they are kept in a clean and serviceable condition throughout the duration of the event and maintained to a high standard of hygiene.
Handwashing facilities with running water, soap and paper towels will be available at multiple locations both front and back of house for guests and staff
Staff required to wash their hands as part of the check in procedure on site
Regular breaks should be scheduled to wash/sanitise hands
Soap and water should be replenished regularly in temporary wash stations
Hand sanitiser (minimum 60% alcohol) will be available at locations in addition to washrooms
Provide suitable, lined, rubbish bins for hand drying towels, these should be emptied regularly and not be allowed to overspill
Hand sanitiser will be nearby for people getting in and out of vehicles or handling deliveries, if they are unable to wash their hands
 To ensure surfaces remain clean and increase in the level and frequency of cleaning as well as cleaning surfaces that you may not ordinarily clean.
What communications and guidance will be sent to guests in advance of the festival?
Clear communication will be paramount in the pre-event phase. The following methods will be used mainly around the COVID 19 pandemic:
Informative messaging on the event website and social media channels will be used to give instruction and information to attendees, clearly stating the new rules and expectations will instil how seriously the management are taking the COVID-19 situation.
A health pack will be sent pre-event, stating the commitment to protecting the audience, reducing transmission risk and the methodology behind this, plus the expectations of attendees (what they should bring, what they shouldn't bring, health screening questions etc.)
The site rules and conditions/restrictions of entry
Ticket purchasing sites has a link to the health and safety rules for the event, a check box on ticket purchase could request the attendee affirms that they have read them and agree to comply
Emails and push notifications can be sent out to attendees reminding them of the rules and expectations in the run up to the event and on the show days
On-brand signage on the journey to and around the venue to re-emphasise specific requirements, marketing materials showing people having a good time whilst adhering to rules.
What protocols with food and beverage vendors and staff need to adhere to?
In order to provide food, which is safe, the catering manager will ensure that the following arrangements are made:
Each stage of the catering operation from preparation to consumption will be constantly monitored.
Hazard analysis associated with food safety will be carried out, and identified critical steps will be eliminated or satisfactorily controlled.
Food handlers will be trained in food safety and hygiene to a recognised standard.
 The highest possible standards of cleanliness will be maintained for equipment and premises.
 Clean protective clothing will be provided for all food handlers.
Food handlers will be screened to minimise the risk of contamination from food-borne infections.
Strict temperature controls will be maintained on all foods covered by legislation.
To ensure the safe use of catering facilities and the provision of uncontaminated foods, the following safe system of work is recommended.
All food and beverage will be managed by a fully trained in-house team  and no third party suppliers.
What social distancing measures are being put in during the build of the festival?
While mass gatherings as a whole are yet to receive any specific guidance in relation to safe working and implementation practises, guidance is available for the construction industry, which would also be relevant to the build and dismantle phases of a live event:
Take a risk-based approach consistent with health and safety law and coronavirus legislation
Observe social distance at all times
Observe hygiene and cleaning procedures
Observe social distancing procedures following government guidance
Have people working side-by-side rather than face-to-face
 Limit movement of people:

rotating between jobs and equipment
using lifts and work vehicles
in high-traffic areas like corridors, turnstiles and walkways
 allow only essential trips within buildings and between sites