There's beauty and wonder in small things
There's beauty and wonder in small things
Lancashire artist Jenny Natusch has created art through a microscope, finding beauty and wonder in the tiniest grains of sand and droplets of water "There's something quite grounding and therapeutic about looking at something so closely.  Your whole perspective shifts."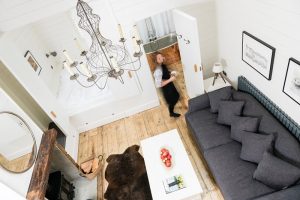 Though this micro-art is her true calling, Jenny has found a new passion for hospitality with a slightly larger 'work of art' nestled at the bottom of her secluded walled garden. Castle View is a beautifully conceived and executed hideaway ideal for two, providing visitors to historic Lancaster with contemporary accommodation that's just a hop and skip from the city's magnificent castle. From initial impressions you'd call it cute or 'bijou' though once you open the door and step inside, you start to appreciate Jenny's predilection for revealing the unexpected in the familiar. It is self-catering accommodation, but not as we know it, it's a veritable Tardis of tricks, a magical place that's making a big impact on visitors.
Castle View sits very naturally in the garden of Jenny's Victorian villa thanks, in large part, to its construction from salvaged stone from the villa's old garden porch and from a church in Rossendale, giving it a 'been here forever' feel, despite being just a few years old.  As Jenny explains "It began as an idea for a studio, which would obviously need a sink and then a loo, so why not add a shower?  Then somewhere to make a drink or some food, so why not add a sofa bed for occasional guests?  Before I knew it I was looking at a quirky alternative place to stay, a hidden gem in the heart of this wonderful city. It suddenly made absolute sense to me."   Her sketches of the interior with a little help from her imaginative daughter, cleverly interpreted by her architects, turned this small space build into one of practical elegance and space-saving sophistication.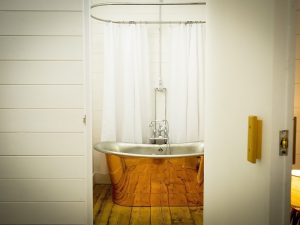 Deceptively spacious and light, thanks to high ceilings and lots of clever storage, there are surprises at every turn including remote control blackout blinds, handmade and thoughtfully re-purposed furnishings, a large cast-iron wood burning stove, fresh flowers, even Jenny's original artworks. The bathroom and bedroom are both 'hidden', much to the delight of visitors who discover a kingsize bed complete with Egyptian cotton linens and a giant copper bath (with room enough for two) in what appear to be cupboards.  The well-equipped kitchen comes supplied with wine, tea, coffee, milk, fruit and with celebrated Filberts bakery and J.Atkinsons Coffee just around the corner, breakfast and more locally made treats can be found just a few minutes' walk away.
Since opening in 2017 Jenny has had a steady stream of very happy customers from the UK as well as from Canada, Spain, Amsterdam, Austria, China, Australia and Norway, with some already planning their next stay before leaving.  "I'm really loving it and I suppose I'm a little surprised it's attracting so many visitors from all over the world.  Most find Lancaster is a perfect location for exploring the North" Jenny smiles "Though I've have had some guests who've found the cottage so peaceful, relaxing and so private that they've just hunkered down and spent the whole time re-energising and re-charging, we've hardly known they were there."  It's easy to understand – this little gem once found,  is not so easy to leave.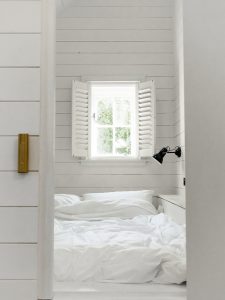 Castle View was a finalist in the New Business category of the Lancashire Tourism Awards 2018.  This category is the only accommodation category open to businesses that have been trading for less than 2 years.
Follow @MarketingLancs on Twitter for news of Lancashire Tourism Awards 2019 and opening date for applications.